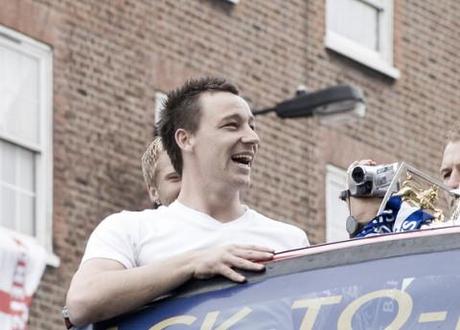 John Terry. Photo credit: Paul Bence
Terry's remarks — he allegedly called QPR defender Ferdinand a "black c***" — have shocked many in the footballing community, leading some to question whether football really has left the racist taunts of the 1980s behind. Terry admitted that he made the remarks in a statement on Sunday night, but said that they were made in response to Ferdinand's suggestion that he had called him a "black c***".  The Daily Mail reported that three QPR players — Clint Hill, Paddy Kenny and Shaun Derry — are prepared to give evidence to the Football Association. However there is some confusion on this issue as QPR told Sky Sports News that none of the players are planning to do so. Unsurprisingly, Chelsea manager Andre Villas-Boas is keen for everyone to move on. But the latest scandal involving Terry looks set to run and run.
Serious implications for Terry's England and Chelsea captaincy. The Daily Mail's Matt Lawton and Sam Mokbel reported that, though Terry will certainly wear the England armband for next month's friendlies at Wembley if the inquiry is ongoing, Terry "is eager to clear his name amid fears that he could lose the England captaincy for a second time, as well as the armband at Chelsea."
Why is it still going on? Patrick Burkham at The Guardian questioned whether there was still racism in football. He quizzed Dagenham and Barking's John Nurse who told him that he had experienced less racism since the Kick It Out anti-racism campaign, but said that "it may be harder to remove institutional racism" from the game.
Anton Ferdinand should speak up. "Racism is prevalent" in football, Lord Ousley, a governing member of the Football Association (FA), told Henry Winter of The Daily Telegraph. Ousley called on prominent black Premiership players to set an example by speaking out against racism in the game. Ousley regretted that he has "heard nothing from Ferdinand" and urged the QPR centre-back to tell his side of the story without the fear of "being perceived as a snitch."
Ban Terry if he's guilty. That's the view expressed by QPR legend Les Ferdinand, reported in The Sun. The FA needs to hand out "bans instead of fines — that's the only way it's going to work", he opined.
Terry should no better. "He's been around the world, seen so many different cultures — he works with plenty of players from different nationalities" — he should know better, bemoaned former Arsenal Striker Ian Wright in The Sun. Still, if Terry is guilty, "he will be punished for life", Wright said.