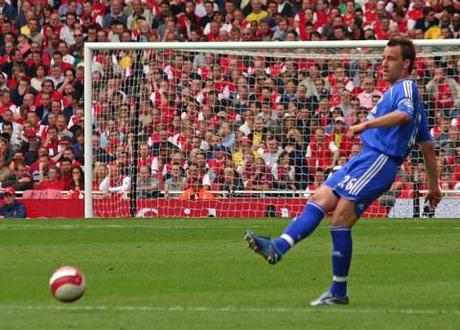 John Terry. Photo credit: Ronnie Macdonald http://flic.kr/p/L1xbx
The background
It's relatively rare that sport stories attract much coverage in the comment and opinion pages of the mainstream media but John Terry's decision to retire from international football has kicked off much debate. Plenty feel relieved that Terry will no longer be playing for England but there are some commentators swimming against the tide who argue that Terry is, in some ways, merely a victim of his circumstance.
The defender, who has won 78 England caps, was cleared at Westminster Magistrates' Court in July of racially abusing Queens Park Rangers' defender Anton Ferdinand during an October 2011 Premier League game. However Terry is still facing a Football Association disciplinary hearing over the matter. It is widely expected that he will be found guilty by the FA's four-person panel.
Terry is a victim of football's culture of excess
Terry is "a victim of football's culture of excess," wrote Roy Hattersley in The Times (£). "Shed no tears at Terry's absence from the England team. Yet remember that he is a victim of how football has changed. In the bad old days of the maximum wage and indefinite contracts, footballers were slaves. That had to change. But, largely thanks to TV revenues, top-level footballers have become idolised millionaires whose working lives are built around the notion that everything is for sale … Crash your car? Leave it at the roadside and buy another. It is a miracle that so few footballers get into the papers for the wrong reasons." "The paradox of football is that, as the game has improved, our respect for footballers has diminished," sighed Hattersley, who concluded, "weep not for John Terry, but remember that it was football's culture of excess that, as well as making him rich and famous, encouraged the display of all the characteristics we find so unattractive."
Good on the FA for taking action
"The FA is right to pursue its own process because football has been too complacent about its social responsibility," said an editorial in The Financial Times. "The armchair refrain that what is said on the pitch stays on the pitch is lazy and intolerable. Soccer players often serve as role models for youth. By pursuing its case against Mr Terry, the FA is sending a powerful message to any perpetrators of racist abuse that certain standards of behavior must be adhered to." The newspaper suggested that the FA "is also reflecting a broader shift in the national mood. This summer's triumphant Olympics helped Britain to reacquaint itself with sports stars whose decency and dedication contrasted with the oafishness prevalent among the country's soccer elite. Finally, England's governing authority has signalled to international players of all ethnicities that they can strut their stuff in the Premier League without the risk of racial abuse from fellow players."
Enough with the anti-John Terry hysteria
"I feel sorry for John Terry," said Robert Crampton of The Times (£). "I realize this is a shocking admission, the sort of opinion that can get you exiled from polite society, akin to saying that you think creationists might have a point or Sylvester Stallone is an underrated actor. But still, one must follow one's conscience … when I interviewed him for The Times magazine early in 2010 … He was courteous, solicitous, eager to please."
Crampton doubted that Terry is a racist: "I'm inclined to believe his protestations of innocence. Why? Because it is not plausible that someone who has been around black people all his life should wait until he was almost 31 to come over all BNP … I've never understood why the 'I can't be a racist, some of my best friends are black' argument is thought so lame as to be beneath consideration. I agree that it is not conclusive, but it is highly suggestive. If someone accuses you of a racist slur, and you can point to numerous friends who are black, mixed race or whatever, it seems to me that this should count in your favour. A racist is less likely to have black friends than a non-racist." "It seems to me that much of the anti-John Terry hysteria amounts to a lot of people not liking the man's face, of thinking this guy looks a lot like how a racist ought to look. It isn't fair," argued Crampton.