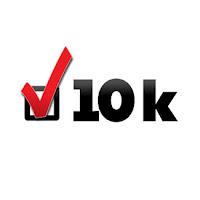 this might be not very long to many of you  but for me it's a MAJOR MILESTONE.
I've just completed my first run equivalent to 10k. I worked out a course that took me into the hills past Chiswell farm, around the Open University site on Boars Hill, then back down past Youlbury Scout camp, back home. Total distance, approx 7 miles. That's round about 11 kilometers. Total time, 75 minutes.
Went at my own pace, if I started panting, I slowed down until normal breathing rhythm returned. 11 kilometers in one hour and fifteen minutes. I'm happy with that.