During the 1980s, I spent most Saturday nights at a roller skating rink with my friends. We had many fun adventures, but nothing comes close to the stories created by Joelle Charbonneau in her series of books; Skating Around The Law and Skating Over The Line.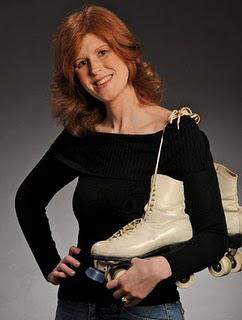 Joelle, thank you for joining us! I'm curious, what was your inspiration for the setting of your two books?
The inspiration for the roller rink setting came from my mother, Jaci Charbonneau. She was an artistic roller skater who appeared on ABC's Wide World of Sports and was even pictured in the World Book Encyclopedia under "Roller Skating".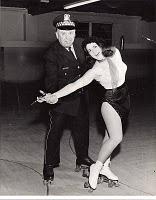 In my younger days, I also played the role of Annie on skates.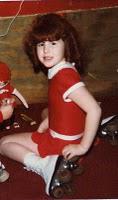 I enjoyed reading about your November event, Fleetwood Roller Skating Reunion and Book signing. What other creative plans are in the works for promoting your books?
The skating events have been a lot of fun. My release party was held at the Orbit Skating rink during an artistic skating reunion. We then had the November event at Fleetwood, which my husband wasn't as wild about - he fell and broke his arm. I don't know if he'll skate at the next release party, but I'm going to try to get him back on the rink.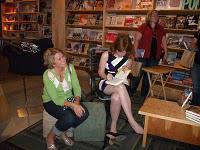 Also, in November I was honored to have every member of the USA Artistic Roller Skating team travel to the world championships in Portugal with a copy of my book in their hand. This summer I believe I will be at the 2011 National Artistic Roller Skating Championship in Indiana to watch the skating and sign books. I'll also be starting to do appearances at Roller Derby meets and working with the local roller derby teams to promote the next book, Skating Over the Line, which will come out on Sept. 27th.
Skating Over The Line features the first appearance of the Indian Falls roller derby team and in book three they are central to the main storyline. Derby ladies are lots of fun and I can't wait to see what promotions we can come up with together.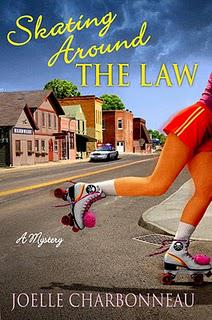 Do you belong to any professional writing organizations? How do you benefit from membership?
The best thing I ever did for my writing career was joining a professional writing organization. The first one I joined was at the recommendation of the only published author I knew - who also happened to be a NY Times Best Seller. She told me to join Romance Writers of America and more important she told me to join my local chapter. I did both. The national organization is a great source of information about the business. They helped me be more professional in the way I approached querying agents and editors.
The local chapter was instrumental in my improving my writing. Every meeting a member (or 2) reads 20 pages of their manuscript aloud which is then critiqued by the attending members. I learn just as much when I listen to critiques of other writers' work as I do when I myself have work critiqued. I don't write romance, but the organization is happy to embrace all genres. Thank goodness for me!
I also belong to Sisters In Crime, Mystery Writers of America and International Thriller Writers. They all are wonderfully supportive and provide information that always helps me keep informed about the industry. Like it or not, writing isn't just a creative endeavor. It is a business and the best way to not feel overwhelmed by the business is to learn about it. And wow, what a fascinating business it is!
What are you working on now?
I will be launching a new series next year with Berkley Prime Crime. The first book is titled Murder For Choir and is about a classical singer who turns to teaching high school show choir to make ends meet. During the end of summer regional show choir camp, she discovers a rival director strangled with a microphone cord and one of her students comes under suspicion for the murder.
I'm also blogging at Do Some Damage where I'm joined by other authors who write Crime Fiction - with a capital C. Dark noir, lots of drugs and grisly deaths are in their books. I write crime fiction with a little bitty c. My books are funny mysteries. Yes, there are dead bodies, but there are is a hat wearing ex-circus camel and a randy grandfather.
You can learn more about Joelle's writing by visiting her online at JoelleCharbonneau.net.