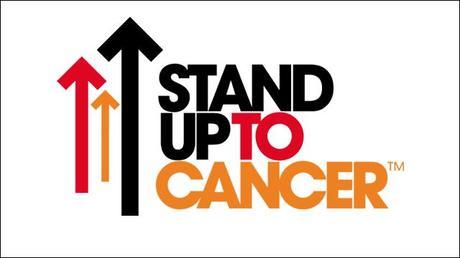 True Blood's Joe Manganiello (Alcide Herveaux) has been listed as one of the participants in the third Stand Up To Cancer televised event which will take place on September 7th at 8:00pm EST.  The show will air commercial free simultaneously on ABC, CBS, Fox, NBC, BIO, E!, Encore, HBO, HBO Latino, ION Television, Lifetime Movie Network, LOGO, MLB Network, mun2, Palladia, Showtime, Smithsonian Channel, Starz, Style, TBS, and VH1.
Gwyneth Paltrow, Julia Roberts, Matt Damon, Michael Douglas, Jessica Biel, Samuel L. Jackson, Jeremy Renner, Seth Rogen, Emma Stone, Taylor Swift, Coldplay, Alicia Keys, Tim McGraw and SU2C Co-Founder Katie Couric will all appear in the broadcast which is being executive produced by Paltrow and Joel Gallen of Tenth Planet Productions in collaboration with SU2C's production team.  Taylor Swift, Coldplay, Alicia Keys and Tim McGraw will deliver one-of-a-kind show performances as they join celebrities from film, television and sports to engage viewers with powerful stories and a moving call-to-action.
The program will have a celebrity phone bank that will allow viewers to interact with the participating stars when they call in.  People can also donate via text-to-give or by visiting standup2cancer.org.
SU2C was founded on the belief that we are at a pivotal juncture with the potential for transformative progress in cancer research because of two trends: breakthroughs made in our understanding of the basic science of cancer, and technological advances that enable us to translate them into new treatments. Today's cancer researchers need additional funding to fulfill the promise of life-saving discoveries, and Stand Up To Cancer engages the public to support their work.
Be sure to tune in to the broadcast on September 7th not only to see Joe and the other stars, but to support this important cause.  Cancer is going to be the number one cause of death in the world in 2012 and chances are it will affect you or someone you love at some point in your life.
Source: StandUp2Cancer.org – Hollywood's Stars Illuminate SU2C's Nationally Televised Fundraising Event on September 7th
Image Credit: StandUp2Cancer.org