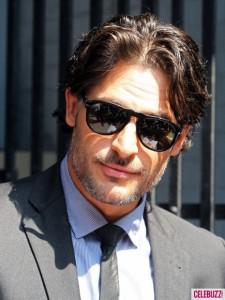 Joe Manganiello, True Blood's Alcide, talks in an interview below about how he's a classically trained actor who is also very comfortable with dance and taking off his clothes.  He says, taking off his clothes is just a typical day at the office.
Joe has been classically trained and studied drama at Carnegie Mellon, he's done more Shakespeare than fans would suspect, and he's been getting nude in front of audiences long before he was cast as Alcide.
"When I was in college, I did an Off-Broadway show where I was full-frontal on stage, so I guess all of these crazy parts have been coming my way for a long time," Manganiello tells The Huffington Post.
And his next crazy part includes playing a male stripper named Big Dick Richie in Steven Soderbergh's new film, "Magic Mike." Inspired by Channing Tatum's days working the pole before he became an acclaimed actor, here Tatum plays an experienced stripper who shows new kid, Alex Pettyfer, the ropes. Matthew McConaughey plays club owner and sage stripper named Dallas. Rounding out the incredibly good-looking cast is "White Collar's" Matt Bomer, Manganiello's good friend and Carnegie Mellon classmate.
But what happens when you have that much testosterone in one film? Whatever happens, Manganiello isn't feeling the pressure–after all, he's the one getting naked on a weekly basis on "True Blood." By all means, he's an old pro and dropping trou.
"I'm the one coming from 'True Blood,'" says Manganiello. "It's not that different from what I do on set on 'True Blood.' I wonder if some of the other guys have done it before–taken their clothes off on camera. For me, it's just a typical day at the office."
And when it comes to busting out some erotic dancing moves, he's pretty confident in his skills. So confident, in fact, that he challenges his good friend Bomer "to a dance off on set."
"We had some dance classes at Carnegie Mellon, actually," says Manganiello. "The actors had to take jazz and ballet, and we had extensive moment for four years. It's not something that I'll go out on the weekends and do in my free time, but if you put a gun to my head, I'll be alright."
Read the rest of this article at huffingtonpost.com