In this past week's episode we saw the start of the Eric/Sookie relationship, but according to Joe Manganiello, we shouldn't rule out a Sookie/Alcide affair.
True Blood's Sookie may have her hands full at the moment on the HBO drama, repairing her broken heart, while falling for amnesiac vampire Eric Northman – but a romance with hunky werewolf Alcide could be in the cards says Joe Manganiello.
"Well, they're teasing it a bit," Joe said on Tuesday's Access Hollywood Live, with Billy Bush and guest host, "Private Practice" star Kate Walsh.
"Obviously my character's very close and she (Sookie) has stuff going on with Eric (Alexander Skarsgard) right now, but as you can see from the last episode, the ghost of her grandmother channeled through this medium and told her to not give her heart to the guy she may be falling in love with," Joe continued. "So obviously, the door's still open."
In one of the fan-favorite moments of the season so far, which aired just two weeks ago, Alcide helped Sookie after Eric drank a fairy to death and the vampire went swimming in the lake — in direct sunlight. The episode had Joe stripping down to shift into his wolf form, prompting Billy to ask if werewolves wear skivvies.
"We had long talks about whether werewolves wear underwear or not," Joe laughed. "[In] our character research, we decided that, no, they don't.
"I was actually wearing what we refer to as 'the sock' there," Joe added of his "True Blood" scene, which saw him removing his blue jeans as part of his character's transformation into the beast.
Click on the image to go to the site and see the video.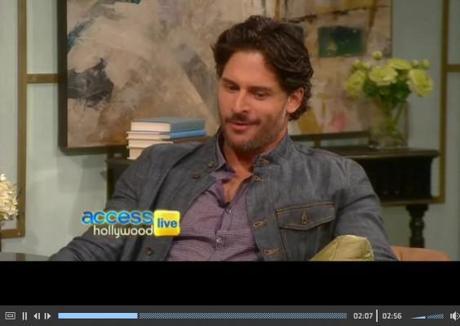 source: accesshollywood.com