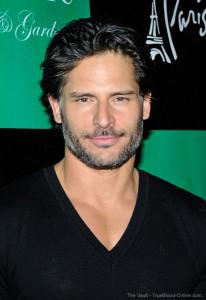 Sookie has two gorgeous vampires in her life right now and with Alcide's return to the show in Episode 3 she can now also add a werewolf to the mix. It was very apparent from their exchange, that they both care a lot for each other, but since Alcide has since rekindled his relationship with Debbie Pelt, and Sookie is currently very caught up with amnesia Eric, who knows what is in the future for their possible relationship.
Alcide's unstable werewolf girlfriend, Debbie (Brit Morgan), has made quite a physical change from the V-addicted woman who jealously kicked down a door and attacked Sookie last season to someone who offers her finger foods and wears sweater sets.
"The joke was that she was a character from Big Love," Joe Manganiello, who plays the werewolf Alcide, tells The Hollywood Reporter.
"Alcide gives her another shot," he continues. "And so there's a part of you that wants Debbie to make it, and you want to give somebody a second chance and hope they can redeem themselves. But there is a part of you that kind of looks out of the corner of your eye like, 'Can this leopard change its spots?' "
Even without Debbie's return, Alcide's introduction into the series last season as yet another character vying for Sookie's love will continue to complicate their lives.
"Alcide is kind of [Sookie's] fantasy of being able to get away from it all," executive producer Alexander Woo tells us. "They have conversations which continue into this season about someday they could just ditch all this and get away from everything. So, he certainly represents a kind of fantasy to her, because she's so inextricably intertwined. And she knows — and Alcide I think also knows — that she can never really leave this world."
So, does that mean that in a perfect world Sookie and Alcide should end up together? Manganiello thinks that his character, even with his supernatural qualities, definitely offers her a less complicated existence.
"Well, you know it's interesting that Charlaine Harris [author of the Sookie Stackhouse novels, which True Blood is based on] said in an interview, supernatural creatures included, who would she rather marry [Sookie] out of all the creatures or even humans, and she actually said a werewolf. I thought that was funny," Manganiello laughs.
 
To read the rest of this interview go to: hollywoodreporter.com