True Blood's Joe Manganiello and Chris Bauer were at The Sunset Tower terrace when it overflowed Thursday night with dry-ice cocktails, live music by Hugo and celebrities for the launch of Joseph Abboud's first ever collection of premiere watches, which will come out this fall.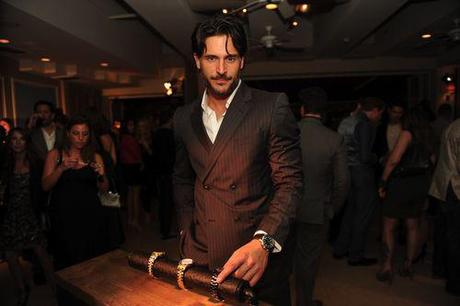 Bernardo Rojo, believed it was time to introduce the accessory to complete the brand. "The same way you need shoes and a tie to complete a suit, I think the ultimate completion of your look also includes a watch," he said.
Rojo made it clear that he designs for the international man. To fit in with his belief that style has become borderless to a certain extent, he has created a look that he believes suits any man anywhere in the world.
As for who that international man might be, one person came to mind for Rojo: Joe Manganiello. "Joe has masculinity and sex appeal and not in a stereotypical way," he said. "He's the man who exudes a personal sense of style and doesn't necessarily rely on high fashion for it."
Manganiello, dressed in Abboud, of course, was thrilled to be that man. "Basically Joseph Abboud turned a guy who wore three suits into…my closet now looks like 'Goodfellas,' " said Manganiello, who was mingling with fellow "True Blood" cast mate Chris Bauer. And he didn't deny that his favorite part of the suit was the stitching of his name on the inside pocket. Nelsan Ellis was also mentioned to have attended.
The celebrities mingling about included Ryan Phillippe, David Arquette, Kevin Jonas, Nelsan Ellis, AnnaLynne McCord, Colton Haynes, Amber Rose, Trevor Donovan and DJ Samantha Ronson, Ben Silverman and Charlie Walk.
source: latimesblogs.latimes.com