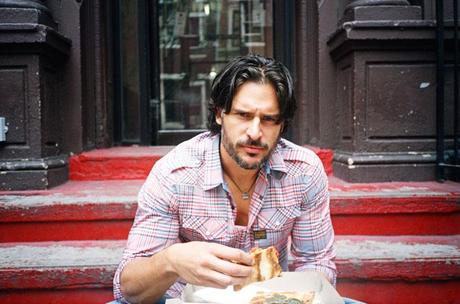 Over the hiatus of True Blood Joe Manganiello (Alcide) was in Hong Kong to help promote the latest season of True Blood.  He did give us a little bit of insight on the up coming season saying:
"I know for a fact that [Alcide] is going to play a bigger part [in season five].  My role is only going to increase, and I'll wind up getting into territory that isn't covered in the books."
Lucky for us and for the show he changed his mind about doing TV.  When he graduated from Carnegie Mellon University's drama school he turned down TV contracts to do film. He did say this about not doing TV right after college and doing it now:
"At the time I got out of college, television wasn't what it is today.  HBO really revolutionized; it made TV more appealing to show-runners and really creative people life Alan Ball.  There's more freedom now in cable TV than there is in film; film is really conservative now – very safe and very boring.  I'd rather watch HBO shows than go to the movies."
He also admitted that getting the part of Alcide was just a twist of luck.  The fans of his who read the Sookie Stackhouse novels started to blog that he should be the one to play one of the werewolves when the story got into that territory in season three.  He was a big fan of the show and when he saw the blogs about him playing a werewolves he got the books and started to read them. He then went into the audition and as he was walking out of the room he heard Alan saying this to everyone:
"I think that's Alcide."
After getting the part he has done his fair share of nude scenes and, to promote the show, nude or semi-nude photos shoots.  In 2010 he was voted into People magazine's Sexiest Man Alive issue and crowned Men's Health's top summer body last year.  Question is does he find this a burden?
"I wouldn't call it a burden.  It's pretty fun.  It's flattering.  I was a fan of the first two seasons, so I got to watch what happened to Ryan [Kwanten], Sam and Stephen [Moyer], and then Alex [Skarsgård] as he emerged…I got to watch all of that stuff, so by the time I was cast, I knew what the story was.  I knew that being cast as the werewolf meant that I was going to drop my pants and lose my shirt quite a bit."
I think we can all agree that he made the right choice in going into TV and doing a little bit of film.  And I think we all can also agree on Alan Ball choosing Joe Manganiello for Alcide.  What are your thoughts on having more Alcide in the up coming season?
Source: Prestige Hong Kong- "True Hunk"
Image Credit: Interview Magazine