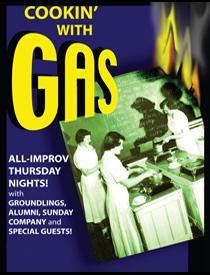 See Alcide and Rev. Steve Newlin tonight in the show Cookin' With Gas at the Groundlings on Melrose Avenue in Los Angeles.
It's not the first time that Michael appears in the show, he also took part in October of last year. Joe is tonight's special guest star.
Since 1992 The Groundlings Main Company, Alumni and Sunday Companies have played together every Thursday night in the all-improv explosion that has become almost as much of an institution as the Groundlings Theatre itself! Based entirely on audience suggestions, the comic daredevils invent custom-made satire and song. Each week features a new surprise guest.
For more info visit the Groundlings website.