It's Joe's turn to talk to PopWrap.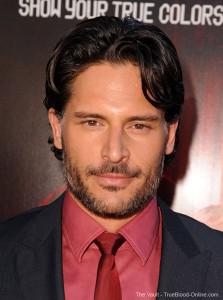 PopWrap: What were you excited about coming into season four?
Joe Manganiello: I talked to Charlaine Harris last year at Comic-Con and she gave me some insight into what she was thinking when writing the character – and how he arcs throughout all the books. It became really clear that Alcide starts with the self-loathing that you saw last year – he felt like being born a werewolf was like being born with a curse. But as he goes on, that part he's tried to hide from really comes out. Wrestling with that monster inside of him was something I was really looking forward to and I was excited that the writers took Alcide there this season – big time! There's a point where I felt like I was playing a different character on a different show.
PW: I know from our other conversations that you were a big "True Blood" fan coming in, so has being on the show ruined your ability to enjoy it?
Joe: Not at all – there's so many people in the cast. I mean, by the finale this year, there were 100 people on the call sheet. I got off and play Alcide and you don't always see what the other stuff looks like. So, from that perspective, I still get to be a fan.
PW: Obviously Alcide's storyline is very Sookie-centric — what do you think of his chances this season in that love quadrangle?
Joe: [laughs] I think you really saw how duplicitous the vampires were last season, and in turn how difficult that made it for Sookie to trust them. I think what's refreshing about Alcide, and what I respond to, is how loyal and good hearted he is even when his morality was put to the test – like it was last season. He did the right thing even when it went against his own kind.
PW: Which only made him more of an outsider.
Joe: Yea, very much. And they brought in some of his backstory – how hard it was for him growing up as a werewolf. What a lonely existence is it to not truly be able to open up to other people, besides werewolves, so to meet someone else with an ability they didn't necessarily want gave him another person to open up with. Which is really attractive to someone like him.
PW: Geographically where do we find Alcide this season?
Joe: Everything that went down in Jackson last year with Debbie & the werewolves – he killed Coot and another on the way out – forces him out of town. He can't go there. He tries to start life over and he does that in Sookie's neighborhood. And, of course, there's another wolfpack where he moves. They just won't leave Alcide alone, I'll leave it at that [laughs].
Read more here.