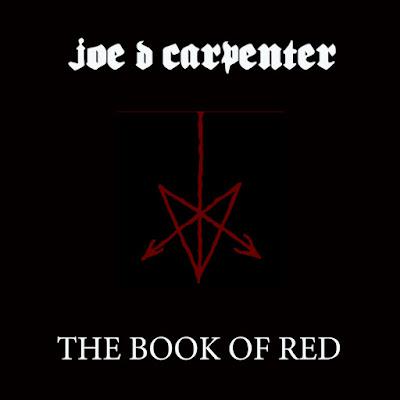 After a 7 month break following the release of the excellent 'Memento Mori', Joe Carpenter is back with a new EP, 'The Book Of Red'. And what can I say? He has finally settled for a style and he does it so well. When he first began to release under his own name each recording differed in style. Lately, however, Joe has centered around a blend of death metal and industrial metal with a touch of black metal to great aplomb and this new release is perfect evidence of that. 4 songs are on offer, three originals and a cover of Ministry's 'Deity' so please join me as I do my best to break down this excellent EP.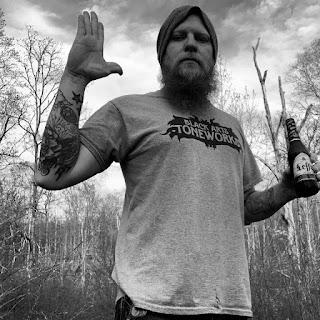 'North Face' starts off the proceedings and gets right in your face. Pounding, crushing drums and a Killing Joke-reminiscent bassline leads the way with some deft rhythm guitar parts. All with a pretty excellently chaotic lead guitar playing on top. Brings a feeling of facing some hard times on a small ship struggling in harsh waters, barely staying afloat....or fighting your way up to the top of Mount Everest! 'Isonomi' is next and unleashes a death/black metal feel. It has the foundation of death but with the ferocity of black. Short, sharp and pretty damned brutal. The title track follows and takes the tempo down but only a touch. Has more of the industrial touch and the instrumental mid-section oozes Killing Joke and Depeche Mode, love it! Great guitar solo as well but I don't expect anything less from Joe. The EP ends with a cover of Ministry's 'Deity'. Honestly, I've barely listened to Ministry, even though I did see them live one time, so before passing judgement I did have to check out the original version. What can I say? Joe does it the way I prefer covers to be...you hear what song it is but he puts his mark on it, in other words it's not a straight up copy.
Again, Joe doesn't disappoint. Instead he unleashes his creation in full force and leaves no stone unturned. Whether he wears his emotions on his sleeves or go all out bluntly, it is done at 100% with no half measures. Excellent, indeed, and please keep it coming, Joe!
-Swedebeast