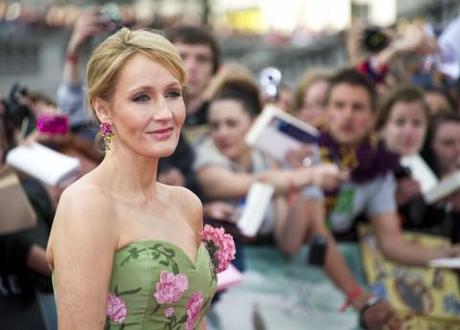 Harry Potter author JK Rowling's first post-Potter book, The Casual Vacancy, is out this week. Photo credit: Featureflash / Shutterstock.com
The background
Harry Potter author JK Rowling's first post-Potter attempt, The Casual Vacancy, is expected to be published on Thursday. And, as if the first person to make $1 billion off writing books needed it, it's already a success – the book is already the most pre-ordered novel this year.
So, what's it all about, then? Set in a devoutly middle class town in the West Country, the novel deals with issues of classicism and snobbery after the death of a parish councilor sees villagers trying to install someone in his seat who would get the local estate assigned to another council. Candidates for the seat soon turn on one another and things get catty – and, according to the absolutely titillated Daily Mail, sexy, too.
The book still remains a closely guarded secret, but some information about it and its contents have, unsurprisingly, been leaked. Here's what we know now:
Aching bollocks and unguarded vaginas
The Daily Mail thrilled to the news that Rowling's latest was very not for kids, homing in with laser-like focus on reports that the new books mentions a "lustful boy" who sits on the school bus with "'with an ache in his heart and in his bollocks" and one young lady's "miraculously unguarded vagina". The paper noted that The Casual Vacancy is, in addition to class warfare, expected to deal with prostitution, heroin addiction, and teen sexuality – a far cry from patronusi, house elves, and teen witches.
There is no sex near the unicorns
In fact, there are no unicorns in The Casual Vacancy – this book is strictly real world, a major departure from the fantasy franchise that brought her fame. "I had a lot of real-world material in me, believe you me," Rowling told The New Yorker. But even if it were fantasy, there would be no sex near the unicorns: "The thing about fantasy – there are certain things you just don't do.  You don't have sex near unicorns. It's an ironclad rule. It's tacky."
It's not based on us, say Rowling's old neighbours
Rowling said she drew inspiration for the West Country village, called Pagford in the book, from her own Gloucestershire upbringing – Rowling spent her rather unhappy teenage years in Tutshill. But her former neighbours say the snobbish Pagford bears no resemblance their quiet little town, The Telegraph reported: "I think she has a bit of a chip on her shoulder because she didn't have a very good time in her teenage years. Tutshill is neither snobby nor pretentious. If it were, we wouldn't have lived here for 22 years," Victoria Carter, 50, told the paper. Her husband, William, 51, a business analyst, added, "She is a fantasy writer, after all. This sounds like another of her fantasies."
Decca Alktenhead loved it
The Guardian dispatched Decca Altkenhead to interview Rowling as she makes her publicity rounds for the novel, but before she did, she got to read the book. She told Rowling – whom she characterised as "warm and animated, quick to laugh" – that she "loved it". Altkenhead continued, "Pagford will be appallingly recognisable to anyone who has ever lived in a West Country village, but its clever comedy can also be read as a parable about national politics."