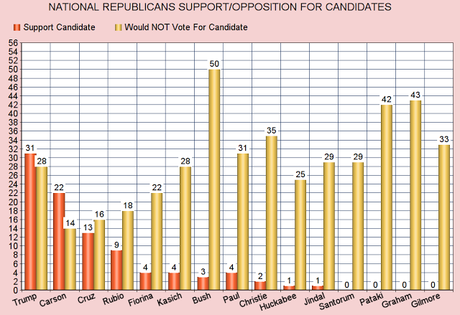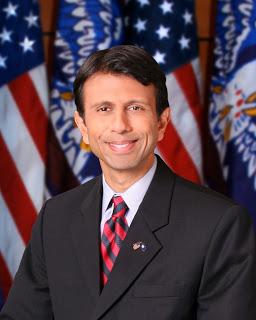 Louisiana Governor Bobby Jindal finally woke up and read the political writing on the wall. He realized that he had absolutely no chance to win the Republican presidential nomination, and has withdrawn from the race. As the chart above shows, he had almost no support from the voters (and 29% of them said they would NOT vote for Jindal).
Here is some of what he posted on his Facebook page yesterday:


I cannot tell you what an honor it has been to run for President of the United States of America. My parents came to this country 45 years ago searching for freedom and a chance.




When I was born, we lived in student housing at LSU, and never in their wildest dreams did they think their son would have the opportunity to serve as Governor of Louisiana or to run for President.




They raised me to bel

ieve Americans can do anything, and they were right, we can. But this is not my time, so I am suspending my campaign for President.


Jindal is not the only Republican who is wasting everyone's time (and money). Gilmore, Graham, Pataki, Santorum, and Huckabee are in a situation very similar to the one that faced Jindal. None of them have any chance at all of actually winning the nomination, and staying in the race does nothing but feed their own narcissism.
And they are closely followed in their presidential delusions by four other candidates -- Christie, Paul, Kasich, and Bush. The surprise of this group is Jeb Bush. He was once a frontrunner, but now about half of all Republicans say they would NOT vote more him (a higher percentage than for any other GOP candidate).
The same argument could be made for the candidacy of Democrat Martin O'Malley. He gets a bit more support (around 6%), but nearly half of all Democrats (47%) say they would NOT vote for him. Far smaller percentages say that about Sanders (16%) and Clinton (14%). Meanwhile, Clinton maintains a 34 point lead over Sanders (63% to 29%).
These numbers come from a new University of Massachusetts Poll -- done between November 5th and 13% of a random national sample of likely primary voters. They queried 318 Republicans and 381 Democrats. The margin of error for Republicans is 6.4 points, and for Democrats is 6 points.