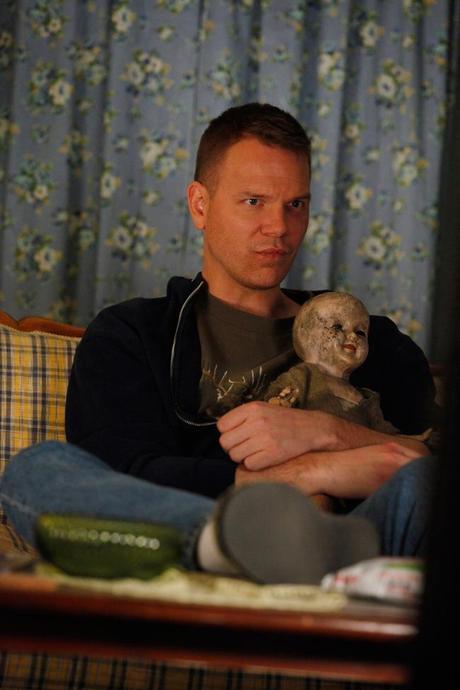 This season we've seen a new and troubled side of Hoyt played by Jim Parrack.  The ill-fated romance between Hoyt and vampire Jessica is one that just about any viewer can relate to. What could be more uniquely human than a story of love on the rocks? At the end of the last episode it appears that Jessica has already moved on. But don't count Hoyt out just yet. "Alan Ball, our show's creator, says you can't be happy in love for more than an episode for it to be good TV," Parrack says, "and I think he's right!"
You and Debra Ann Woll have had great chemistry onscreen. What's your secret?
"She has been my favorite person on the show to work with. We're both kind of dorks about acting. We love it. We get together on set and rehearse and talk about it. Some actors, I think, don't want to seem too excited about acting. Maybe it doesn't look cool. But she and I love it too much to hide our enthusiasm."
What kind of feedback do you get from viewers about the Hoyt-Jessica romance?
"The fans seem to like the idea of Hoyt and Jessica. The way the characters fell in love, it was pretty pure. And I think when people catch a glimpse of that, they want to see it continue. I did a movie in Louisiana a while back and there was a woman who came up to me in a bar and she handed me her phone. She said, 'You've got to tell my fiance how to be that kind of guy. Otherwise, we're not going through with this.' I had no idea what she was talking about. She was like, 'Hoyt's the perfect boyfriend. You've got to tell him how to be like that.' I said, 'Look, I can't tell anybody how to do anything in their soon-to-be marriage. I'm just an actor and that's a character.' Besides, Hoyt doesn't have the answers any more than anybody else."
Is there any acting challenge to being "glamoured" by a vampire? What goes through your head?
"For me, I try to just picture being almost asleep with my eyes open. You just totally relax and give over and give over and give over to her and just go with whatever she wants. Do you know when you see a kid asleep in the back seat of the car and his parents bring him in and he's limp and out cold and kind of malleable? I think it's like that, but with just a little cognition still working."
Is there much Hoyt in you and you in Hoyt?
"I don't have anything to make my acting up out of other than myself. I've heard people talk — I think kind of ridiculously — about actors 'becoming' other people. But nobody really becomes anybody else. So the answer is, for whatever it says about me, for better or worse, there is definitely a lot of me in the character."
source: dfw.com