Known for being yet another creation of Ram Gopal Varma,Jiah Khan, also known by the name of Nafisa Khan, is listed as one of the most fashionable and provocative young actor in the industry.
Daughter of Ali Rizvi Khan, an Indian American and Rabiya Amin, a Hindi film actress of the 80s, she was born in New York City and was later raised in London, Chelsea. There she studied English Literature and Art from Mander Portman Woodard College and later went on to study Shakespeare and method acting at the Lee Strasberg's Theatre and Film Institute in New York.
She moved to Mumbai to pursue her dream of becoming an actor. Breakthrough came when she starred opposite the legendary actor Amitabh Bachchan in her very first movie Nishabd in 2007, based on the famous novel Lolita by Vladmir Nabakov. The sultry actress got noticed immediately and received her first nomination as a best debutant at the Filmfare Awards which also earned her instant fame. Thereafter, she bagged a supporting role opposite to Amir Khan in Ghajini. The movie turned out to be a landmark in her career as it became the highest grossing Bollywood film of 2008, as well as earned the all-time block buster status. Even though she had small role in the film her performance was well appreciated by the critics and the audience.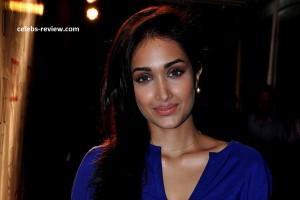 She was then shortlisted to play the lead role in the film Chance Pe Dance co-starring Shahid Kapoor but backed out for various reasons. After that she appeared in a small role in Sajid Khan's Housefull which also turned out to be her last film appearance. According to the industry sources, she had signed a three-film deal in the South and the first of those films is due to release in June 2013.
Jiah is also a versatile dancer and singer. As a matter of fact, she wrote, composed and choreographed the song Take Lite from Nishabd. She is a trained singer and has recorded six songs before making to Bollywood. She is also trained to shake her legs to different dance forms like Salsa, Jazz, Kathak and Reggae. Apart from that, she was the first Indian women to become the face of Wrangler Jeans and was also ambassador for Taj Group and PETA.
On June 3, 2013, Jiah was found dead in her apartment in Sagar Sangeet building in Juhu, Mumbai after hanging herself. The whole episode is under police scrutiny and several speculations are made though nothing concrete has come out as yet as no one knows her reasons behind doing the same.
5 total views, 5 views today