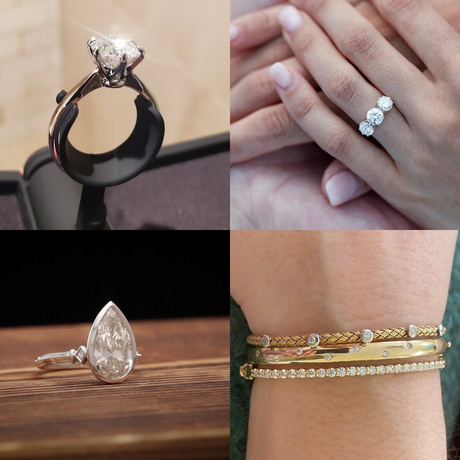 Each Friday on the PriceScope Facebook page we celebrate the Jewel of the Week! From Show Me the Bling, one recently posted jewelry piece belonging to a PriceScope member is chosen to be featured. We love this tradition and we love getting to enjoy all that new bling! These were the Jewels of the Weeks for February 2021.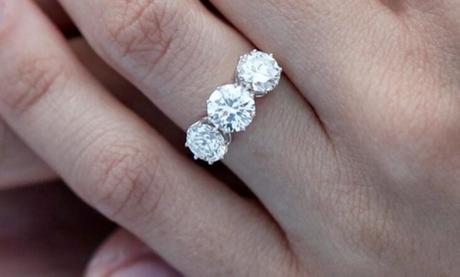 PriceScope member, Silkandsapphires shared this incredible Edwardian three-stone engagement ring. Silkandsapphires is new to the forums and came in swinging for the stars! This ring that her fiancé had made is gorgeous, I love the finger coverage and the old-world proportions!
About the specs Silkandsapphires said: "I'm not sure on exact specs! I know the color is H, center is around a carat and sides are around .80 carat each on a size 3.25 finger."
Welcome to PriceScope, Silkandsapphires we hope that you continue to share! Congratulations on your engagement!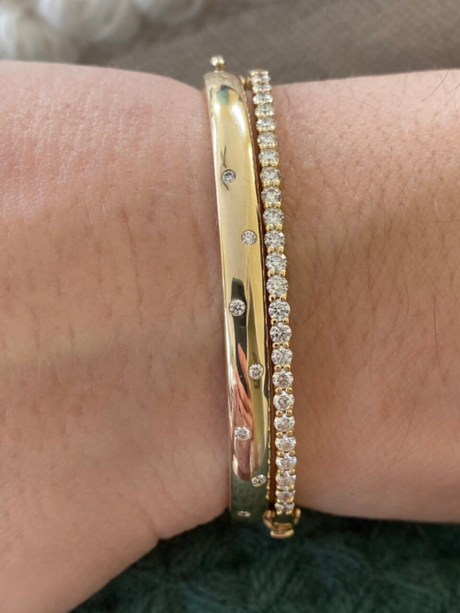 PriceScope member, Ally66 shared her marvelous Whiteflash bracelets with us and we are loving them. Ally66 bought the shared prong bangle in the 1.5ctw size and was looking for a companion bracelet to go with it. In her search, she looked at several different styles and options. The WF scattered diamond bangle was what she got stuck on and we can see why. This stack is everything!
She added in a braided bracelet that her husband purchased at a local jewelry store, and the whole look is magnificent! Ally66 is a yellow gold lover and these all look really great together.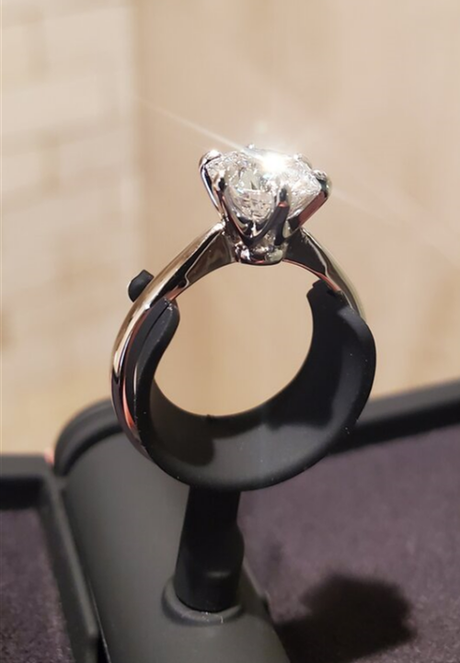 PriceScope member, DiamondsAreFrustrating shared this stunning solitaire engagement ring. DiamondsAreFrustrating has been having a rough run of it, the prep work that goes into a proposal can be really challenging. Getting feedback and suggestions from PriceScopers helped DiamondsAreFrustrating finally reach the end of the ring search.
Whiteflash to the rescue! As DiamondsAreFrustrating put it: " Whiteflash has ended my frustration with finding the perfect ring. If only they could assist me with the actual proposal now." He goes on to sing the praises of the WF staff, and this ring is an exemplary outcome of his search.
The sparkle is divine, I love the way this looks. We want pics once you get that YES!
STATISTICS:
1.601 ACA
Color: F
Clarity: VS2
Set in their contemporary setting with a few customizations.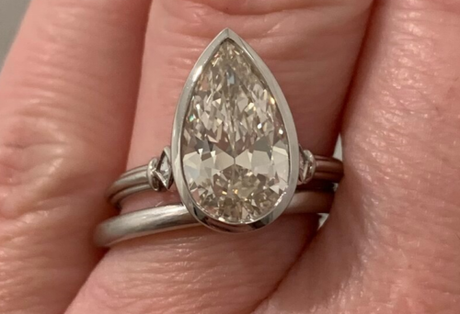 PriceScope member, Caolsen shared this fabulous reset with us and it is TDF. My jaw dropped when I opened this thread, that pear is out of this world. Caolsen had this gorgeous pear taken out of a yellow gold bezel to put it in it's new home. It's platinum, tri-wire with two French cut side stones.
The pics are great, David Klass did a phenomenal job resetting this beauty. I can't get over how swoon-worthy this pear is in this setting that really makes it sing. Caolsen said: The stone is pretty narrow, with the ratio to show and she's a bit on the shallow side. So she faces up like a 3 carat stone." Glorious!
STATISTICS:
2.6ct pear cut
Color: L
Clarity: VS1 L pear cut diamond in a 6-gram platinum tri-wire with two F/G French cuts, totaling .08 ct
These are the Jewels of the Weeks for February 2021! Thank you for posting your magnificent jewels with us, and helping to celebrate PS members' pieces every week! We look forward to seeing the newest additions to your collections in the Show Me the Bling! forum.
Written by Kayti Kawachi