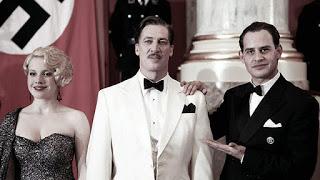 Critics generally trashed Jew Suss: Rise and Fall (2010), Oskar Roehler's fictionalized telling of Nazi Germany's notorious propaganda epic, Jud Suss. The film's more mediocre than objectionable: well-acted and lavishly staged, it adds little to the myriad films, books and documentaries on fascist art.
In 1940, German actor Ferdinand Marian (Tobias Moretti) plays Iago in Othello. Joseph Goebbels (Moritz Bleibtreu), Hitler's Propaganda Minister, is impressed by his "Jew-like" performance and casts him as the villain of Veit Harlan's (Justus Von Dohnanyi) Jud Suss. Marian, married to Jewish actress Anna (Martina Gedeck) and hating the Nazis, tries to back out, but Goebbels insists. Marian gives in and plays Suss to the hilt, becoming an overnight star. Yet his newfound fame carries consequences, as Marian realizes his film's grisly impact.
Jew Suss: Rise and Fall starts fine, navigating Marian's anguish over the role. He defends his Jewish wife, deflects threats by Goebbels and winces at his daughter reciting anti-Semitic poetry. He tries rescuing his friend Deutscher (Heribert Sasse) from interment and spars with Fritz Hippler (Ralf Bauer), director of The Eternal Jew. Marian tries humanizing Suss through his performance, which perversely makes the character more disgusting. Coupled with Roehler's fascinating mis-en-scene (bleached and washed-out colors, with faint splashes of Nazi red), and recreations of Jud Suss's most infamous scenes, the first hour works well.
The second half, however, is stilted and unconvincing. Marian loses his wife and takes to drink; we see endless scenes of Marian intoxicated and ranting at Goebbels, Harlan and others. In a remarkably tasteless scene, he sodomizes a female admirer while watching an air raid out the window. Roehler shows Jud Suss playing to concentration camp guards and Jews seeking vengeance on Marian, but these events seem perfunctory and rushed. Our hero's dissolution is abrupt, instantaneous, forfeiting our interest long before the ending.
For movie buffs, Rise and Fall is broadly accurate, with some dramatic license: Marian's wife wasn't Jewish, and Deutscher appears to be fictional. Veit Harlan's demonized as a savage opportunist; Kristina Soderbaum (Paula Kalenberg), a ditzy ingénue. Goebbels' tirade browbeating Marian into accepting the role matches historical accounts verbatim. However, Roehler invents a scene where Goebbels publicly announces Marian in the role, putting paid to his private objections. There's also an annoying subplot involving Marian's treacherous maid (Anna Unterberger).
Tobias Marian gives a nuanced performance deserving a more consistent character. Moritz Bleibtreu (The Baader-Meinhoff Complex) steals the film, making Goebbels a chilling, charming egomaniac. Martina Gedeck mostly contributes fretful grace notes. Justus Von Dohnanyi (Downfall), Anna Unterberger and Paula Kalenberg assay caricatures; Waldemar Kobus, Black Book's porcine villain, plays another swinish Nazi.
Artistic complicity in fascism is a popular subject, from Klaus Mann's Mephisto and its stellar film adaptation, to the less stellar Taking Sides, and innumerable biographies and documentaries about Leni Riefenstahl. Jud Suss's director, Veit Harlan, inspired a fascinating documentary several years back. Compared to these, Jew Suss: Rise and Fall is a sensationalist trifle.