"And after six days Jesus took with him Peter and James, and John his brother, and led them up a high mountain by themselves. And he was transfigured before them, and his face shone like the sun, and his clothes became white as light. And behold, there appeared to them Moses and Elijah, talking with him. And Peter said to Jesus, "Lord, it is good that we are here. If you wish, I will make three tents here, one for you and one for Moses and one for Elijah." He was still speaking when, behold, a bright cloud overshadowed them, and a voice from the cloud said, "This is my beloved Son,a with whom I am well pleased; listen to him." When the disciples heard this, they fell on their faces and were terrified. But Jesus came and touched them, saying, "Rise, and have no fear." And when they lifted up their eyes, they saw no one but Jesus only." (Matthew 17:1-8)
I was listening to Drive By Pneumatology today (yes, that's what I did on my summer vacation, lol), and in lecture 10 by Emilio Ramos, I was struck by some insights by the lecturer.
The Holy Spirit's ministry is to point to Christ (John 16:13-14). Christ is the pre-eminent Person in all the universe (Colossians 1:18). Peter, in his boundless and sometimes unthinking enthusiasm, wanted to make a tabernacle for all three of the glorified beings he saw before him. One for Moses, one for Elijah and one for Jesus. In verse 4 Peter makes it clear, he says it twice, 'three tents' and then explains, 'one for you and you and you...'
WHILE He was speaking, God interrupted Peter. Peter was off on the wrong track. We cannot put anything or any one equal to Jesus. He is preeminent.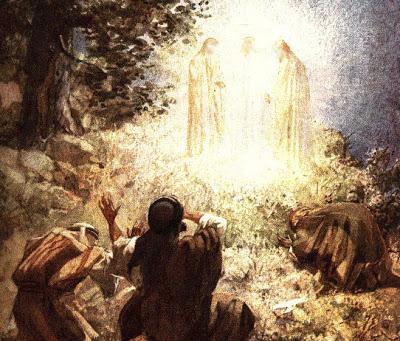 God said, "This is my beloved Son, with whom I am well pleased; listen to him" God says it twice, 'this is My Son," and 'listen to Him.'
Do we get the message?
Jesus is preeminent. He is counted to have more glory than Moses (Hebrews 3:3). he speaks with more authority than Elijah, the prophet, and all the prophets. (Hebrews 1:1-2).
My prayer for you is that you put Jesus at the highest exaltation point in your mind and heart. He is pre-eminent, better than our idols, our celebrities, our traditions, and better than any picture or shadow of anyone else in the bible.
"Therefore God has highly exalted him and bestowed on him the name that is above every name, so that at the name of Jesus every knee should bow, in heaven and on earth and under the earth, and every tongue confess that Jesus Christ is Lord, to the glory of God the Father." (Philippians 2:10-11).
Jesus, the Name High Over All, written by Charles Wesley