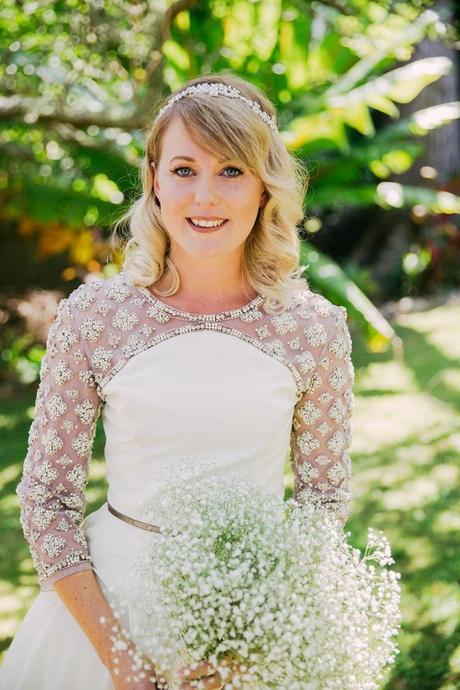 OK so today's wedding is a biggie but only because I simply could not narrow down the images as they are all so fab! Gorgeous bride Jess wore a gorgeous 1950's inspired dress and yet with all the vintage touches the whole wedding remains classically beautiful, with such a  fun atmosphere (totally wish I had been there!) A huge congrats to love birds Jess & Ryan and a massive thank you to Keryn Sweeny from CAPTURED by Keryn for sharing these spectacular images with us. Enjoy!
Photographer CAPTURED by Keryn | Venue Northridge Country Lodge, Wainui | Wedding Dress Topshop, and altered by dressmaker | Headpiece Bo and Luca | Shoes Rachel Simpson | Bridal Hair by Haley (a friend) | Makeup by Abby Sweeney Makeup Artist | Bridesmaids Forever New | Groom Suit from Hallensteins, Shirt from Meccano, Blue velvet bowtie online from Etsy, Shoes from RJB Design | Cake made by the brides Nana Ione Evans | Rings Walker & Hall | Transport Matte Black Mustang (1969 fastback) | Music A playlist, compiled for us by father-in-law Glenn | Favours Guests took home their photo booth photos from the night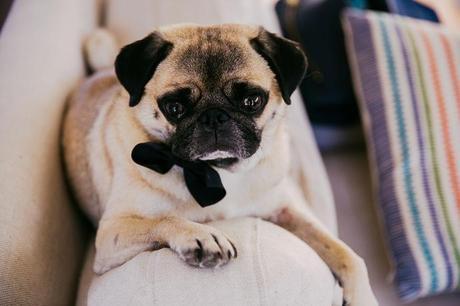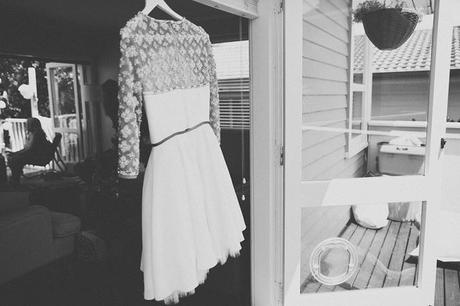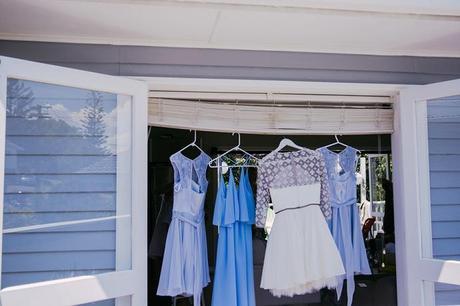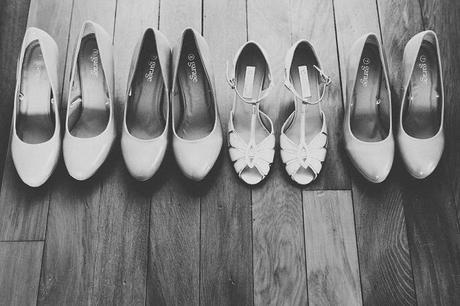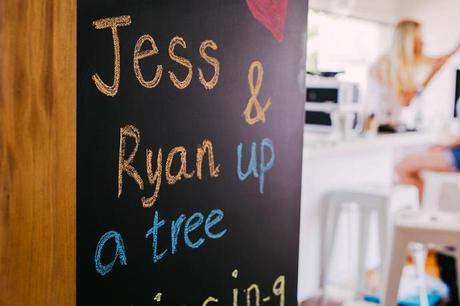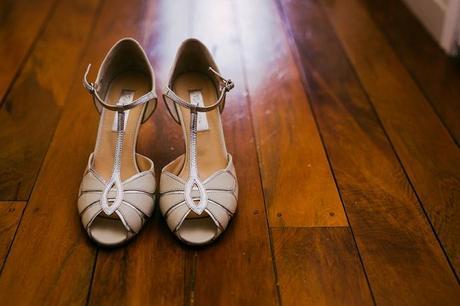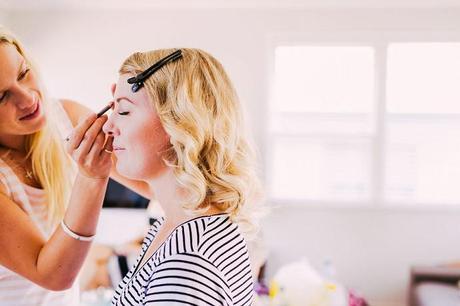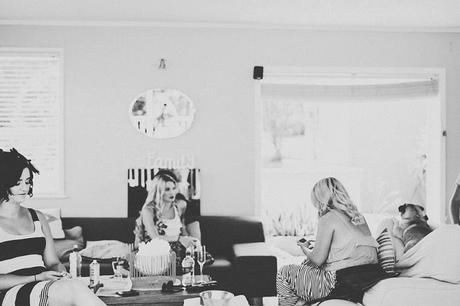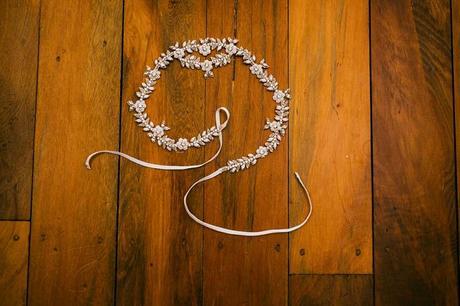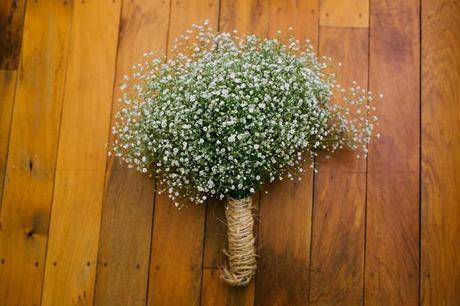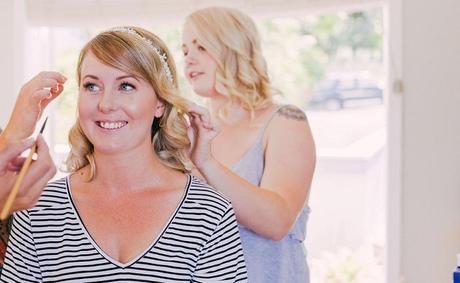 How did you meet and what's your love story?
We met through a mutual friend. I wasn't meant to go out that night, but my friend Emma convinced me to go along with her to her mate Ryan's place (well his parents place, he was housesitting). As soon as I walked through the door and saw Ryan standing there in his ugg boots, with a scar through his eye brow, it was love at first sight! Only a few months later we were living together. The following year we embarked on a two year travel adventure, and this year we have been together for seven years.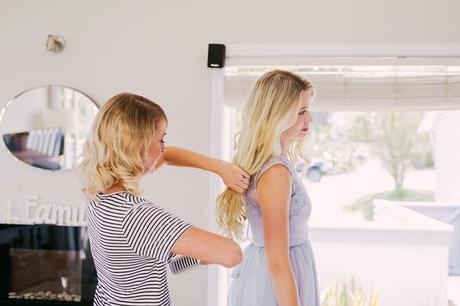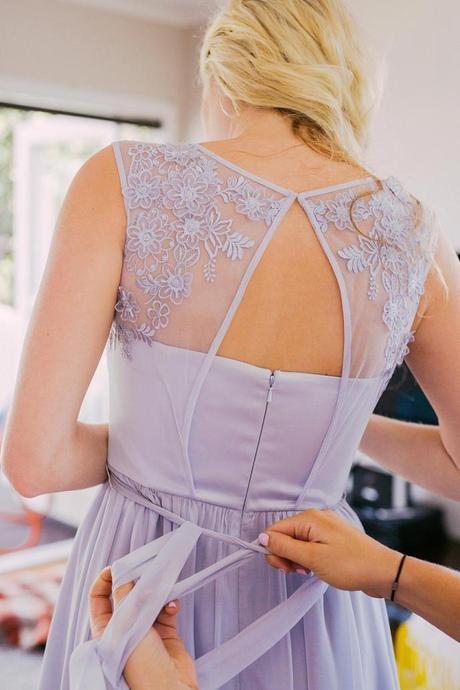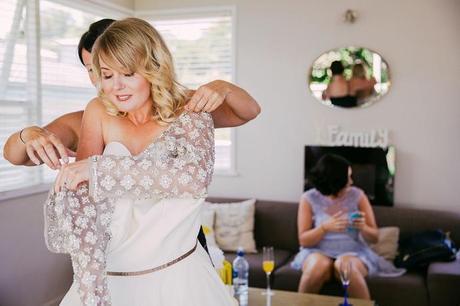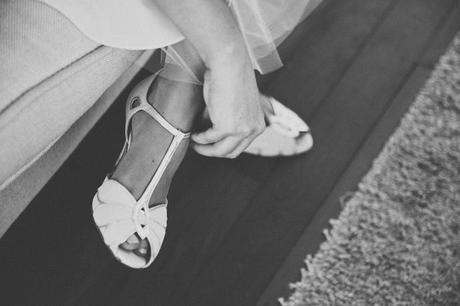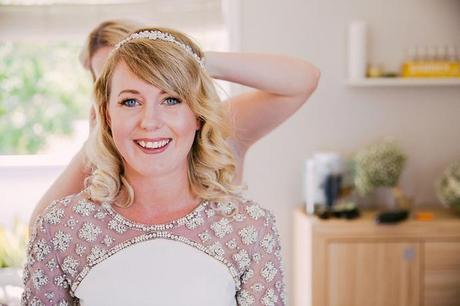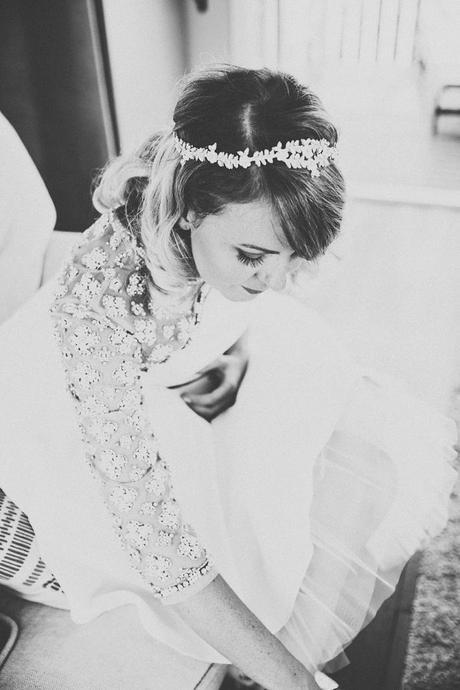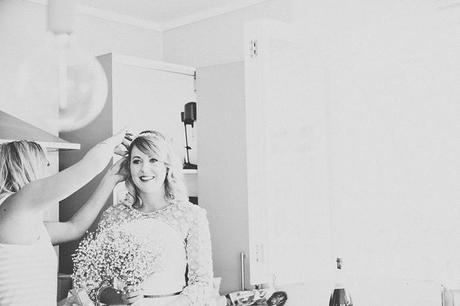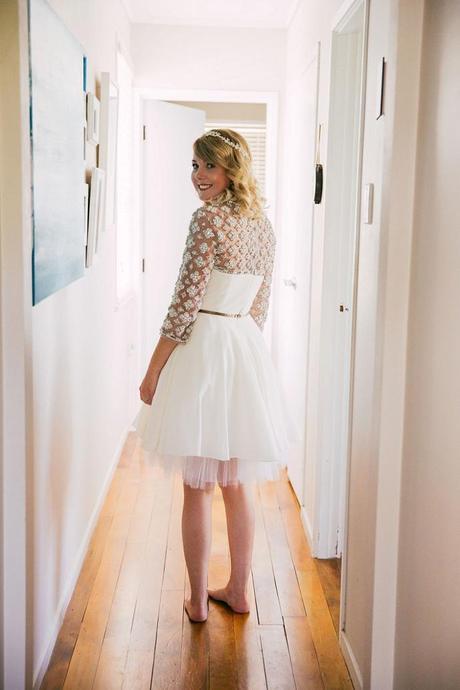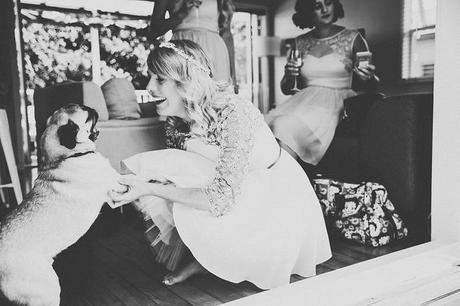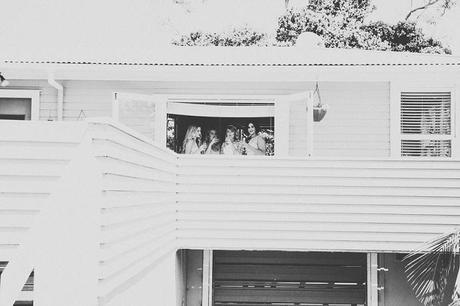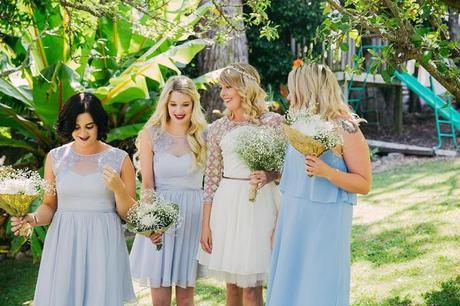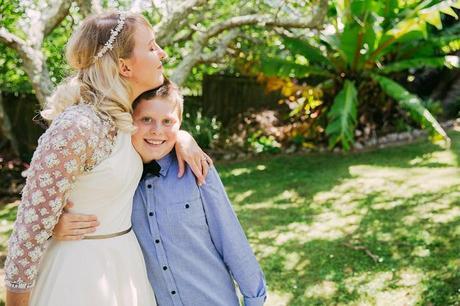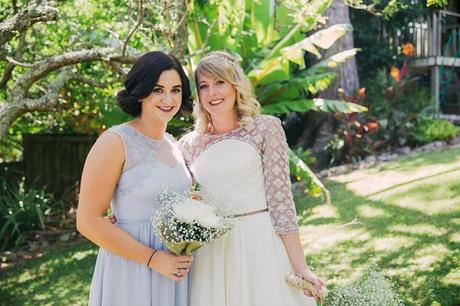 Tell us about the proposal…
I was completely surprised by the proposal, and this is no easy feat! I was in the middle of studying for my exams, but Ryan convinced me to take a day off to keep him company on a road trip to see a customer. We traveled down to Tauranga to see the customer and then Ryan insisted that we go for a walk around Mount Maunganui. We got to a park bench around the Mount, after sitting for awhile I began to get impatient for some lunch. Unbeknownst to me Ryan was trying to stall for time so there would be no passersby. In an attempt to do this he began pointing out random islands he could see and asking me if I knew what they were called. Soon after, the space clear, he blew me away by getting down on one knee to propose. My reaction was slightly hysterical, and the words I said unrepeatable. The ring was perfect, I had actually pointed it out a few weeks prior.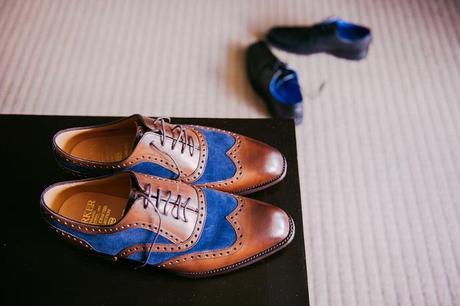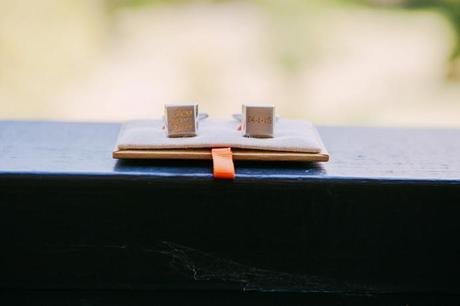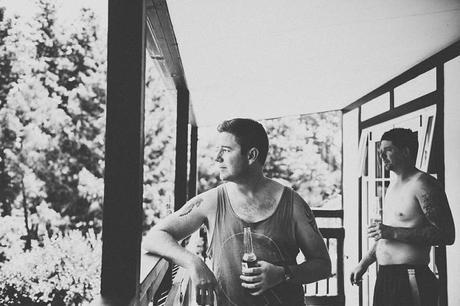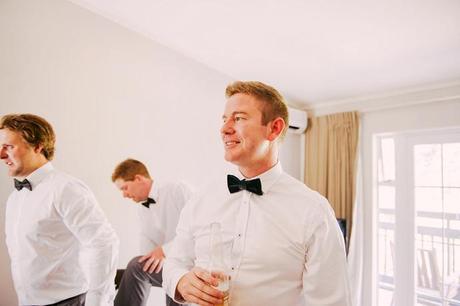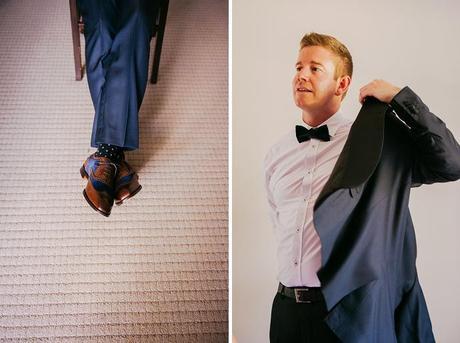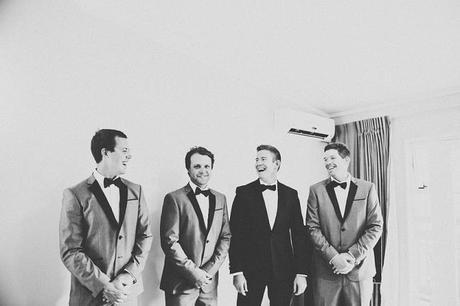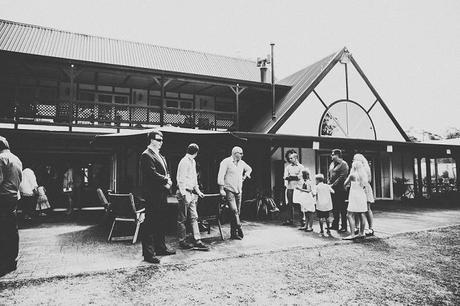 Tell us about the venue…
Northridge Country Lodge in Wainui was the first place we looked at and we booked it straight away, it was just perfect.
What was your wedding look?
My dress had an almost 50's feel about it. I got the dress from Topshop for $99. I made quite a few alterations to it. I had tulle added to the short skirt so it would flare out. I absolutely loved the beading that covered my upper back and collar bone, it also extended down my arms. The waist was cinched in, and a ribbon was added to define it more. I didn't want to wear a veil, so instead I got a hand beaded headpiece from Bo and Luca called 'Flora'. My shoes were from Rachel Simpson in the UK, she makes the most gorgeous and vintage style wedding shoes. They were incredibly comfortable as well, and they fit perfectly with the vintage, 50s look I was going for.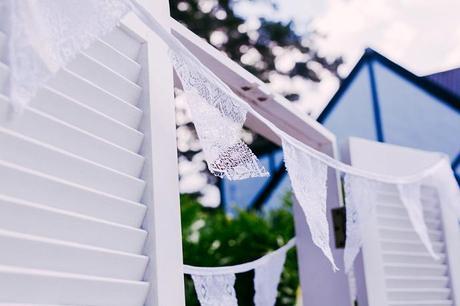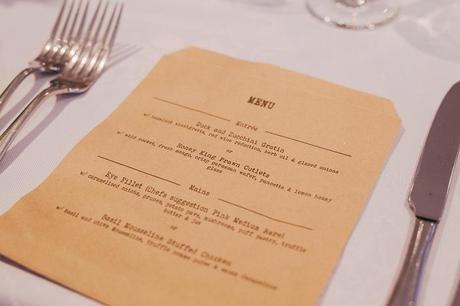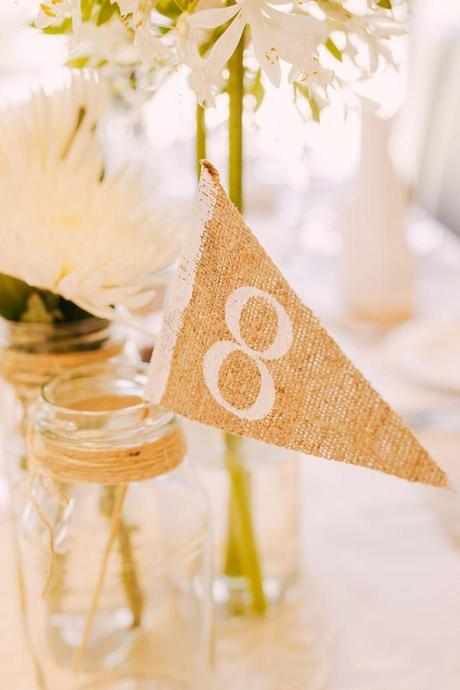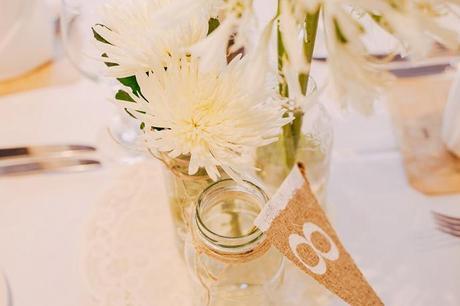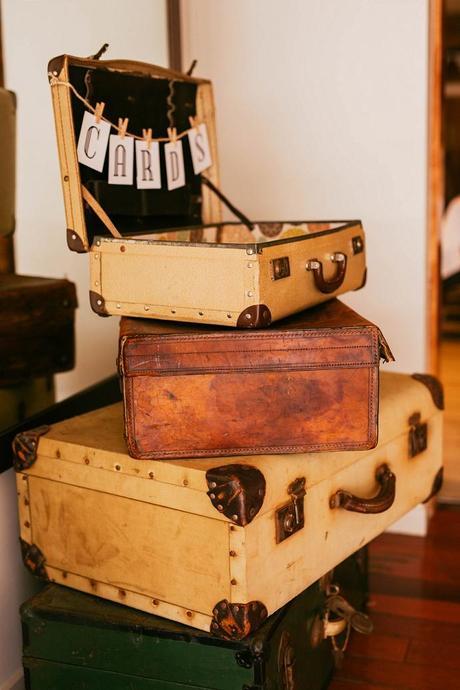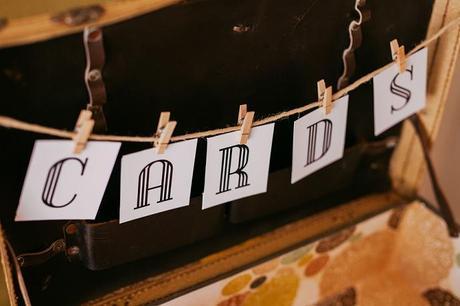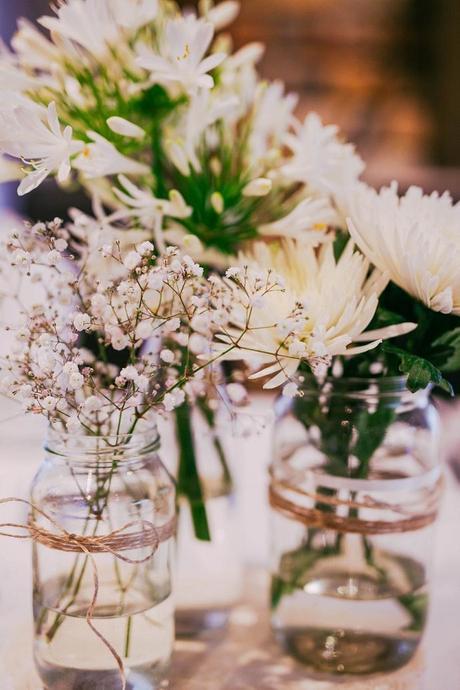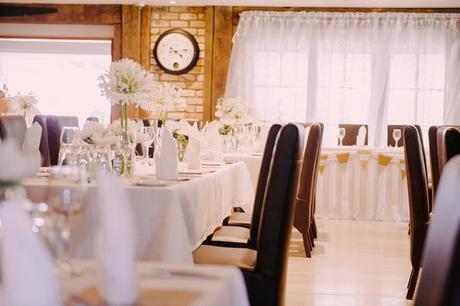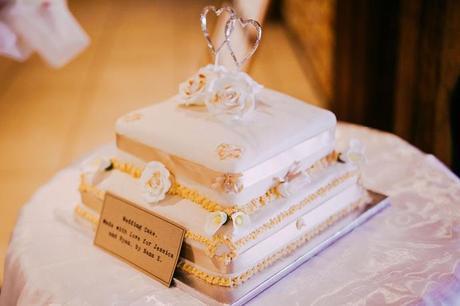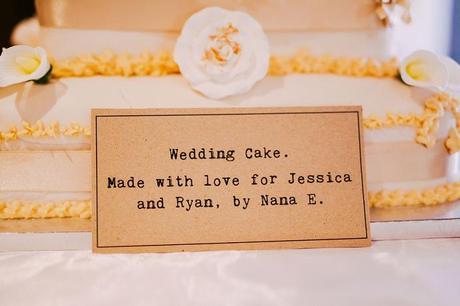 Tell us about the gorgeous flowers…
For the flowers we decided on white chrysanthemums, white agapanthus, and gypsophila. We bought the chrysanthemums wholesale, and went and picked the white agapanthus. We used these in the table settings. We made our own bouquets. I just used gypsophila in mine, bound with twine. The bridesmaids had white chrysanthemum's and gysophila.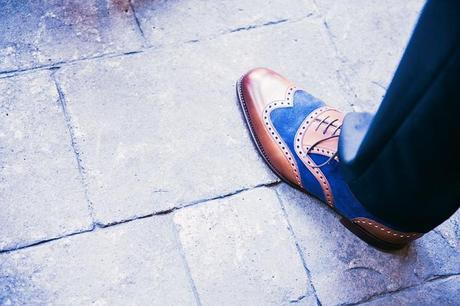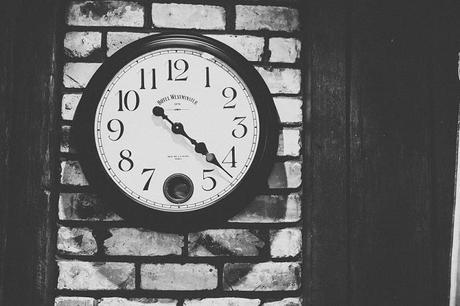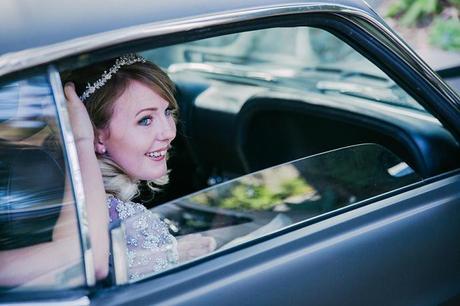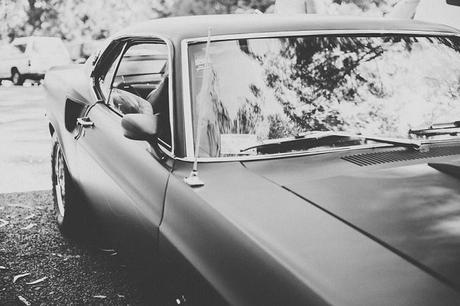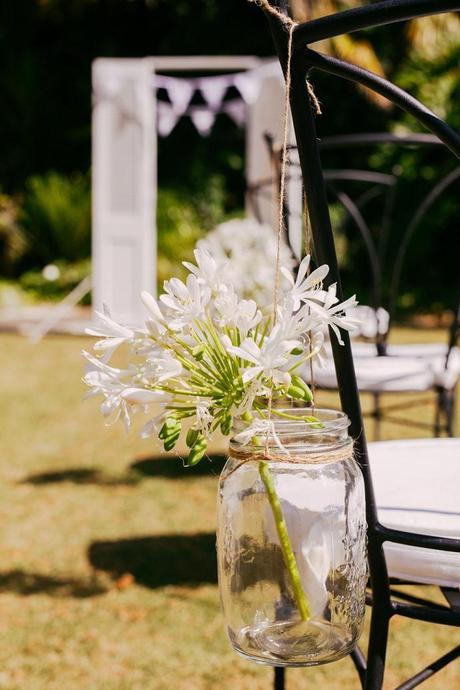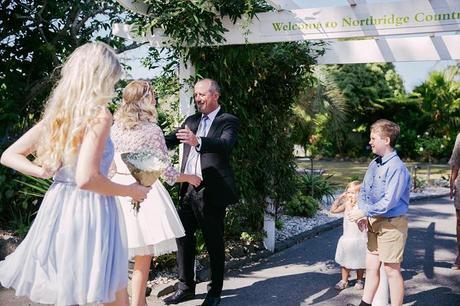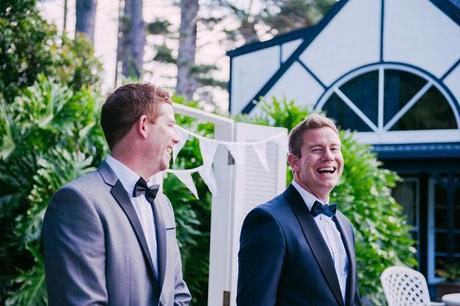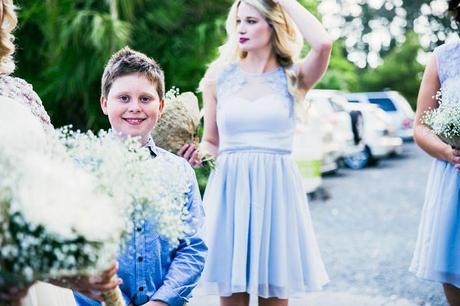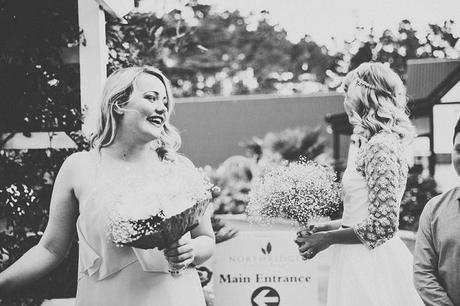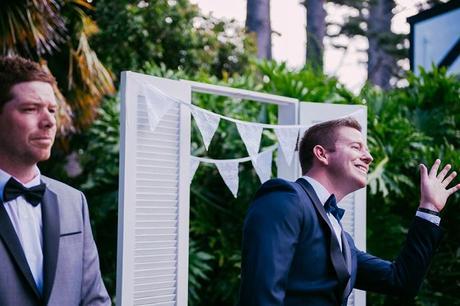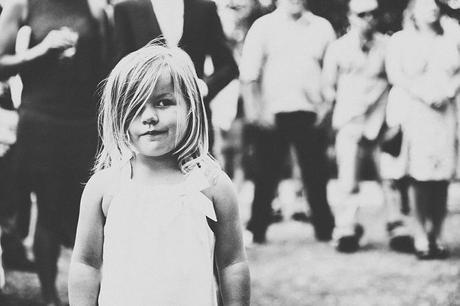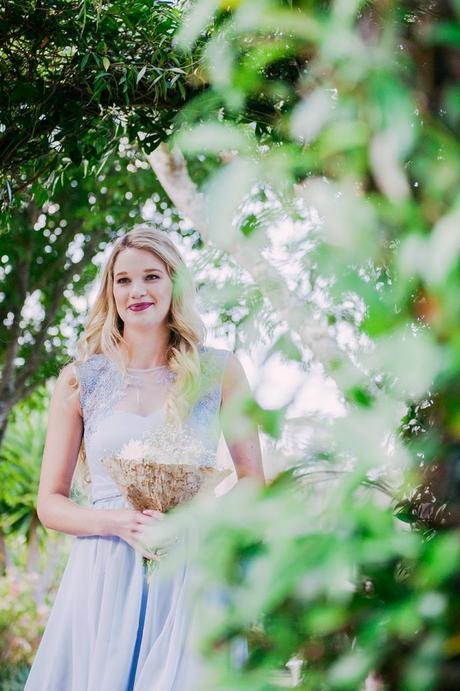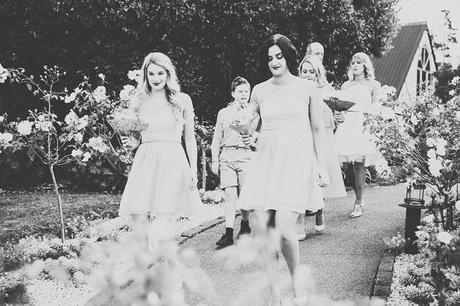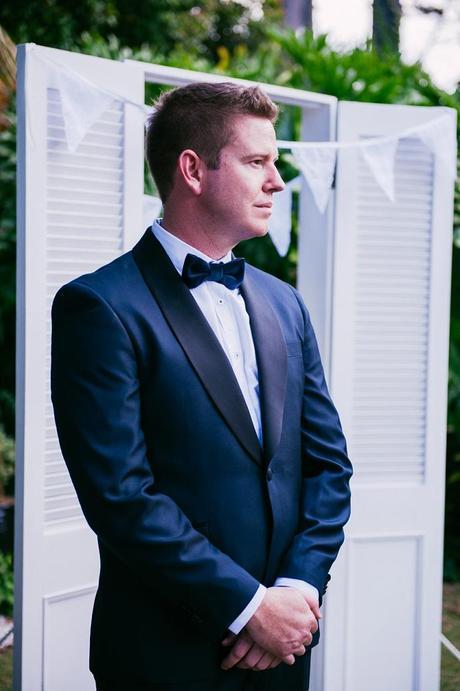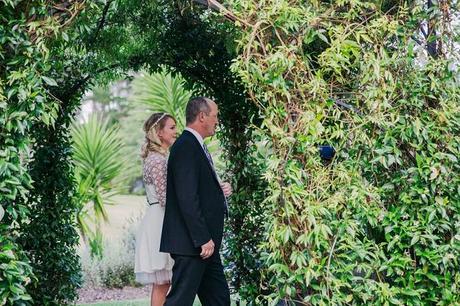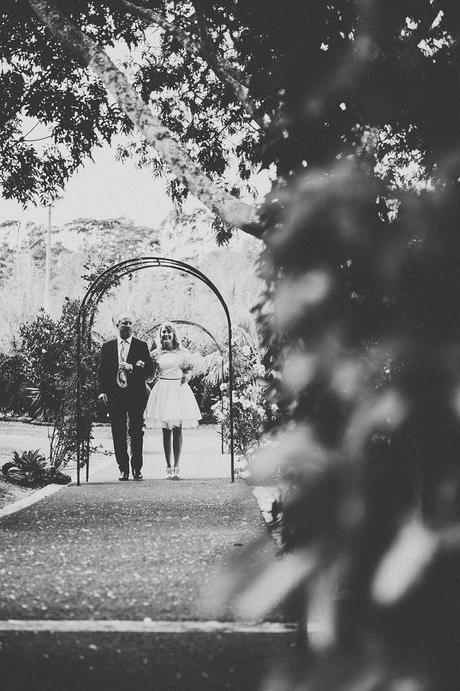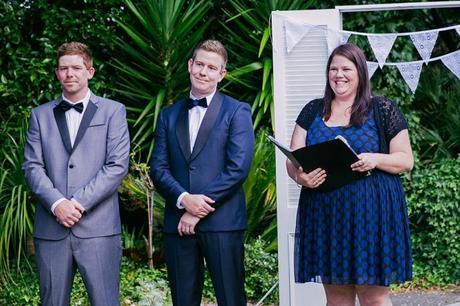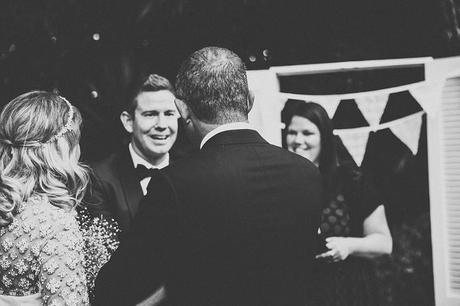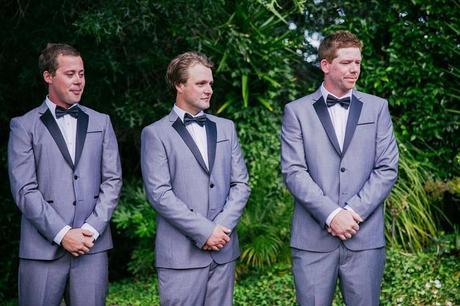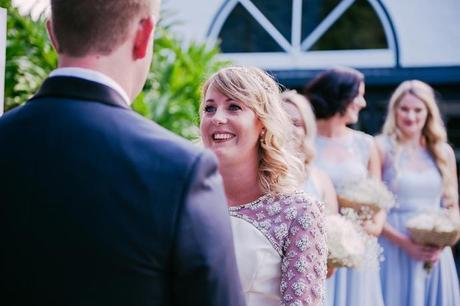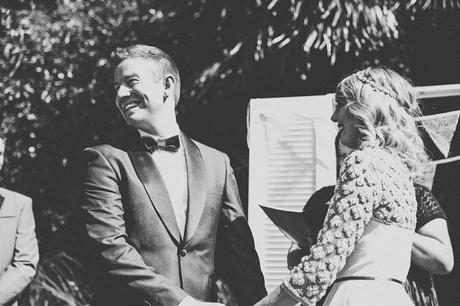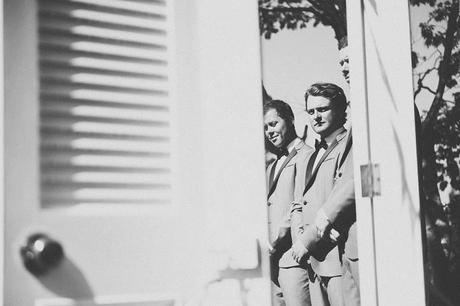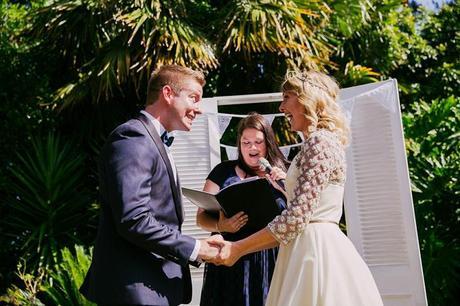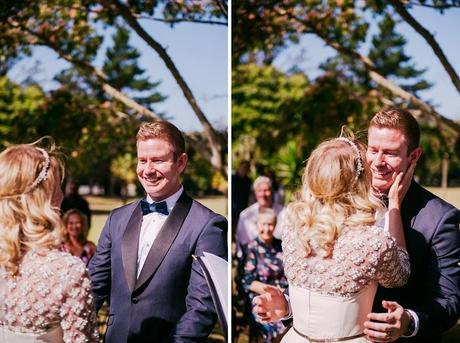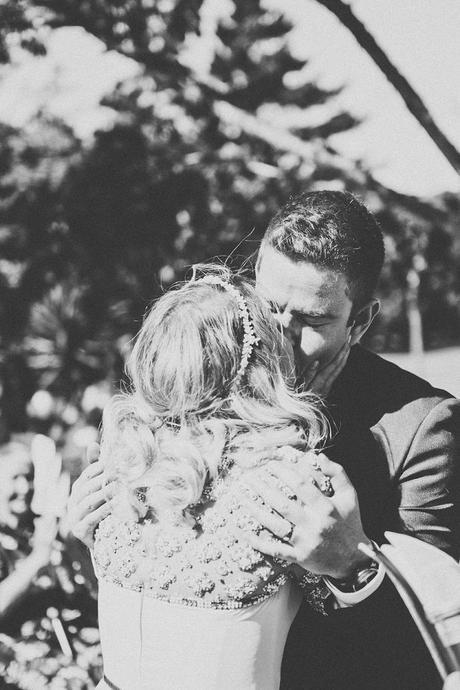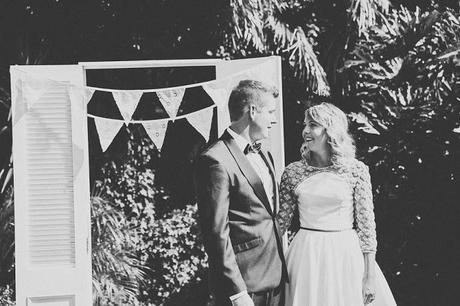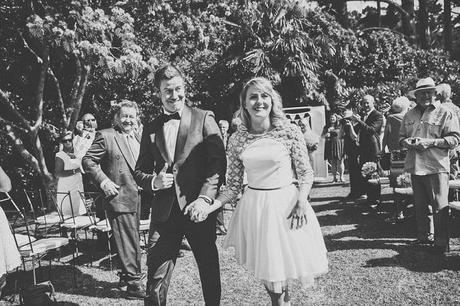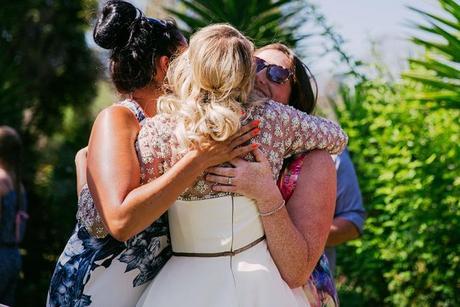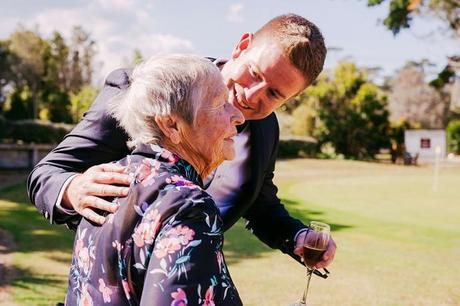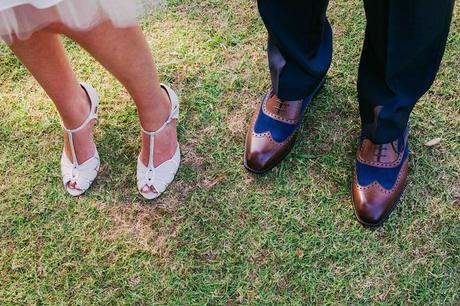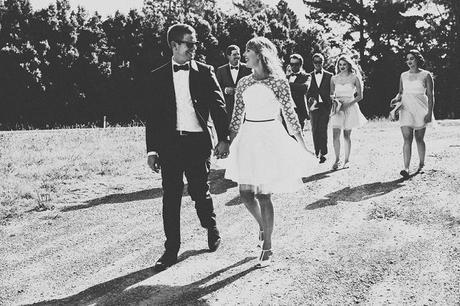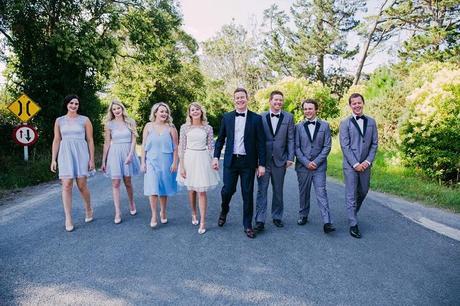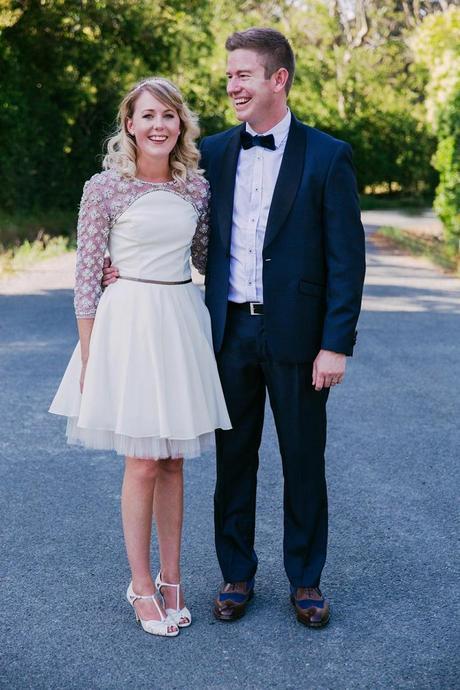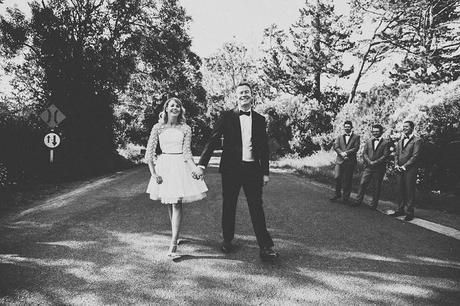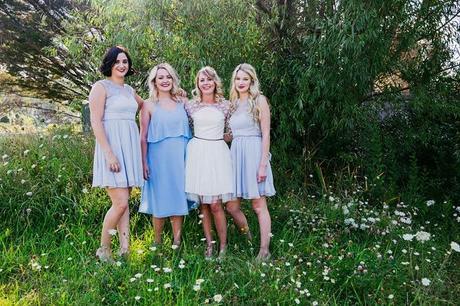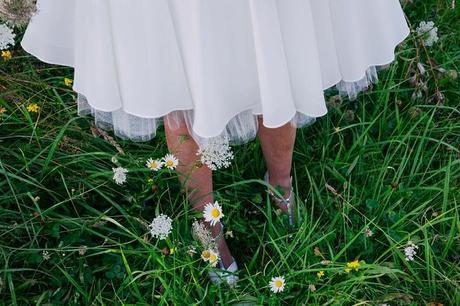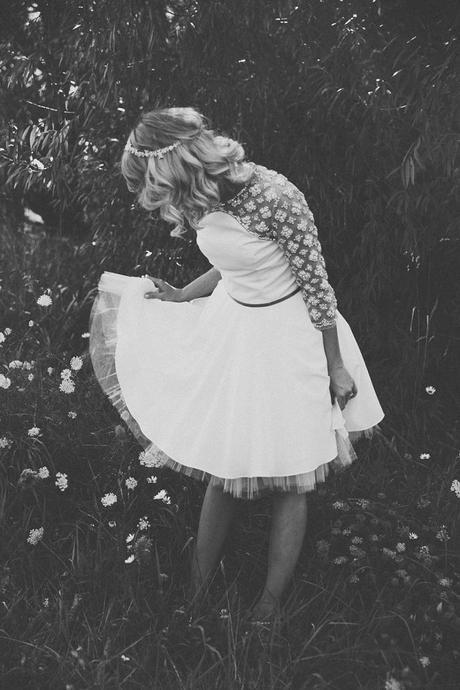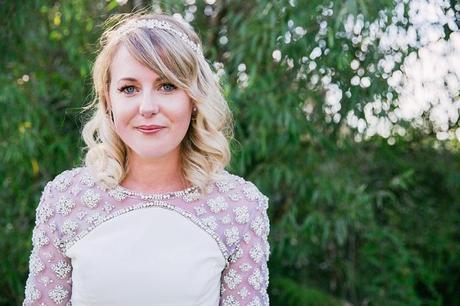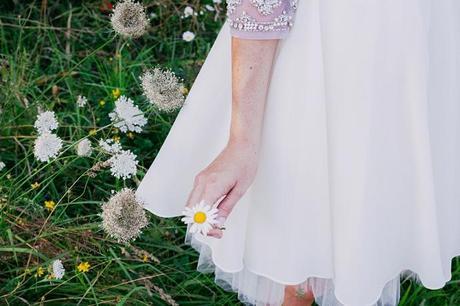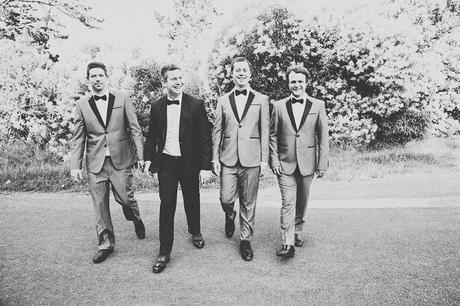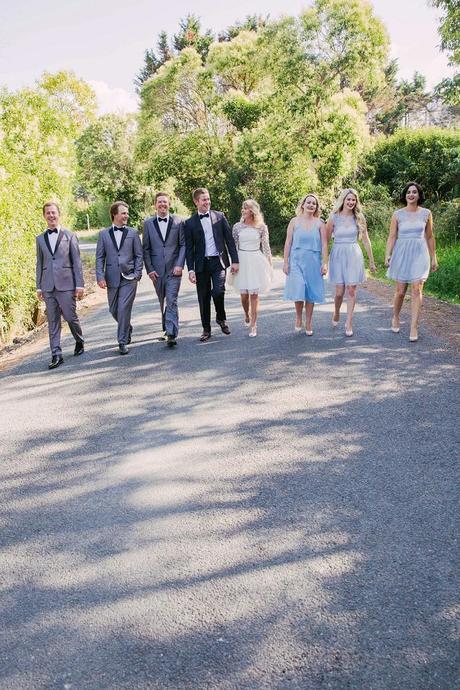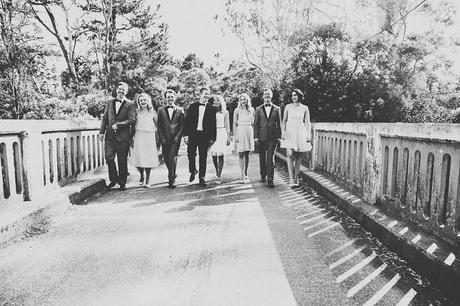 Where did you honeymoon?
We are off to Queenstown for a friend's wedding, and have extended the trip so we can have a 'mini-moon'. But the big honeymoon is coming up at the end of the year when we go to New York.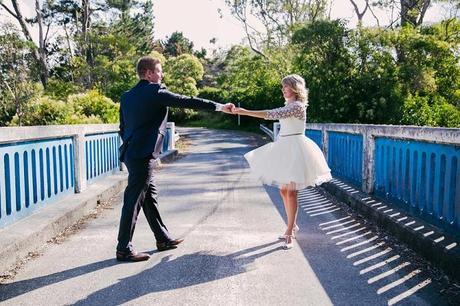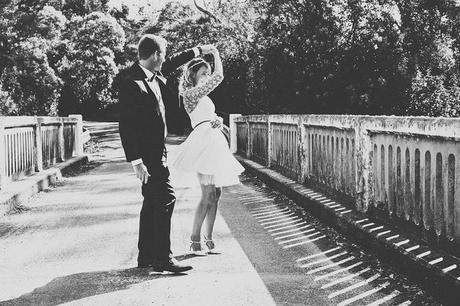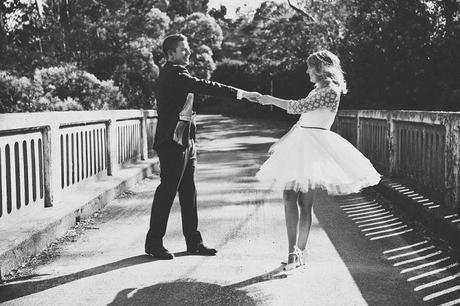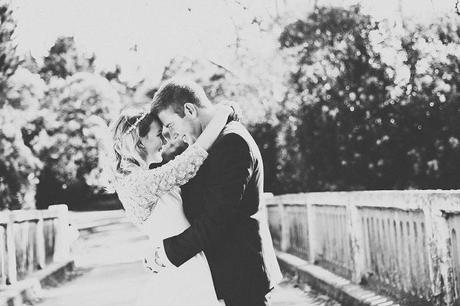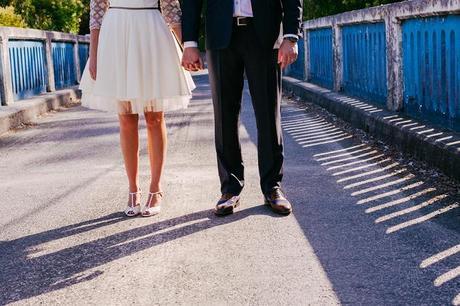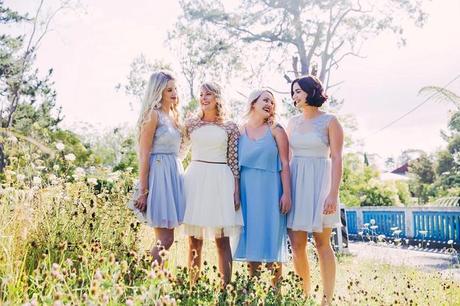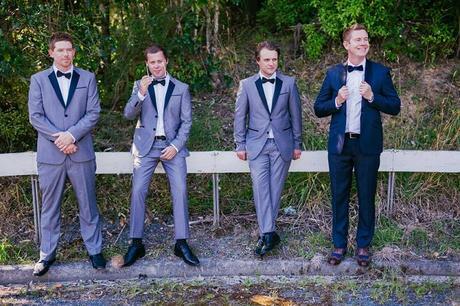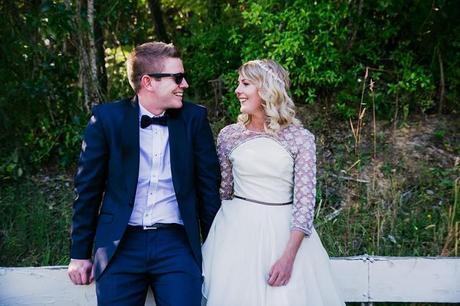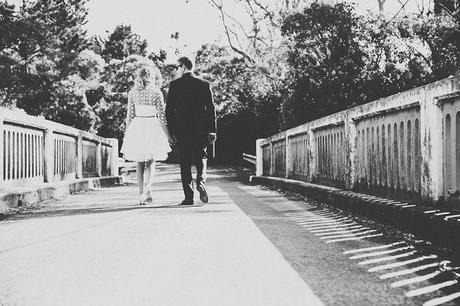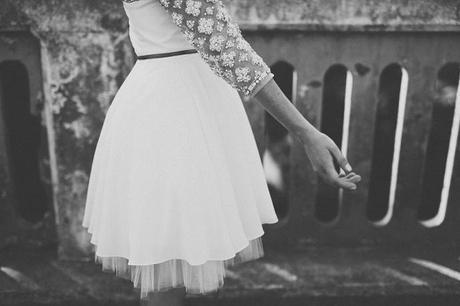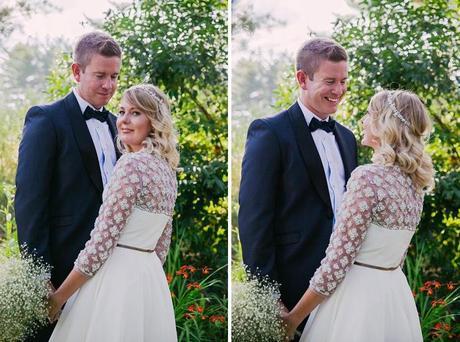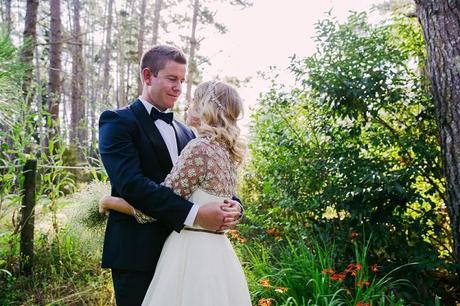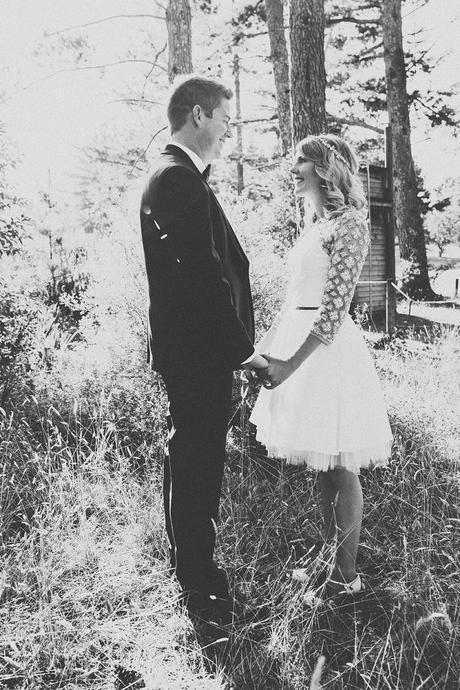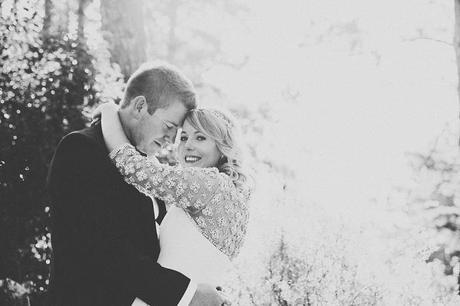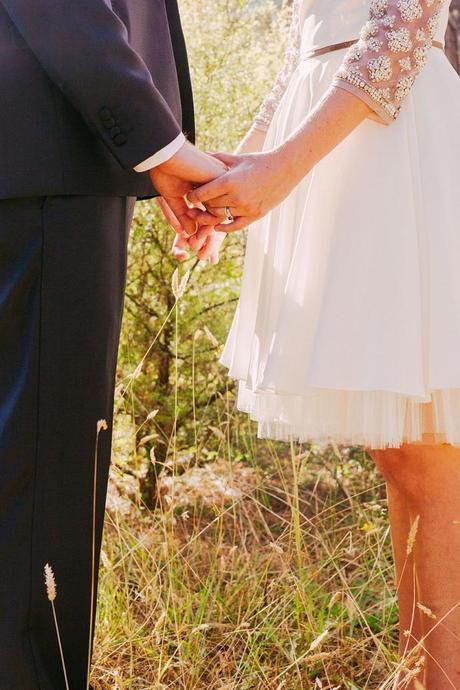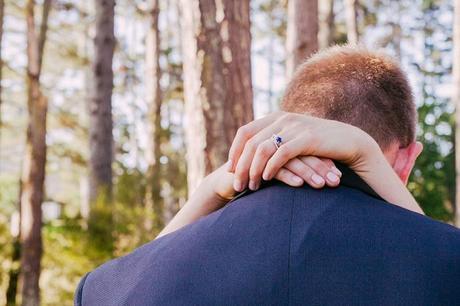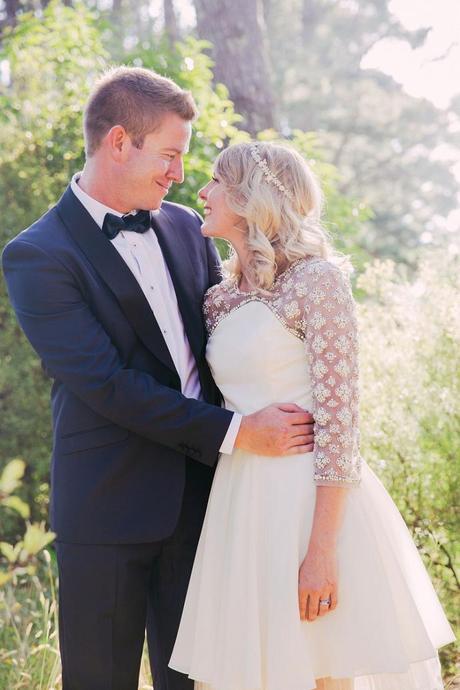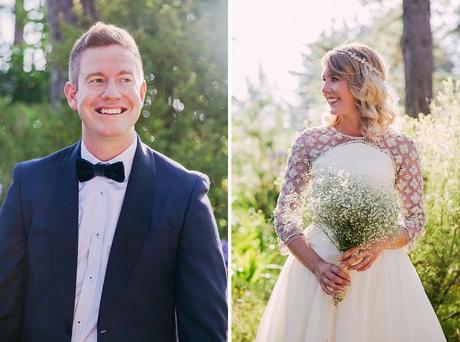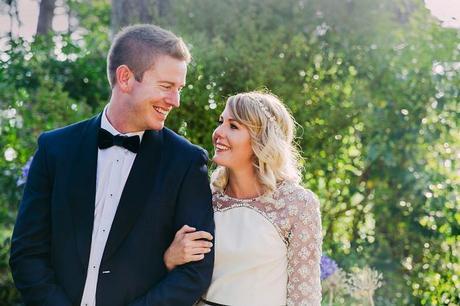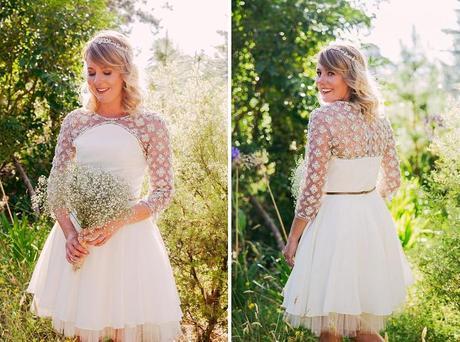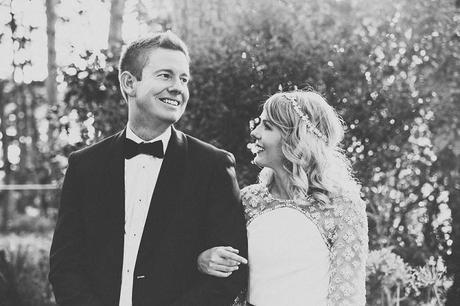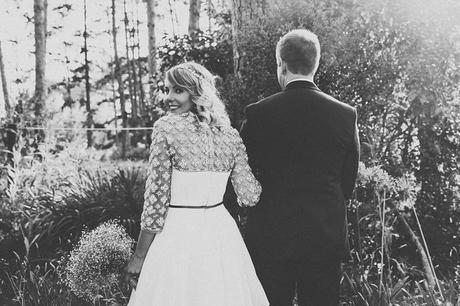 Tell us about the styling and atmosphere at the wedding…
We really wanted to create a relaxed, fun and laughter filled space. Our ceremony focused a lot on humor and love, and this was carried through the rest of the wedding. We hung buntings and festoon lights around the room. Music was a huge part of it as well, we went for upbeat classics, that everyone loves to sing along and dance to. We also had a photo booth which provided heaps of entertainment. We had lots of little quirky/vintage items scattered throughout the wedding. My sister-in-law Kristin made tea cup candles that were on the tables, the menu's were printed on craft pie bags, and the jars and milk bottles that held the flowers had been decorated with twine and ribbon (decorated by friends and bridesmaids)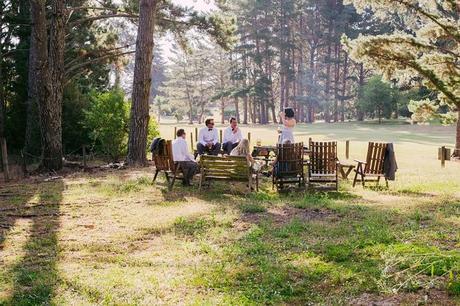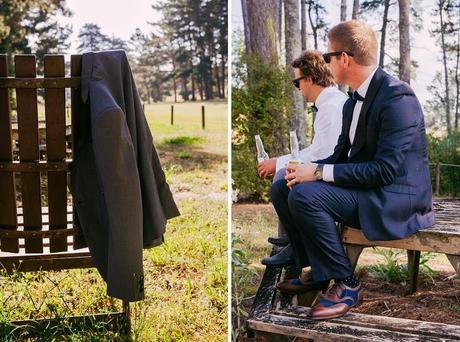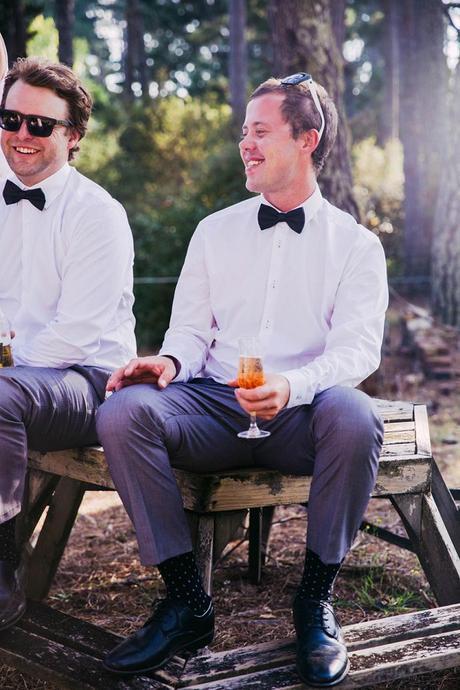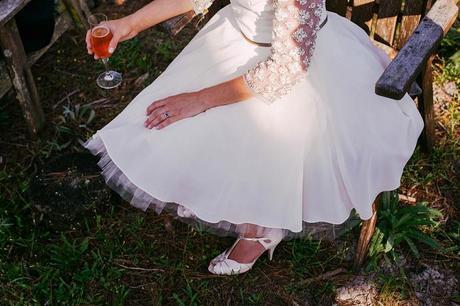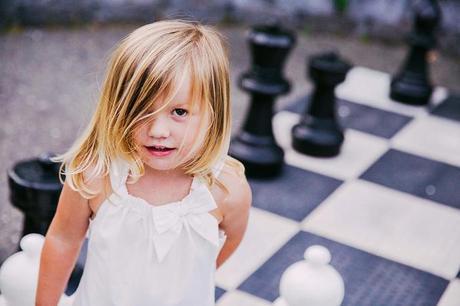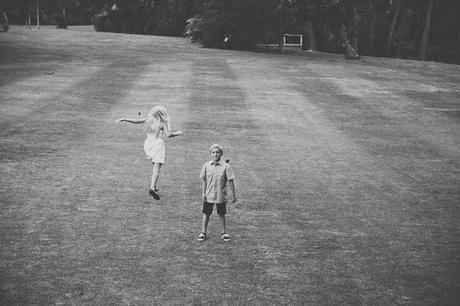 What kind of food did you serve?
Set menu, with two courses- Entrée and Main. Entrée options were a mushroom tart, or Honey King Prawn Cutlets w/ wild rocket, fresh mango, crisp parmesan wafer, pancetta & lemon honey glaze. Main options were – Eye Fillet (Chefs suggestion Pink Medium Rare)w/ caramelised onions, prunes, potato pave, mushrooms, puff pastry, truffle butter & jus, or Basil Mousseline Stuffed Chicken w/ basil and chive Mousseline, truffle pomme puree & sauce Jacqueline.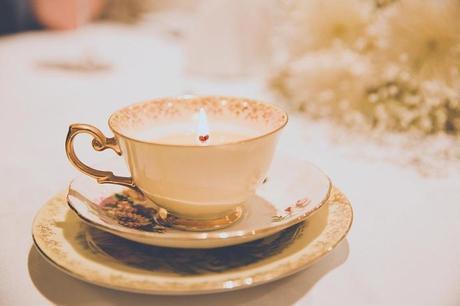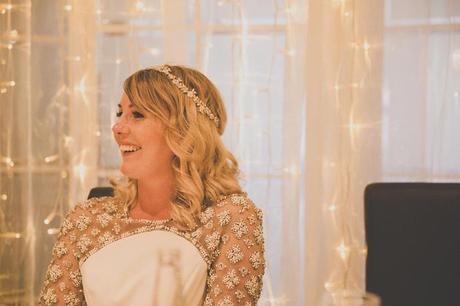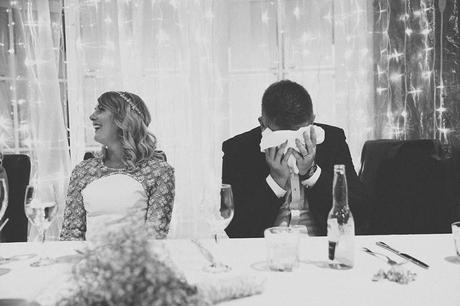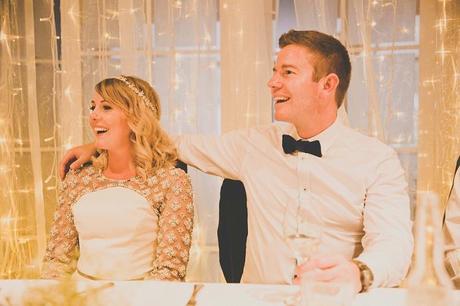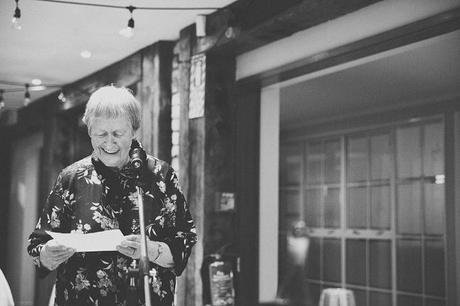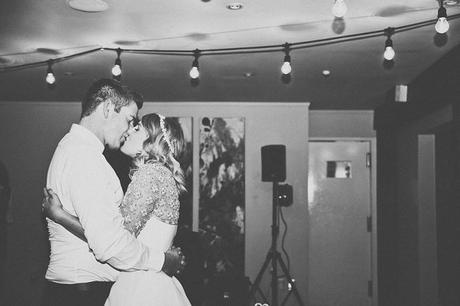 What was one of the most memorable moments of your day?
Ryan says his most memorable moment was seeing me walk down the aisle. For me walking down the aisle to see Ryan standing there, and our ceremony was the most memorable. Our first dance was also amazing. It was so much fun swinging around the dance floor, and having our friends and family dancing alongside us.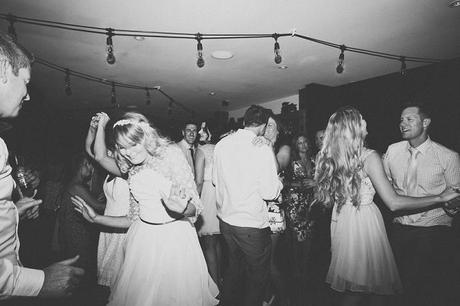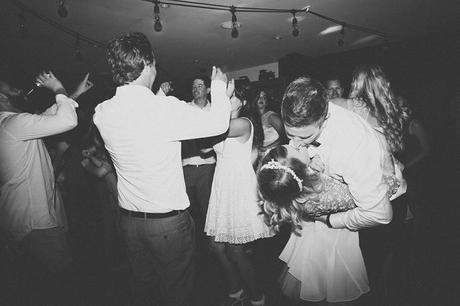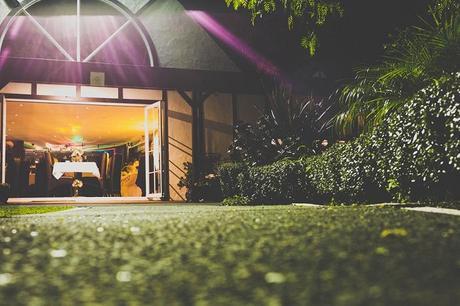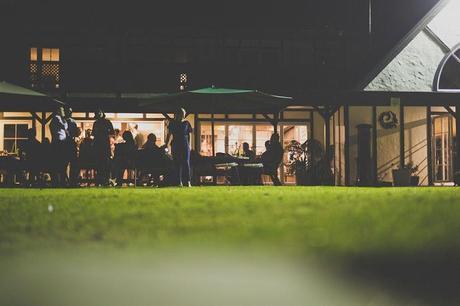 Photographer CAPTURED by Keryn | Venue Northridge Country Lodge, Wainui | Wedding Dress Topshop, and altered by dressmaker | Headpiece Bo and Luca | Shoes Rachel Simpson | Bridal Hair by Haley (a friend) | Makeup by Abby Sweeney Makeup Artist | Bridesmaids Forever New | Groom Suit from Hallensteins, Shirt from Meccano, Blue velvet bowtie online from Etsy, Shoes from RJB Design | Cake made by the brides Nana Ione Evans | Rings Walker & Hall | Transport Matte Black Mustang (1969 fastback) | Music A playlist, compiled for us by father-in-law Glenn | Favours Guests took home their photo booth photos from the night