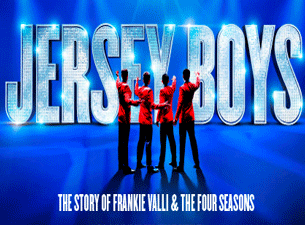 Cast
Matt Corner – Frankie Valli
Stephen Webb – Tommy Devito
Sam Ferriday – Bob Gaudio
Lewis Griffiths – Nick Massi
Show Date – Saturday 19th September 2015
Jersey Boys is the story of Frankie Valli and the Four Seasons rise to fame from obscurity in a tough New Jersey. How they managed to survive and not end up in the world of crime, well for the most part and made it to be a very successful group.
I will admit that this show has never been at the top of my list for wanting to see it, even though the last time it came to Sunderland we did try to get tickets but left it too late and only odd seats remained. We didn't make that mistake this time and managed to get tickets a lot earlier. So headed to see it on closing night after a two-week run.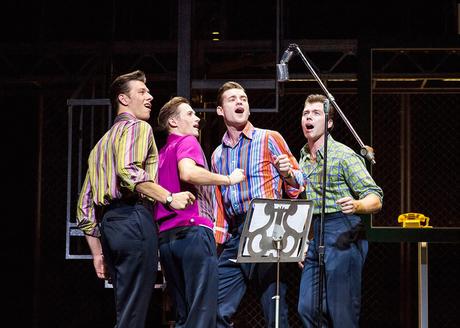 I didn't have a massive knowledge of Frankie Valli and the Four Seasons songs, I have seen the film version of the show but will not to mention that very much at all. I will say though after watching the stage show I thought it was a very good and close adaptation taking it to the big screen in film form.
But it is really good to see how the inspiration for the different songs managed to come about. I think that is something that is good to watch and understand, especially as you will recognize and know a lot more songs than you may first think. As that is exactly how I felt about it, you just didn't realize it was a Four Seasons song. (Unless you're a massive fan of course).
So four guys singing under a street lamp is something that is mentioned quite a lot throughout the show, but that is a good thing in my opinion as really shows where they came from. I guess I have to also mention that I spent nearly 6 months living in New Jersey so it really does have a special place in my heart. Not forgetting that Bon Jovi and Springsteen (among many others) with many many other musicians hail from that amazing state.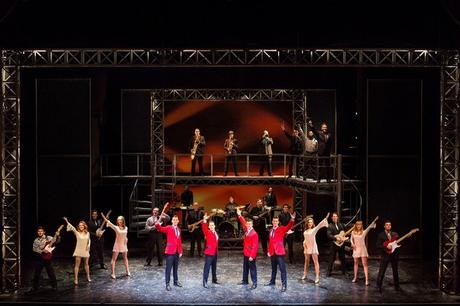 The cast were all very good and worked together very well, not a huge cast by some shows standards. But plenty to do for the ensemble who took on a number of different roles to support the main four. They all had the voices for the characters down very well and good stage presence.
It think something that did not help my enjoyment was the crowd on the Saturday night, people ok mainly women were singing along very loudly and then shouting and cheering over the top of the next dialog. Therefore missing some of the story, which was disappointing on a theater trip. No fault of the show or anything like that but just something that did not help my first Jersey Boys experience.
I did enjoy the story and way the songs are placed in it, but I think the snippets of some songs don't make it feel like a full-blown musical. Which could actually aid its popularity in terms of audience, if some people aren't the biggest fans of a musical. I hope that actually makes sense, as I don't think I managed to explain it very well.