Academy Award Winner Jennifer Lawrence was born in Louisville, Kentucky on August 15, 1990. Spending a summer in Manhattan, gave her career a startup. She grabbed a few commercials and film roles. It happened when she was only 14 years old. This led her to move to Los Angeles, so she could further pursue her dream.
She worked in the TBS sitcom "The Bill Engvall Show" in 2007 and in some movies like "The Poker House" and "The Burn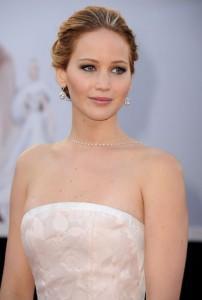 ing Plain"
in the year 2008. But she was still unnoticed in the film industry by then.
She got her first big break, when she played the role of "Ree" in the 201o film "Winter's Bone", which gave her a critical recognition, thus landing her an Academy Award and a Golden Globe Nomination. The Next year, she got to play "Mystique" in the fifth film of the X-Men franchise; "X-Men: First Class" directed by Matthew Vaughn, which was a hit by all means.
After gaining a lot of popularity in Hollywood, she was chosen for the role of "Katniss Everdeen" in the big screen adaptation of "The Hunger Games" in 2012. It went on to become one of the highest grossing films of all time with over $408 million at the domestic box-office. This made her entry into the A-list young actresses.
She will also be seen in the sequel of the Hunger games franchise; "The Hunger Games: Catching Fire" in 2013. In 2013, in the 85th Annual Academy Awards, she won her first Academy Award for the best actress in a leading role for playing the role of "Tiffany" opposite Bradley Cooper in the Romantic Drama"Silver Linings Playbook".