LORD GEOFFREY'S YOUNG GUNS RISING TALENT SERIES CONTINUES!
Jenna and Mairihttps://www.facebook.com/jennaandmairi
"Rooted in traditional Scottish and Appalachian Old-Time music"Saturday, May 31, 8pm (doors 7:30)$10, $5 studentsOutpost 186186 Hampshire Street, Inman Square, Cambridge, MACambridge, MAhttps://sites.google.com/site/lordgeoffreypresents/
https://www.facebook.com/LGPresents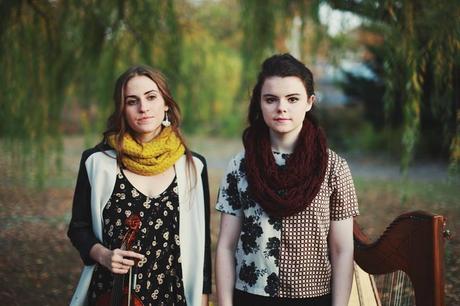 Rooted in traditional Scottish and Appalachian Old-Time music, Jenna and Mairi have developed a sound which celebrates and explores beautiful melodies. The pair met whilst studying at Berklee College of Music and are a product of the thriving and rich Boston music community. Jenna and Mairi have both been heavily steeped in tradition, but their arrangements push boundaries with original compositions and breathe new life into old tunes. -Mairi-Màiri Chaimbeul is a Boston-based young harp player and composer, who was born and brought up as a Gaelic speaker on the Isle of Skye in the North-West of Scotland. Whilst blossoming from a deep-rooted sense of tradition, her sound draws on influences in world, jazz and classical music. She has toured throughout the UK and in Europe as well as performing in the USA, with highlights including appearances at Celtic Connections Festival, Glasgow; Gent Festival of Flanders; The Edinburgh International Harp Festival, and Zakir Hussain's Pulse of the World at BT River of Music Festival, London 2012. Mairi was a BBC Radio 2 Young Folk Award nominee in 2010 & 2011, and Finalist in the BBC Radio Scotland Young Jazz Musician 2010 & 2012 and BBC Radio Scotland Young Traditional Musician 2010 & 2011. She was also winner of Celtic Connections's Danny Kyle Award in 2010 with the group Kilairum. Since September 2012 she has been a full-scholarship student at Berklee College of Music in Boston, Massachusetts.
-Jenna-
Jenna Moynihan is a young fiddler on the acoustic music scene, known for her unique and distinct voice on the fiddle. Raised on Chautauqua Lake in New York State, she first picked up the fiddle at the age of 6. She spent summers at various fiddle camps throughout the country, honing her craft with many masters of fiddle and garnered many awards in her youth at Scottish Fiddle competitions. Jenna received a scholarship to attend Berklee College of Music in 2009, where she studied with Darol Anger, Matt Glaser, Bruce Molsky, and Mark Simos. During her years at Berklee, Jenna received the Fletcher Bright Award and the American Roots Music Award, both given annually to an outstanding fiddler. She graduated with honors from Berklee in 2013 with a degree in Violin Performance and a minor in American Roots Music. She has performed in the US, Canada, France, and Scotland with various groups including Folk Arts Quartet, Atlantic Seaway, Darol Anger's Republic of String's, Bonnie Loch Fiddlers & more. In 2012, Jenna was invited to participate in the first-ever Acoustic Music Seminar in Savannah, Georgia, which brought together the new wave of acoustic musicians alongside many accomplished veterans, including Edgar Meyer, Zakir Hussein, Chris Thile, Tony Trischka & more. Also in 2012, Jenna performed alongside the world-renowned classical-crossover soprano, Hayley Westenra and the Boston Pops at Symphony Hall.