Jen Singer is the author of Stop Second-Guessing Yourself — Baby's First Year, Stop Second-Guessing Yourself — The Toddler Years and Stop Second-Guessing Yourself — The Preschool Years. For two years, she wrote the Good Grief blog for Goodhousekeeping.com and has written for or served as a resource for The New York Times, The CBS Evening News, CBS The Early Show, USA Today, Associated Press, Parenting, Family Circle, Real Simple, American Baby, Parents and more.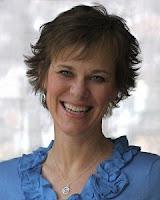 Welcome Jen! Tell us about your books.
In Stop Second-Guessing Yourself — Baby's First Year readers will find new ways to embrace the roller-coaster of new parenthood, and enjoy the laughs along the way. The book includes humorous sidebars, self-quizzes, and real-life anecdotes from moms who have endured the new-baby trenches. It tackles the practical concerns of baby care, the psychological adjustments of new motherhood, and the myths that can get in the way of the new mom's quest for sanity. Filled with helpful, sometimes hilarious, yet always straight-from-the-hip advice, this must-have guide will arm new moms with what they need to know to enjoy Baby's first year.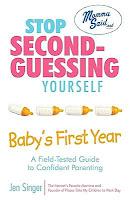 When it comes to raising a toddler, forget about 'what to expect.' It's the unexpected that transforms calm, collected women into frazzled, fried moms. Days when you're running on four hours' sleep and your toddler is melting down on the grocery store floor; times when you're wondering how to dislodge a small object from your child's nose; or those minutes when you think it surely must be two o'clock…except it's only ten thirty. So much for the blessed moments that moms admit to. Welcome to reality.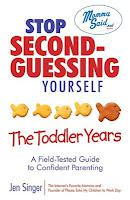 Stop Second-Guessing Yourself — The Toddler Years is filled with proven real-world parenting tips, moms' true confessions, and plenty of humor. This validating guide will help you survive the toddler years with more confidence. From bedtime to naps, feeding and potty-training, finding the right playgroup to finding mom-time, it's all here and more. It's the field guide to confident parenting that you'll want to keep in the diaper bag, just in case.
With Stop Second-Guessing Yourself — The Preschool Years Jen shares her must-know advice plus dozens of "what works" tips from other moms. In this manifesto for modern momhood, she gives the girlfriendly skinny on everything that could confound you during the preschool years, from sleep issues to sibling rivalry, from starting school to stopping whining, from potty-training to picky eaters. With candid confessions, prescriptive tips, and a much-needed dose of humor, this must-have resource will help moms like you lose the doubt and gain much-needed advice and a pat on the back.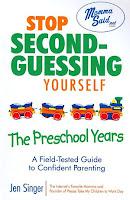 You can read more about Jen's books and subscribe to her free newsletter (Mom's Coffee Break) by visiting her online at MommaSaid.net.