Sum Guesthouse Jeju Airport
2-2, Seogwang-ro 5-gil, Jeju City 63184 Jeju
+827088100106
Rooms. If you are looking for private rooms, then this is not the guesthouse for you. Sum Guesthouse Jeju Airport only has dorm rooms with common toilet and shower rooms. There are 4-bed and 8-bed female dorms located on the second floor, and 6-bed and 8-bed male dorms on the third floor. The dorm rooms are clean and not cramped. Each bed has a curtain for privacy, heating pad, lamp, small shelf, and power outlets. There are lockers in the dorm. There is also a clothes rack with hangers. The rooms have airconditioner/heater.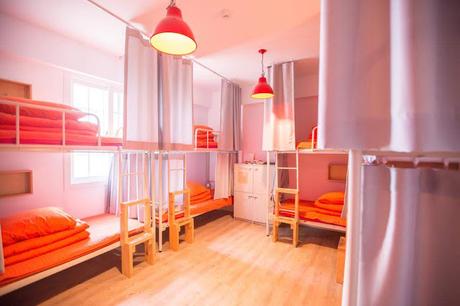 8-bed dorm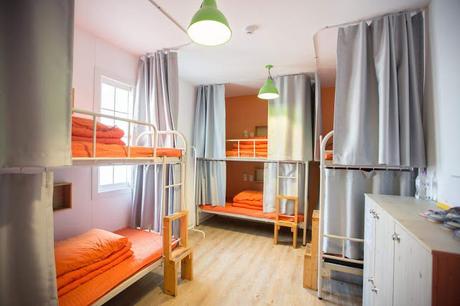 6-bed dorm

Toilet and Shower.
 The toilet and shower are not separate, and there are only two shared by 12 to 16 beds. If both toilet/shower rooms are in use, and you really need to pee, there is a toilet at the ground floor. Since the toilet and shower room is combined, the floor can be wet after if you use it after someone has just showered. There is also no shelf for clothes, and only a towel rack on which to hang your towel and clothes while you take a shower. Shampoo, soap, and toothpaste are provided. A towel, though only handtowel size (which seems to be the norm in guesthouses/hostels in South Korea), is provided for each guest, and can be exchanged for a new one daily at the reception.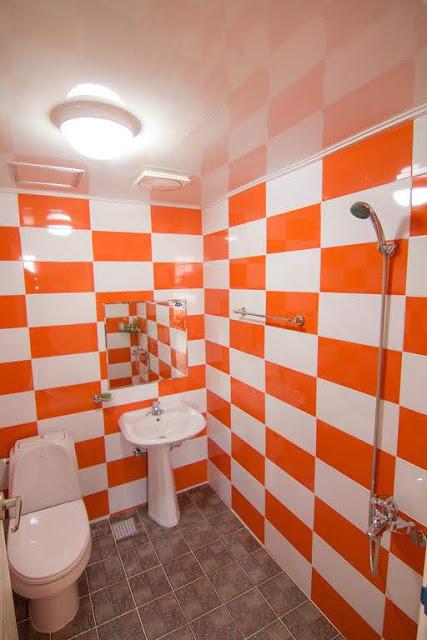 Toilet and shower

Price. Dorm beds start at 16000 won. I booked a bed in Sum Guesthouse Jeju Airport through booking.com
Breakfast. The reception and dining area is on the ground floor. The room rates include breakfast of cup noodles, toast, jam/butter, coffee, tea, and juice. Breakfast is already available by 630am.
WiFi. WiFi is available all through the guesthouse.
Staff. The staff are kind but not all of them can speak English, but, during my stay, there was at least one who could understand and speak English.
Security. The front door can be accessed by PINpad and dorm rooms by key. The staff will give you the key and the PIN code, but they'll assume you already know how to use the PINpad.
Laundry. The guesthouse has a washing machine and dryer and you can have your clothes washed and dried for 2000 won. It is not self-service—the staff will do the laundry for you—embarrassing if you need to do wash your underwear too.
Luggage Storage. There is a luggage storage area in the basement. You can leave your luggage there if you arrive early or if you will be leaving hours after check out.
Location. Although the name of this guesthouse is Sum Guesthouse Jeju Airport, it is not right next door to Jeju International Airport, but is 2.4 kilometers away and can easily be reached by a 5-minute, 1200- to 2000-won (depending on what type of bus) bus ride (or if you'd rather walk, it's 25 minutes on foot). If you will be taking buses to get around Jeju, then the guesthouse location is perfect—it is just across the Jeju Bus Terminal. If you get hungry, you can buy snacks and boxed meals at nearby convenience stores.

About the Photos: Because I forgot to take photos of the guesthouse during my stay, all photos in the blogpost were grabbed from Sum Guesthouse Jeju Airport's booking.com page.


South Korea Spring 2018

Jeju Accommodation: Sum Guesthouse Jeju Airport (you're here!)(more soon)