I've always been intrigued by history. In fact, reading historical biographies, watching documentaries on television, and exploring the Internet reading about history is one of my favorite pasttime activities. Well, that is when I have time to have a 'pasttime'. I think this love affair for history started my second year at Marshall University. I 'had' to take two courses in American history, part 1 (beginning America up to 20th century) then part 2 (20th century). I wasn't jumping for joy since I considered it quite boring.
Well, all that changed when I walked into my first lecture from Dr. Charles H. Moffat, Both legs in braces and on crutches, this man, who I thought was 'old' but probably in his late 40s or 50s, had me spellbound and mesmerized as he erupted with his strong virile melodic voice, almost Morgan Freeman'ish, only with a smooth-as-apple-butter Southern drawl because of his Mississippi roots. And, this intrigue was in the first class when he'd just distributed the syllabus and was going over it. I could not wait to get to each class twice a week. I was sad when the time was up. It was like, 'Nooooooooooo, I don't want this to end!!'
I have no idea what he did or how he did it, but his passion for history, his storytelling, his antics, his voice inflections, his gestures even being compromised with his physical limitations, his ability to talk for almost an hour and a half without a single note, was total rapture for me. No wonder, he is one of Marshall University's all-time elite enduring legend professors. For 30 years, 1946 to 1977, he made history come alive literally. Exploding. Enduring. Exciting. "As one former student recalls, "When Dr. Moffat described the Battle of Gettysburg, you could smell the gunpowder."
So, thank you Dr. Moffat, because so much of my passion for food is tied up in history, not just American but the world. Yes, I owe you a great debt of gratitude. Because of your influence, what I do now has a thread of your history passion in it. When I create a dish, there's usually something that sparks my interest in finding out more about the history behind the ingredient(s), cooking method, or people, ethnicity, cultures from which it originated. That's how this jeffersonian inspired chunky vegetable beef stew came about. I'd seen on PBS 'A Taste of History' Taped at Jefferson's historic Monticello, Chef Walter Staib, recreated dishes that would have been served in the dining room. I was glued to the TV and wanted more!
After some time surfing the Internet and reading more about Thomas Jefferson, it's clear that he was a founding father foodie! His culinary style was significantly shaped and influenced by his time as Minister to France and learning the 'art of cookery'. He considered his culinary approach as 'half Virginian and half French style' cooking.
Another really interesting attribute of Jefferson as that he was a vegetable junkie. In fact, today he may have been considered maybe vegetarian'ish. According to history, he only ate meat as a 'side' to vegetables. He also believed that vegetables were much better for one's health. So while he wasn't a true vegetarian, he ate limited meat. Jefferson's garden reflected his love of veggies and herbs growing over 250 varieties!
We all know how influential Thomas Jefferson was in American history. I mean he drafted the Declaration of Independence and was instrumental in the formation of our young struggling country. But, some of us don't know that he was quite the food guru. Some of his existing notes on cooking have been preserved and just a few recipes, both which he wrote by hand. For instance, he was curious about soup and wrote:
Always observe to lay your meat in the bottom of the pan with a lump of fresh butter. Cut the herbs and roots small and lay them over the meat. Cover it close and put it over a slow fire. This will draw forth the flavors of the herbs and in a much greater degree than to put on the water at first. When the gravy produced from the meat is beginning to dry put in the water, and when the soup is done take it off. Let it cool and skim off the fat clear. Heat it again and dish it up. When you make white soups never put in the cream until you take it off the fire.
I'm totally intrigued by Jefferson and his devotion to food and cooking. So much so that I've started exploring other American presidents to see what their slants have been on food. Their favorite dishes. Their legacy recipes. Their traditions. And, more. For instance, according to the Food Timeline, George Washington had Thursday dinners, served at 3 pm, to ten to twenty-two guests. An abundance of good food flanked the table. Roast beef, veal, lamb, turkey and duck, and varieties of wild game, in which Manhattan Island then abounded, with jelly, fruit, nuts and raisins, were on the table before the guests made their entrance.
Expect more of recipes from me that have been inspired by American history and our presidents and first ladies. Now, if you think you want to see more of my interpretations, please just leave a simple one-word comment, 'Amen!' xoxo ~ally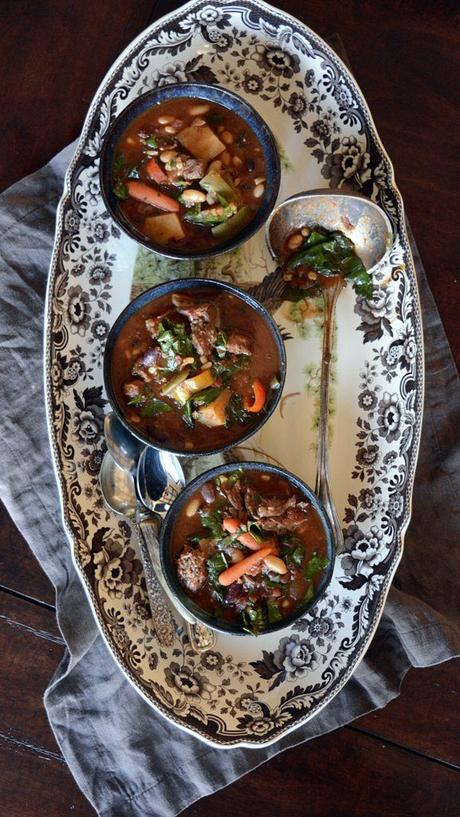 Ingredients
STEW BASE:
¼ cup oil
½ cup sweet onion, medium dice
1 ½ lbs. beef, large dice
4 cloves garlic, peeled and rough chop
2 tsp. sea salt
1 tsp. coarse ground pepper
¼ cup flour, all-purpose
1 cup red wine, cabernet or merlot
2 cups vegetable tomato juice
1 (28 oz.) can fire roasted crushed tomatoes + 1 can water (I used Muir Glen.)
1 (14.5 oz) can tomatoes, diced + 1 can water
1 beef shank bone
4 bay leaves
3 tsp. smoked hot paprika
1 tsp. sweet paprika
2 tsp. thyme, dried
VEGETABLES:
Your choice. Here's what I used:
2 large baking potatoes, peeled and cut into chunks
2 cups peppers, mini, sliced into rounds
1 cup baby carrots, whole or larger ones cut in half
1 (10 oz.) box frozen corn
1 (14.5 oz.) can Italian cut green beans
1 (14.5 oz.) can cannellini beans
1 (14.5 oz.) can mixed beans, black, pinto, navy
2 cups collards, chopped & packed
Instructions
Notes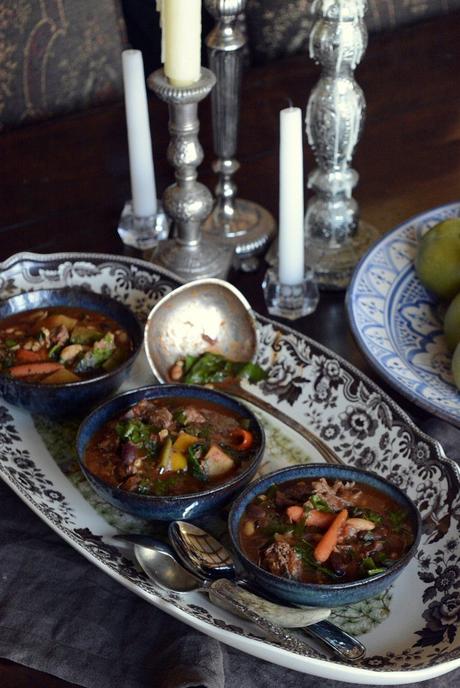 Comments