Cumin flavored bakery style biscuits
Jeera biscuit are typical Indian bakery style biscuits,which are heavily flavored with the rich aroma of cumin and are sweet and salty in taste sooo different from the readily available sweet cookies popular now a days.
They taste great any time but are awesome with tea,so many childhood memories with these flavorful biscuits.These jeera biscuits are kept hidden in a big glass jar in my grand fathers personal almirah and at tea time he himself take out a plate full to distribute among all present at tea time and I often got some bonus biscuits .
The freshly baked biscuits taste heavenly and you can also add some ajwain/carom seeds along with cumin seeds or can only use ajwain for a change of taste. Taste great both ways.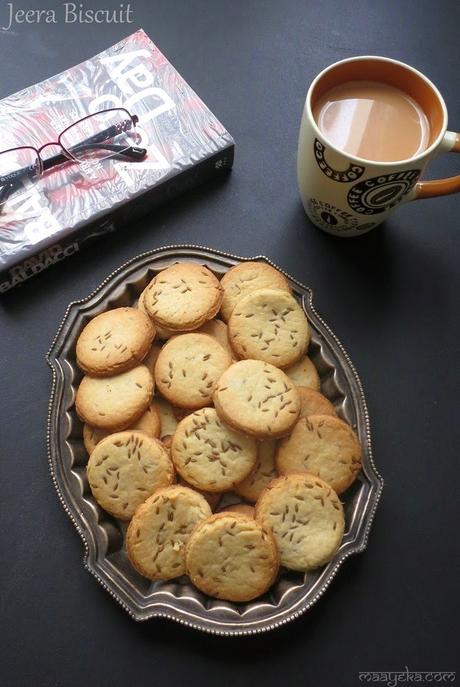 Prep time- 15 min
Baking time- 20 min
Difficulty level-medium
Spice level-sweet and salty
Cuisine- International
Type-bake,snack
Yield- 20
INGREDIENTS-
Refined flour/maida - 1+1/4 cup
Sugar /chini- 1/4 cup
Unsalted butter /makkhan - 1/2 cup
Cumin seeds /jeera- 1 tbsp
Salt /namak - 3/4 tsp
Baking powder- 1/2 tsp
Baking soda- 1/4 tsp
Milk /dodh- 2 tbsp approx
PROCEDURE-
Grind sugar to make a fine powder.
Roast 3/4 tbsp cumin in micro for  1 minute.
Sieve refined flour,salt,baking powder and baking soda and keep aside.
Preheat  the oven on 150 degree temp.
Take a big bowl and add soft butter (at room temp) and sugar and mix it well to make a smooth cream.
Then add the roasted cumin and the flour mixture and mix properly,
Add some milk to make a dough.
Now make a ball from the dough(I made 3 balls).
Put a butter paper or polythene sheet on a flat surface.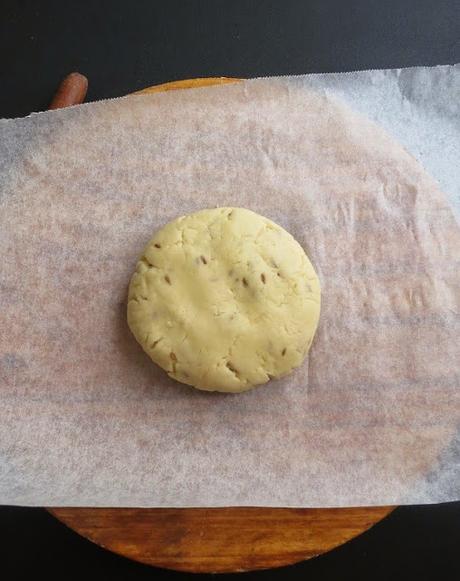 Then spread some cumin seeds over it
 Roll to make a smooth medium thick chapati.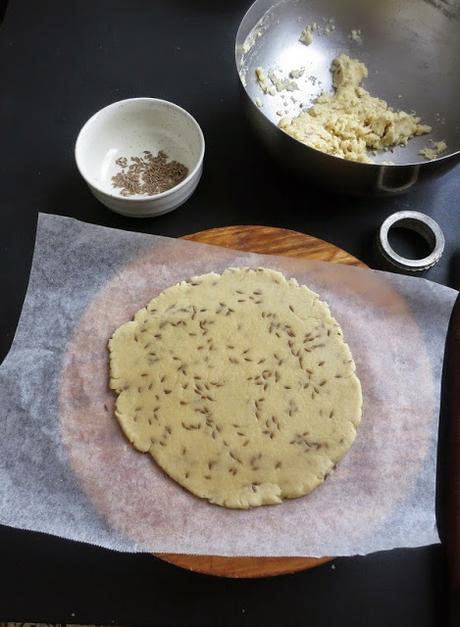 With a cookie cutter or a sharp lid cut into small biscuit,can use give any size and shape of your choice.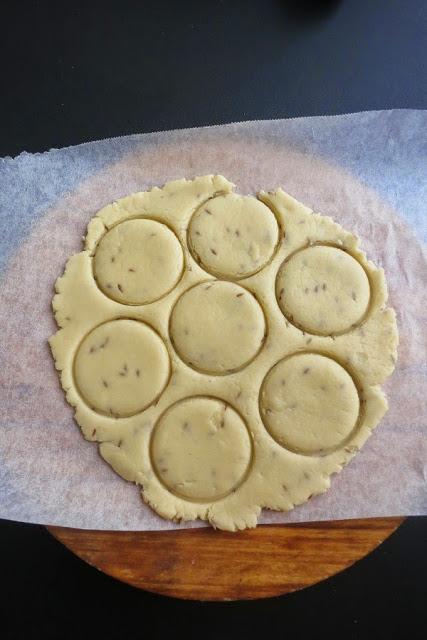 Spread a butter paper in the baking sheet and arrange biscuits over it .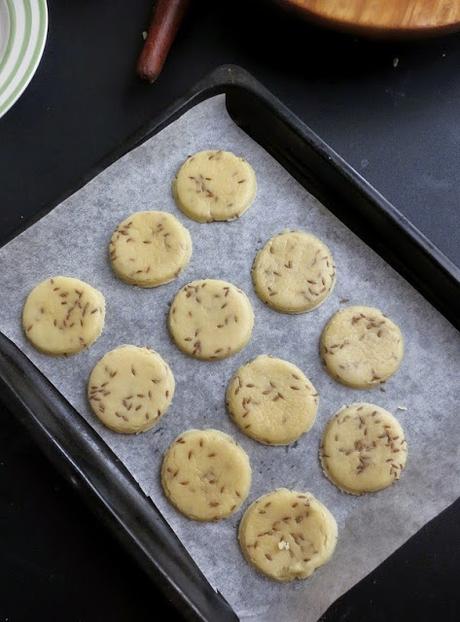 Keep the tray in the oven in the middle rack with both the rod on.
Bake for about 15-20 minutes,large gas oven may take some extra time ,do keep a watch after 12 minutes as each oven have little different setting .
When biscuit become light golden in colour,remove from the oven
Let the biscuit cool down completely .
Store in a airtight jar.