My wardrobe is having a major revamp for the birth of 2014 and one thing that I seem to be lacking is interesting flats.  I wear flat shoes most days for work and to be quite honest I'm 'safe' when I chose my footwear, I'll only opt for plain standard shoes and if I'm feeling especially daring I'll only go for something that's embellished.  Pointed flats look fabulous on and should be a key addition to any wardrobe, they are extremely flattering and can really make a look.  
I know selecting statement types such as 1,6 and 5 you do limit yourself to what you wear but I think it could be a fantastic challenge. If a bold colour, pattern or fabric isn't your thing there are plenty of well made classic creation such as 3 and 5 giving you ample opportunity to wear what you wish on the top half.  
What flats do you tend to wear on a daily basis?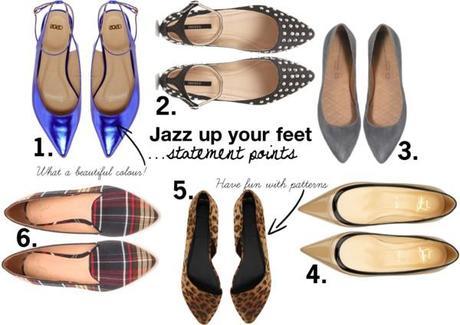 1. ASOS Launch Pointed Blue Flats - £25.00
2. Forever 21 Total Stud Ballet Flat - $22.80
3. Next Grey Soft Leather Points - £35.00
4. Christian Louboutin Paulina Patent Leather Point-Toe Flats - £384.20
5. ASOS Lanie Pointed Ballet Flats - £25.00
6. Joie Day Dreaming Tartan Slippers - £119.46