Jay-Z: 'Infidelity' happened because I had 'shut down all emotions'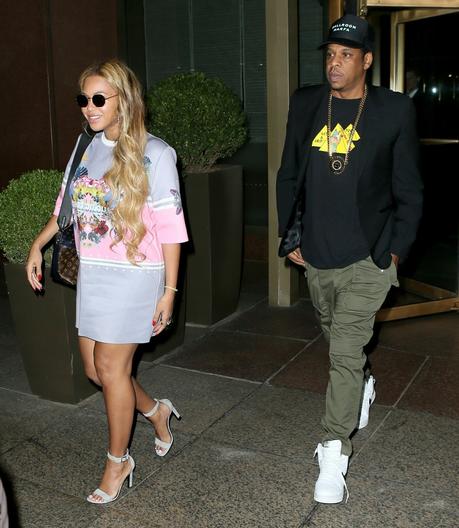 Jay-Z is profiled in the new issue of the New York Times' T Magazine. Because the New York Times is so fancy and above-it-all, they don't really take the amazing opportunity to ask Jay-Z questions about the main focuses of gossip: when and where he was unfaithful, what Beyonce knew and when she knew it, whether he feels scared whenever he's left alone with Solange. The bulk of the interview is about art, his 4:44 album (which just scored a lot of Grammy nominations) and what's like to go from the NYC projects to being one of the wealthiest and most well-connected men in the world. You can read the full piece here. Some highlights:
On getting into therapy, and infidelity: "You have to survive. So you go into survival mode, and when you go into survival mode what happens? You shut down all emotions. So even with women, you gonna shut down emotionally, so you can't connect. In my case, like it's, it's deep. And then all the things happen from there: Infidelity."
He's known since he was a teenager that his mom is gay: "But we never spoke about it. Until like recently now we start having these beautiful conversations and just really getting to know each other. We were always good friends but now we're really great friends."
The sunset of his career: "I think rap in particular is a young man's sport and I'll move out of that white-hot space. Rap is about the gift discovery. The white-hot space is when it's fresh and new, and it's like the hottest song ever. I stretched it. Oh I stood in that window a really long time. But still, no, I don't think people are looking to me as like, The Thing."
Dealing with Beyonce's Lemonade: "The best place in the, you know, hurricane is like in the middle of it … We were sitting in the eye of that hurricane. Uh, maybe not use hurricane because so many people are being affected right now. But the best place is right in the middle of the pain. And that's where we were sitting. And it was uncomfortable. And we had a lot of conversations. ou know. [I was] really proud of the music she made, and she was really proud of the art I released. And, you know, at the end of the day we really have a healthy respect for one another's craft. I think she's amazing. You know, most people walk away, and like divorce rate is like 50 percent or something 'cause most people can't see themselves. The hardest thing is seeing pain on someone's face that you caused, and then have to deal with yourself."
On Kanye West: He says that he and Kanye still talk, and "So I've always been like a big brother. And we're both entertainers. It's always been like a little underlying competition with your big brother. And we both love and respect each other's art, too. So it's like, we both – everyone wants to be the greatest in the world. You know what I'm saying? And then there's like a lot of other factors that play in it. But it's gonna, we gonna always be good."
[From Rolling Stone]
So many men use their wives and daughters as human shields to deflect from criticism or to deny their own bad behavior. What struck me about Jay – and he's been talking about this for a while – is that having a daughter really did change him in a profound way. Blue Ivy made him a better man, and it's like there was a dividing line for him – he had been a toxic male, a cheater, an emotional abuser, and then he changed. He got therapy. He did the work. He truly worked on his marriage. He does the work every day to be a supportive husband, partner and father. I believe that (I'll believe it until I don't!).
Photos courtesy of Backgrid.
Source: Jay-Z: 'Infidelity' happened because I had 'shut down all emotions'
4 total views, 4 views today