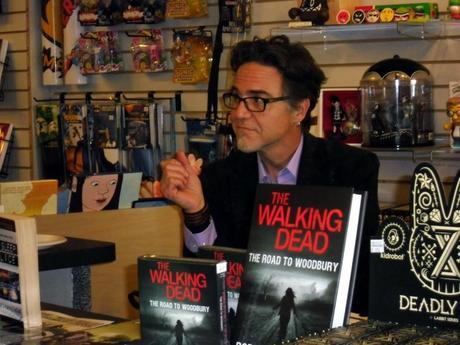 Jay Bonansinga is the author of seven acclaimed suspense novels, which include The Walking Dead: The Road to Woodbury (2012, co-author, with Robert Kirkman), The Walking Dead: Rise of the Governor (2011, co-author, with Robert Kirkman), Pinkerton's War (2011), Perfect Victim (2008), Shattered (2007), Twisted (2006), and Frozen (2005). His 2004 non-fiction debut The Sinking of The Eastland was a Chicago Reader "Critics Choice Book" as well as the recipient of a Superior Achievement Award from the Illinois State Historical Society. His debut novel The Black Mariah was a finalist for a Bram Stoker award, and his numerous short tales and articles have been published in such magazines as "The Writer," "Amazing Stories," "Grue," "Flesh & Blood," "Outre," and "Cemetery Dance," as well as a number of anthologies. He has written three original screenplays currently in development in Hollywood. Jay has collaborated with such major film directors as George Romero (Night of the Living Dead) and Mary Lambert (Pet Sematary) has been published by major players such as Penguin Books, Simon & Schuster, and Warner Books. He has been a finalist for a Bram Stoker Award for Best First Novel, and was awarded the prestigious silver plaque at the Chicago International Film Festival for his directing.
The holder of a master's degree in film from Columbia College Chicago, Jay currently resides in Evanston, Illinois. He is also a visiting professor at Northwestern University in their Creative Writing for the Media program, as well as the Graduate Writing Program at DePaul University.
Jay on...
 
The Process... Because I'm constantly on deadline, I have to generate 30 decent pages of prose per week. This means working for 4-5 hours, first thing in the morning, over the course of six cups of coffee and four cigarettes, five days a week, finishing at least 6 pages a day. I use Mark Twain's trade secret-- always wrapping up a writing session on a cliff-hanger,

o

n an unresolved chapter, or something about to happen. That way I hit the ground running the next day.
Satisfaction Living in my imagination... not having a routine job... but that's also the curse, because writers are very self-conscious and neurotic, and most of us find it hard to turn the imagination off.
Knowing

Ray Bradbury, rest his soul, made me want to be a writer. And Rod Serling made me want to be a pro. I wanted to be the guy in the black suit and skinny tie who knows how to write stories that get under your skin. But I would have to say, I never dreamed that fiction and screenwriting would be a viable career until my first book got picked up by a publisher. I remember the exact moment I got the check in the mail, along with a beautiful, juicy, sweet-smelling paperback. It had a foil cover, which was big in the mid-1990s, and my name on it. Sweet bliss!!!

 
The First Time
In a weird way, you are not truly a real writer-- or at least a professional-- until somebody plunks down a buck for your work and reads it... or somebody buys a ticket and sees it produced... and first time I experienced these things was HUGE for me. It made me commit myself to a"life" of writing. It was SO delicious. 
Advice
I wish somebody told me that everything you write for a buck-- from corporate copywriting to banging out greeting card captions-- makes you a better writer and more of a professional. Every writing job I ever got informed my skill as an artist... but I never believed it at the time.
The Walking Dead: Road To Woodbury [Excerpt]
The Walking Dead: Road To Woodbury [Audio Excerpt]

For more information on Jay's past, present, and future endeavors, check

here

.