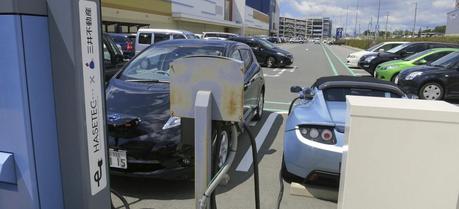 An electric vehicle charging place neat Lalaport Iwata shopping mall in Iwata city, Japan. (Credit: Flickr @ raneko http://www.flickr.com/photos/raneko/)
Toyota, Nissan, Honda and Mitsubishi have agreed on the details of specific financial assistance they will provide to installers of charging stations for electric vehicles. This announcement follows the agreement the four companies announced on July 29, 2013 to jointly promote the construction of a user-friendly network of charging stations.
According to the press-release, in order to the electric vehicles to be widely adopted, it is imperative that charging infrastructure be made widely available as quickly as possible. By assisting installers with the part of their costs not covered by government subsidies, the four companies are aiming to promote wider availability of chargers to make electric vehicle use more convenient.
The program announced today targets charging facilities recognized to have high public value under the subsidy utilization plans drawn up by local governments. Financial assistance will be made available to those businesses and operations that satisfy certain conditions, such as destination charging spots at commercial facilities and lodging facilities, as well as en-route charging spots at service areas and toll-road parking areas, convenience stores on regular roads, and service stations.
By the spring of 2014 the four companies also plan to establish a management organization that will set up and manage a membership-based charging service. The management organization will collect membership fees and usage charges from electric vehicle users. This independent scheme is intended to assist electric vehicle users and support the charging infrastructure to further develop and expand it in Japan.
In the current favorable environment of government subsidies for charger installation, the four automakers will actively encourage installation of both standard chargers and quick chargers. The companies hope to promote broader adoption of electric vehicles by building a user-friendly infrastructure and creating a society that can take full advantage of the functions of electric vehicles.