(Trip to Japan, September 2008; continuation of Part I)

Kamikochi, Gateway to the Japan Alps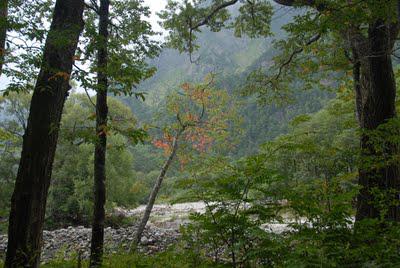 Japan Alps National Park
Saturday, September 6
The bus route to Kamikochi went up into the mountains from Takayama, winding its way along a river valley, stopping at a ski resort where people were walking among the fields of cosmos. From the parking lot at Kamikochi we pulled our suitcases along the rocky path to the
bashi
(bridge),  where hundreds of tourists milled around the concession stands eating and taking photos. The weather was slightly misty and the peaks on either side came in and out of the clouds. We crossed the bridge and went another .3 km to the
Alpen Hotel
and checked into our ten tatami mat room.
   We then walked along the river to a picnic area called the Weston Relief marked by a plaque explaining that Weston was a European who promoted the Alps as a national park. The air was fresh and slightly cool, a nice change from the sticky weather in Takayama and Nagoya. The forest on either side of the river was lush and open with ferns and other plants on the forest floor. Quite a few people were walking on the river path, although by the end of the day, most day trippers had left. We returned to our room to wait for dinner. We decided not to use the public baths until after dinner, when we hoped they would be less crowded.
Colorful Meals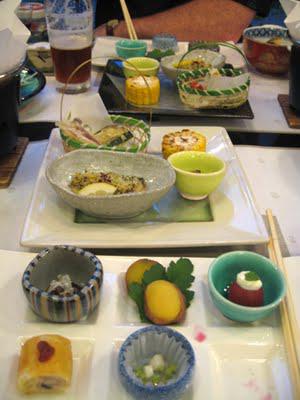 We arrived at dinner to find our table--marked by our room number on a stand--already set with a variety of dishes and two little burners each--one to fry our Hida beef steak, and the other with a salmon soup. Hida beef is lesser known but supposedly just as good as Kobe beef. It was definitely tender and heavily marbled with fat. Upon arrival at the dining room we realized that we made the mistake of wearing our shoes to dinner. Everyone else had on slippers. Some of the men wore
yukatas
(cotton robes). We were the only
gaijin
(foreigners), and, in the whole weekend, we only saw four other westerners in the park. The waiter brought additional dishes, ending with rice and miso soup.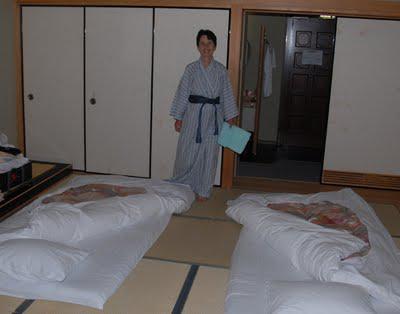 When we returned to our room, we found that our futons had been prepared for the night.
A Hot Bath
Since there was no shower in the room, we decided to try out the baths. Trudging down the hall in only our yukatas (supplied in the closet) and slippers, we went to the second floor where the red curtain signified the door to the women's bath and blue curtains marked the men's bath. For some reason, they switch sides every day, so you have to remember which color is which. In the dressing room we put our clothes in a basket and then went naked into the bath area. Following the example of another woman, I chose a plastic stool and basin and went to the washing area to lather up. Only after being thoroughly clean and rinsed does one go into the hot bath. The semi-circular tub, big enough for about six people, was heated to 40 degrees Celsius. I lowered myself to the first bench and then into the tub which was about two feet deep. It felt good, but after a few minutes, it was too hot and I got out. Meanwhile, the other woman, who had been washing herself when I came in, was still washing. Art had no one else in his bath. Back in the room we turned on the TV where they were showing the classic Kurosawa movie,
The Seven Samurai
, but even though we knew the story, the movie wasn't enough to keep us awake.
A Walk Along the River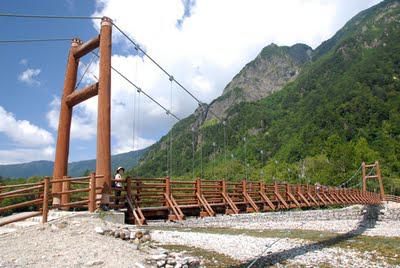 Bashi (bridge)
Sunday, September 7
We slept well on our futons with the cool fresh air coming through the screen and the total quiet except for the sound of rushing water from a small stream in the back of the hotel. At breakfast (wearing our slippers this time) we found our table set with an array of dishes including salad, soup, salmon and boiled eggs. We took the eggs for lunch, but found them barely cooked.
   After breakfast we set out to walk up the right side of the river along the mostly level path for a supposedly four hour walk. (By the time we stopped for pictures it took us much longer.) It was a perfect day, sunny, blue sky, not too warm. Most of the path went through forest--primeval tall trees--moist forest floor covered with mushrooms, ferns, asters, various plants, but offered occasional stunning views of the river and distant mountains. Although we could hear birds, we had a hard time seeing any. We had brief glimpses of what looked like a nuthatch and a chickadee but were something else.
The Myojin Shrine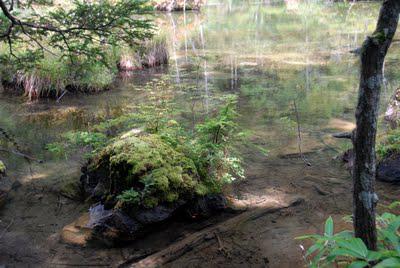 Islet at the Myojin Shrine
After about 3 km we came to a bridge leading across the river to the Myojin Shrine. We paid 300 yen (about $3) to get in to see two mirror-like pools, which were, indeed, beautiful. From what we could read in English, they are considered to be home of the gods. We could see fish swimming in the clear water and a heron flew across. In October, a festival is held at the pond and two boats with a dragon and a chicken head on the front are rowed across the water.
   Beyond the Myojin Shrine, far fewer people were on the path. Those we passed were dressed as serious hikers and appeared to have camped overnight. Almost everyone we passed nodded and said
o-hi-o gozi mas
(good day) or
konichiwa
. This section of path passed a natural hot spring where we could see bubbles coming up from the bottom. (On our way back, when it was raining, steam formed in the cooler air over the hot pond.) Three kilometers from Myojin we arrived at our destination, a campground called Tasagawa. We ate our picnic lunch by the river and just as we were finishing, it began to rain.
Afternoon Rain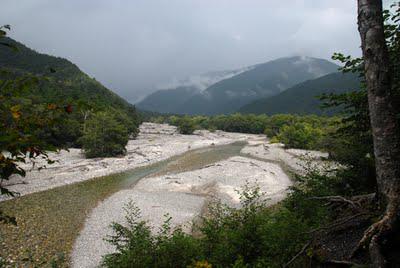 Approaching Storm
On our entire walk back it rained on and off, although never hard enough to soak us. Just after we got back to the hotel, it began to come down harder, but by then it didn't matter. We had some tea (green) with the hot water and tea set provided in our room. Then we ate another huge meal and bathed before bed. The Sunday dinner featured Shabu Shabu, cooked at the table in little paper pots, and beef sashimi. We also were served a whole fish on a stick and numerous little dishes. After dinner the only entertainment on tv was a golf tournament, so again we went to bed early.
Back to Takayama and On to Gifu
Monday, September 8
The morning was misty, but not actually raining.  We went downstairs for breakfast and found scrambled eggs and ham at our table–some others had Japanese style breakfast.  We checked out and pulled our suitcases to the bus stop.  We were the only passengers on the shuttle bus to Hirayu Onsen. Cars are not permitted in Kamikochi so everyone must go in and out either by bus or taxi.  We got right on our next bus and a few minutes after it arrived in Takayama, we caught a train for Gifu, where, for the remainder of the week, Art was attending a conference and I would be doing a school visit.
(To be continued.)
Part III will cover our stay in Gifu and Nagoya.