Janina Gavankar isn't faking when she plays a shapeshifter on "True Blood." This gorgeous dame can take any other form-but why would she? Watch as she showcases her magical skills for Kevin Pereira.
While Janina may play a shapeshifter nowadays on True Blood, we've found out that she used to represent Microsoft as Ms. Dewey in a viral Marketing Campaign.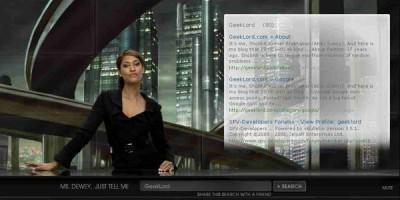 Ms. Dewey was a viral marketing campaign started by Microsoft in October 2006. It also refers to the character of the same name, who is the campaign's main subject. The Ms. Dewey website was an Adobe Flash-based experimental interface for Live Search. The interface features a modern-looking cityscape as a backdrop with the character on the left side, while the search results appear on the right. The cityscape backdrop changed depending on the time of day.
Developed by advertising agency, McCann-Erickson, San Francisco and digital content marketing firm, "EVB San Francisco", Ms. Dewey appeared to be an interactive search assistant who audibly commented on searched keywords in her own style and made random actions when idle, including taking props from behind her desk. The responses actually consisted of about 600 video clips recorded over a period of three days.
Microsoft did not overtly market the website, and appeared to be relying on media coverage to draw users in.
source: slashcontrol.com
source: g4tv.com