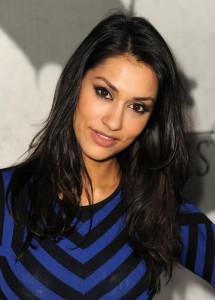 True Blood's Luna, Janina Gavankar has been busy this past year working on a new show,The Mysteries of Laura and adding her voice to video games.  Recently, Janina was interviewed about her new show, video games, and more. Below is the section of  that interview which pertains to True Blood:
What was it like working on the set of True Blood and did you enjoy how the show wrapped up its final season?
Janina: True Blood was lightning in a bottle, I was able to work with some of the smartest writers, directors and actors in the business, that I will ever work with. Everyone was in one place. When I joined the show it was the biggest show on television and I didn't do that, everyone was all in place when I joined the show. It was a dream come true.

It is hard because everyone I liked made it and my heart was broken that it was over. I think that anyone that is overly critical about the show is just sad that it had to come to an end. You can't make everyone happy. Also, anyone who is sitting and watching the show while being involved in their devices and tweeting instead of focusing on the show isn't as emotional invested. If you like something in the moment you aren't also tweeting about it.
Read this entire interview at: The Celebrity Cafe