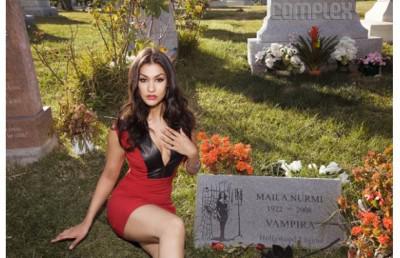 Janina Gavankar plays a game of  "Would You Rather…" with Complex.com.
I'd rather live forever than have one more week to live.
I want to see what technology's going to be like in a few hundred years, if the human race hasn't completely obliterated itself by then. I'm hoping for teleportation, so I don't have to deal with jet lag, and I'll probably be the first person to sign up to have a phone implanted in my hand.
I'd rather be Sookie's best friend than Snooki's best friend.
Sookie is a badass. She's a little Southern ass-kicker who can run with any supernatural being. The only thing that's supernatural about Snooki is her tan.
I'd rather control someone than be controlled.
I'd make them do the laundry and shop for groceries so I could play video games. I've had zero time to play video games as of late, so I really miss them. I'm so behind that it's embarrassing, especially for someone who calls herself a "gamer."
I'd rather shape-shift into Banksy than any other celebrity.
I could finally know who he is, and I could make amazing street art and get away with it. I'd dress up as an old man and put my paintings up and see how long they last.
I'd rather have gay marriage legalized than marijuana.
It's ridiculous that people aren't allowed to love who they love, have families, and have the same life as straight people. It's infuriating. I've had gay friends my entire life, and I've seen them have to deal with it. It's a basic human right that should not even be debatable.
I'd rather be with Dracula than the Wolfman.
I think, at least in mythology and lore, it seems as if Dracula is more in control of his emotions and his craziness. He's smart and he has great taste and style. You know what? I'd be afraid that I'd be allergic to the Wolfman.
Watch the video of the photo shoot.