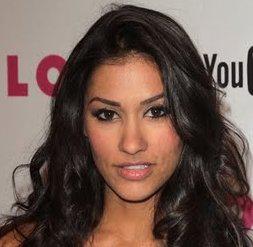 True Blood's Janina Gavankar has been talking talks about Shapeshifters in an interview with redeyechicago and in an appearance on Good Day LA.
It's not difficult to understand how Janina Gavankar, as Luna Garza in "True Blood," managed to steal Sam Merlotte's heart. When the Joliet native talks about the romance between the shapeshifters—shifters because they can switch from human to any animal with ease—she gets even more spirited.
"Oh I'd love to see them be together forever," she gushed during a recent phone interview. "I love Sam and Luna together. She has the only guy who understands her. And she's totally down for him."
Alas, that may not happen any time soon. As the HBO hit bites into its fifth season beginning at 8 p.m. June 10, Luna and Sam (Sam Trammell) face an angry pack of werewolves hunting the killer of Luna's ex, scary wolf Marcus (Daniel Buran). That situation leads to their first big fight, Gavankar said, but those aren't the only troubles lurking for the couple.
"It's a tough year to be a shifter," said Gavankar, 28. "They're up against a lot this year. It's tough to stay alive this year, so they have to really fight for their lives."
Gavankar, who attended the University of Illinois-Chicago (and did RedEye's Sudoku puzzle every day) before heading to Hollywood, didn't want to give away too much of Luna's story, but said we'll see more of her shapeshifter support group who met and talked about their emotions last season. This year, it seems, the shifters may do more than just talk out their issues.
"The shifters definitely show a darker side of themselves this year, a stronger side," Gavankar said. "When you're a shifter and you lose control of yourself it's dangerous for you and those around you."
 
Read the rest of this interview with Janina by going to: source: redeyechicago.com
 
Janina also appeared on Good Day LA today. Watch her interview below:
 
 
source: myfoxla.com