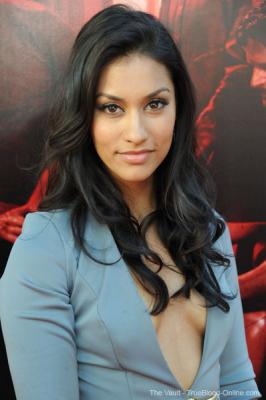 Janina Gavankar has joined the True Blood cast Sam's new love interetest, Luna. In the Chicago SunTimes she explains how she went from musicals to True Blood.
Gavankar auditioned for the role of Luna and was thrilled when she was called back to read with Sam Trammell, who plays Merlotte, the shapeshifter owner of the restaurant where Sookie works.
"It was pretty clear that we were going to have a pretty good time together from the first read," Gavankar said, slyly refusing to elaborate about the upcoming season.
Alan Ball, the show's creator and executive producer, agrees.
"Janina is delightful and professional," Ball said. "She brings a great mix of strength and vulnerability to the role, and she has nice chemistry with Sam."
Sam and Luna, who's also a high school teacher, meet at a shapeshifter's support meeting. Gavankar says Luna is "like everyone else on the show."
"She's a really complex person who is dealing with being different and being human at the same time," Gavankar said in a phone conversation from her Hollywood loft.
Read the complete article here.