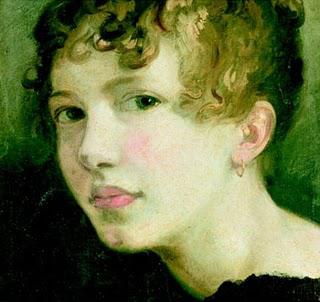 If you want to introduce to Jane Austen and her world let's say to ... your friend's/your colleague's/your own teenage daughter, a young niece or grandaughter, your neighbour's lovely child,  here's some good children's/YA books written just for them. Actually, I was quite young when I first read my first Austen,
Pride and Prejudice
, Orgoglio e Pregiudizio, in Italian . I was 14.  But some of these books below are targeted at even younger kids. 
Cora Harrison
fell in love with Jane Austen when she first read Pride and Prejudice at the age of twelve. She has published many novels for children and adults. She and her husband live on a small farm in the west of Ireland. After working in education for many years, she dedicates her writing also to spreading the love for Jane Austen. She says: 
"As a teacher I am realistic enough to know that girls won't automatically read Jane Austen unless their interest is awakened and I hoped to do that…"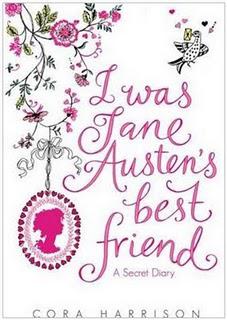 I was Jane Austen Best Friend- A Secret Diary
is her first austenesque for children. It is a truth universally acknowledged that a single girl in possession of a journal must write all her secrets in it. Jenny Cooper, the protagonist, is Jane Austen's shy, pretty, cousin. Jane is clever and sparky and has lots of handsome brothers and a vivid imagination. These are Jenny's secrets: she has never gone to a ball, she hates school, she longs to wear a new gown and flirt with a handsome naval officer, she wishes real life could be more like a novel. A delicious dance between truth and fiction, this is the thrilling story of a moonlight flit, a dashing young man and two girls in search of a hero.Published in the
UK by MacMillan
, in the US by
Random House Children's Books    
in Australia by
Pan MacMillan Australia
In 2011 MacMillan UK has published a sequel,  
Jane Austen Stole My Boyfriend
. In this second book in the series Jenny Cooper has found her hero, thanks to her cousin Jane, who considers herself an expert in affairs of the heart. Now it's Jane's turn to fall in love and there are plenty of dances, rumours, scandals and eligible gentlemen to entertain two teenage girls in search of adventure. But a good reputation once lost is gone forever and Jane is in danger of becoming the talk of the town for all the wrong reasons...
Read an excerpt from it:
'I hate Jane Austen! I really hate her!'
I stop. I know that voice.'Oh, Lavinia, Mama says that Jane Austen is just a vulgar, husband-hunting, affected little minx. She says you are to take no notice of her.'I know that voice too.It's Lavinia and Caroline Thorpe. I remember them well from the time when Jane and I were at boarding school at Southampton. They had made my life a misery there. I can still hear them chanting 'Look at Jenny Cooper's muslin – it looks like a rag.' 'Jenny Cooper has the snub nose of a servant girl, she's such a little dwarf, isn't she?'; or else, to the owner of the school, 'Mrs Crawley, Jenny Cooper has broken a school rule!'And now here they are at the Assembly Rooms at Basingstoke.I hesitate at the door of the ladies' cloakroom. One curl has come loose from its knot at the back of my head during the hectic pace of the Boulanger dance, but it will have to stay like that. I can't go in there and face the two Thorpe girls. I turn to go, but then something stops me and I turn back. Before my courage ebbs away I burst through the door, say to them icily, 'Jane Austen is my best friend'; I'll thank you not to gossip about her.'I push past them, examine myself in the looking glass, trying to look calm. I pretend to look at myself, but I can see them sneering, shrugging their shoulders as if I were not worth a reply. I carefully pin up the stray curl, and then decide to leave it lying there on my neck – it looks nice, I think. I half-turn and with my head over my shoulder survey my gown, pure white and sprigged with tiny silver flowers. The train is beautiful. A hundred tiny deep blue beads have been sewn to it and they twinkle in the candle light. I smooth my long white gloves, making sure that they fit snugly over the elbow and then I sweep past the two Thorpe girls without another glance. As I close the door behind them I hear Caroline say,'Anyway, we're going to Bath for the season; he's bound to be there.' She raises her voice a little and says 'And the Austens and their beggarly cousin won't be there to interfere.'When I get back to the Assembly Rooms, the new dance has not yet been called, but Jane is already hand in hand with Newton. No wonder Lavinia is so upset. The Honourable Newton Wallop is the second son of the Earl of Portsmouth and it's rumoured that he will be the heir to the Portsmouth estates as the eldest son, John, is strange and, according to Jane, it is feared that he is a lunatic. Newton has been a pupil at Mr Austen's house at Steventon and he and Jane seem great friends, joking and laughing. They've been dancing together for most of the evening.'Your very humble servant, ma'am,' says Newton, and Jane replies in very affected tones, 'la, sir, pray do not be such a tease,' And then she laughs as Newton reminds her of the time that she and he made an apple-pie bed for Jane's prim sister, Cassandra. Lavinia would be furious if she could hear how friendly they sounded.I don't waste any more thoughts on Lavinia. I can see Thomas coming towards me. I don't push my way through the crowd to join him. I just stand and look at him.Captain Thomas Williams, the youngest captain in the Navy – brave, handsome and noble – and in love with me! Tall – taller than most people at the ball; broad shoulders; black hair gleaming like a blackbird's wing under the candlelight from the chandeliers above; dark brown eyes, so piercing and yet . . . I think back to the little damp woodland and the bluebells and tiny forget-me-nots at our feet and how those eyes were so soft and pleading then. And still I can't believe that he has asked me to marry him.He has reached me now.

'You look so beautiful,' he murmurs in my ear and I smile and know whether my curls are pinned up tidily, or escaping down on the nape of my neck, it makes no difference to him. He loves me as I am and no matter what I do or say. We go and stand beside Newton and Jane.

'Oh, la, sir, you make me blush,' she is saying to him and Newton instantly responds with a deep bow and says loudly, 'Madam, your beauty overwhelms me. No poor words of mine are enough to describe you.''Dearest Newton,' Jane begins in a very lofty way, her voice so loud that several people turn to listen to her and then she spoils it by hissing 'You're on the wrong side, Newton. You are such a ninny. Go and stand beside Jenny. Quick, the music is starting.'I smile at Newton as he joins me. He's quite handsome – not handsome in the same manly way as my Thomas, but he is large-eyed,, curly-haired and fresh-faced. He stretches out his hand to Jane and Thomas takes my hand and we whirl around as the last dance of the evening begins.I can see Lavinia and Caroline Thorpe now. Neither is dancing. They are standing in front of their mama and Lavinia is half twisted towards her, saying something. I can guess what she's saying. When she turns back her face is full of rage, eyes narrowed as she looks at Jane.
'Jane,' I whisper. 'Look at Lavinia Thorpe, over there by the fireplace. She's furious with you.'

Jane looks over h

er shoulder, a lightning look, but that is enough for someone with Jane's quick wits. Newton dances back and Jane puts up her hand to hold his. She smiles sweetly into his face and drops a demure curtsy and then they are off dancing rather closer than is usual, both of them laughing as the two rows of dancers clap them energetically.'Jane ,' I say when we are back in our bedroom at Steventon, 'I think that you have made an enemy.''Don't care,' she says, carefully hanging up her ball gown.'She'll gossip about you,' I say, hanging my gown beside hers.'Who cares about Lavinia Thorpe?' Jane's voice is scornful as she sits on the stool in front of our little looking-glass and begins to take the pins from her curls.'Not me,' I say, taking up the hairbrush. I will brush her hair a hundred times and then she will do the same for me. I don't care about Lavinia Thorpe, either. All I can think of now is that my uncle, Mr Austen, will be coming back from Oxford tomorrow and that Thomas will ask for my hand in marriage.And then we will live happily forever after.
Read my interview with Cora Harrison 
Jenny Ziegler
writes YA fiction and on occasion of our
"Talking Jane Austen with ..." session
, this is what she answered to my questions :  "
do you find she can still teach/be a model for nowadays youth"?
"Most definitely!  Teens may not realize it, but they can truly relate to her characters and their predicaments.  Austen's protagonists deal with problems of love, identity, friendship, family, economic hardships, and reputation – all issues that modern youth have to contend with.  Plus, she's funny!  I think there is a misconception among those who haven't read Austen that her stories are all polite tales about manners and society.  Although she does address class struggles, her storytelling is playful and gently mocking, and she always populates her stories with hilarious individuals"
Sass and Serendipity (2011)
is her latest publication inspired to Jane Austen's
Sense and Sensibility.
Here's a sinopsis from the author's site: 
For fifteen-year-old Daphne, the glass is always half full, a dab of lip-gloss can ward off a bad day, and the boy of her dreams—the one she's read about in all of her beloved romance novels—is waiting for her just around the corner.
But Daphne's older sister Gabby wishes Daphne would get real. In Gabby's world, everyone's out for themselves, wearing makeup is a waste of time, and boys only distract you from studying before they break your heart. The only boy Gabby trusts is her best friend, Mule, who has always been there for her.
Both Gabby and Daphne are still reeling from their parents' divorce, though in very different ways. While Gabby will never forgive her unreliable father for failing her mother, Daphne idolizes her daddy and is sure that everything would work out fine if her cranky mom would just let him back into their lives.
When a crisis leaves the girls and their mom homeless, help comes from an unexpected source, and both girls are courted by surprise suitors who shake up their views of the world. Suddenly the glass isn't so clearly half empty or half full… and love seems a lot more complicated than they ever could have imagined.
Then,  what about the original six  re-told in a simplified manner?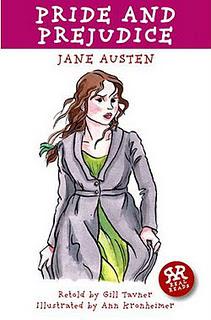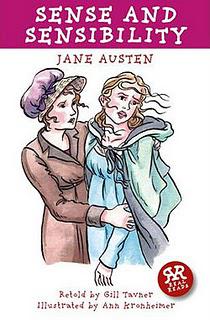 Jane Austen's Pride and Prejudice, Sense and Sensibility, Mansfield Park, Northanger Abbey, Emma and Persuasion retold for young readers by Gill Tavner. With charming color illustrations throughout, character introductions and large font it is an enjoyable and fun way to introduce children to classic literature. Paperback, 64 pages, published by Real Reads. You find all of them at here.
Cassandra's Sister (2008) by Veronica Bennet is instead a fictional Jane Austen's biography for teens.
Bennett's Jane (known as Jenny to her family) is 17 when we meet her. Fiercely devoted to her entire family, but especially to her only sister, 19-year-old Cassandra, Jenny continually wavers between two poles: Should she marry and find love (and financial security) in the arms of a husband? Or should she pursue her writing, composing fiction that mirrors the real-life concerns of herself, her family and her acquaintances? When love --- through betrayals, deaths and misunderstandings --- continually evades the people she cares for, Jenny's choice seems clear, only to be thrown into question again by an unexpected proposal. 
Bennett does a creditable job of introducing young readers to Austen's world. Creating characters whose wit and wisdom often seem straight out of Austen's novels, Bennett uses Jenny, her friends and her family members as mouthpieces to discuss literature, women's rights and other concerns of the day. Considering the sophistication of the dialogue, however, many of Bennett's descriptions often seem childlike in comparison: "Jenny loved dancing…. She loved the tramp, tramp of shoes on the wooden floor and the swish, swish of gowns as the ladies turned at the end of the set." Such simplistic descriptions stick out when Bennett clearly expects her audience to understand authentic 19th-century dialog and to keep track of a couple-dozen major and minor characters (from Teenreads.com)
That's all for today. Do you know any other good Austen read for teens or children?