January 10 blog hop — a handy-dandy way to draw new readers over to your blog.  from Will My Dog Hate Me and Go Pet Friendly
***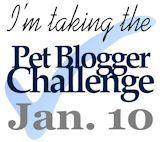 1. How long have you been blogging? And, if you're stopping by for the first time, please tell us why you started blogging and give us a quick description of what your blog is about.
It has been six years, how is that possible????  seems like only yesterday..
2. Name one thing about your blog, or one blogging goal that you accomplished during 2013, that made you the most proud.
Well, one thing that was a lot of fun we went on a dog friendly press trip. It was both challenging and fun to meet new people and it was a whirlwind tour of SLO, a lot of activities for the pooches (although some scheduled play time would have been good, too). It was a trip to visit a place with other writers and editors (I think I was the only blogger). And I think we all learned a lot. Cici and I have always traveled alone so this was a nice change of pace to have the Visitors Bureau and PR reps set up the itinerary.
3. When you look at the post you wrote for last year's Pet Blogger Challenge, or just think back over the past year, what about blogging has changed the most for you?
Am starting to wonder how much more I can write about dogs and dog travel, although there does seem like an endless amount of material living with a dog every day. As she ages, there have been some health issues. And sadly, it seems like we lost of a lot of dogs this year from Wallace, the world champion disc dog, to three of the former Vick dogs (Lucas, Georgia and xxx) as well as a whole pack of pet bloggers dogs. This has been a rough year. One happy note that did get resolved (FINALLY) was Patrick's Law was finally passed in New Jersey with harsher fines for animal cruelty and neglect and Patrick's adoption into the Scavelli family became official.
4. What lessons have you learned this year — from other blogs, or through your own experience — that could help us all with our own sites?
Alternatively, if you could ask the pet blogging community for help with one challenge you're still having with your blog, what would it be?
I often feel like I'm just at the edge of the crowd, I do the blog hops and such but often feel like an outsider, do not really feel like I am IN with the other bloggers. This to me is old family issues and like high school. I feel awkward and am nervous about approaching the popular kids, etc. Sitting in the cafeteria alone. Insecurities. Does anyone else feel like they are standing in the sidelines watching everyone else have fun? maybe it's just this time of year. Hardly can believe it has been another year.
5. What have you found to be the best ways to bring more traffic to your blog, other than by writing great content?
by promoting my blog posts on social media (Facebook, twitter) and just letting other people know about my blog (handing out biz cards, etc). I tell everybody, even people who probably could not care less. Giveaways are good, too.
6. How much time to do you spend publicizing your blog — and do you think you should spend more or less time next year?
Not enough time. I am much better suited to publicizing others than tooting my own horn. Just the way it is. There have been opportunities that have come my way in the past which has been nice but I did not seek them out. I should spend more time but do not know that I actually will. Thinking about getting t-shirts, also to raise money, that would be one way to do it.
7. How do you gauge whether or not what you're writing is appealing to your audience? And how do you know when it's time to let go of a feature or theme that you've been writing about for a while?
I will answer the second question first, when I am no longer interested and interest in the topic is dwindling. It is often difficult for me to know who is reading what. Sometimes there is a controversy and lots of comments. But mundanely, these are few and far between. I hope that when I share topics of interest to me and what happens with my dog that my readers think it is pertinent to them and are happy to not feel alone (and they seem to be reading).
8. When you're visiting other blogs, what inspires you to comment on a post rather than just reading and moving on?
When I can relate to the topic and how the post is written, if I think that I can add something different to the comments. And sometimes I feel very moved and don't say a word when I probably should.
9. Do you do product reviews and/or giveaways?  yes, I do.
If so, what do you find works best, and what doesn't work at all?
I always do positive reviews. If I do not like or my dog does not like a product, I will let the people know that I will not be saying anything. And they usually understand. I may make a constructive criticism. I think being honest, within limits, works. If I bashed products, that would not work at all so I do not do it. Had a few contests, photos worked, but doing giveaways usually gets people involved, depending upon the products offered.
If not, is this something you'd like to do more of? What hurdle is getting in your way?
10. When writer's block strikes and you're feeling dog-tired, how do you recharge?
I just write anyway even if it is bad or I feel like I have nothing to say eventually I do. When I'm feeling dog-tired, I snuggle with my puppy girl and she makes me laugh or sleep and helps me recharge.
There is nothing like a big polka dot dog butt in one's face on your pillow to make you feel better, inspire you and have happy dreams LOL
11. Have you ever taken a break from your blog? How did that go?
Not really. There are times when I only write one or two blog posts a week an other times I write more. Lately, I've been writing less posts (one or two a week). It has been difficult dealing with Cici's health issues and other stuff that has been going on. So in that sense, I give myself a break from having to keep to any type of rigid schedule. That is what works for me. Maybe I have missed some stories but c'est l'vie. I do what I can do and I am certainly not perfect. I am a human bean and we are works in progress.
Have you ever thought about quitting your blog altogether? What makes you stay?
yeah, lately. When I am feeling down. But then I will get inspired by something someone has written or is doing related to dogs. I've thought about writing a writing blog but don't know what I'd say. And I thought about doing a dating one, 300 dates in a year. Of course, I haven't had ONE date in a few years. Can a 60+ year old woman find true love ??? sounds like a lot of trouble. Maybe a cooking blog? nah, have not found another topic that I could maintain. health, blah. maybe. pet communication, see?  have not run out yet.
12.  What goals do you have for your blog in 2014?
For my writing, I'd like to write more articles for pay in publications. For my blog, keep on writing. More interviews. More fun topics. More travel. I'd also like to actually get my ebook formatted so that I can actually sell it. It is based upon my blog and it has reviews of 80+ places in California that Cici and I have traveled to and stayed at with lots of tips, for fun travel with canines.
I'd also love to do more Blog Paws promotions. The Subaru one was a hoot.
***
Don't stress — and don't be afraid to ask for help! If you have any questions