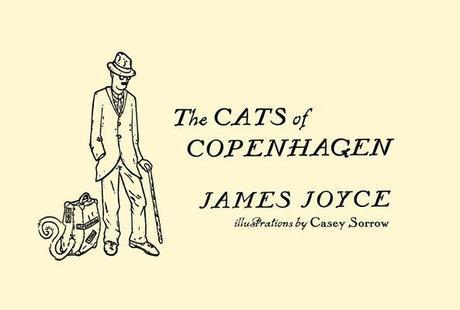 BACK IN FEBRUARY, my post on James Joyce's picture book The Cat and the Devil went slightly viral when it was announced that a small Irish publisher would be publishing a new picture book by Joyce entitled The Cats of Copenhagen. The circumstances around this event were slightly controversial (refer back to the original post), so it was unclear if the book would ever be available to the general public at an affordable price. Just last week, Scribner published an American edition, which can be found in stores now.
Unlike The Cat and the Devil, there isn't a strong narrative in The Cats of Copenhagen. It's comprised mainly of absurd observations about cats and policemen and crossing streets. Its tone is somewhere between Ruth Krauss's A Hole is to Dig and the works of Edward Gorey. Casey Sorrow's single color line illustrations resonate with the spare text so that each page is a whole idea, the words and art almost a single lexical unit. In short, it's a wonderful book. But I haven't tested it out on any kids yet.
All images are copyrighted © and owned by their respective holders.