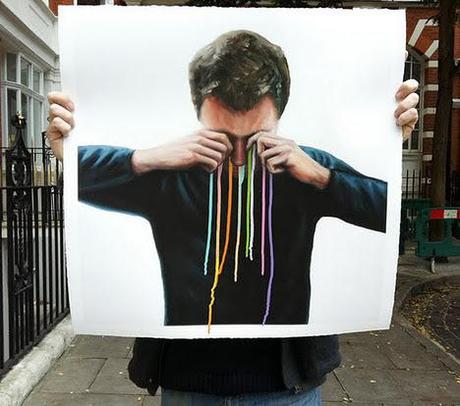 Opening later this week a new exhibition and print release from James Cochran aka JIMMY C presented by No Way Art. James is an Australian artist best known for his urban narrative paintings and for his drip painting style. In the late 1980's Cochran contributed to the development of the graffiti scene in Adelaide and went on to paint a range of mural commissions throughout South Australia. In the 1990's he adopted the alias 'Jimmy. C' and become well known for his aerosol art murals and his work in city and regional communities across Australia.
 James has created his first ever print for this exhibition –  two fabulous colourway variations of what he calls his signature piece 'The Artist's Tears' – Both prints are an edition of 25 on 315gsm Innova Smooth Cotton High White, hand finished with spray paint drips. 64x64cm, signed, stamped and numbered and will be priced at £165 [Prints are available at the exhibition, strictly one per person.]
The exhibition opens Thursday 10th November from 6pm and runs till Sunday 13th November (open daily from 11am till 8pm)
Visit:
www.akajimmyc.com
for details of his online drop coming soon.
44 Redchurch Street - Shoreditch - London - E2 7DP