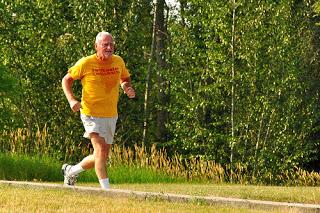 Photo by dlholt. 
Do you think action heroes can only be played by movie stars in their 20s or 30s?  Think again. I'm seeing several films that show feats of strength by men in their 40s, 50s, 60s and beyond.  Films featuring seasoned heroes can serve to inspire mature movie goers to achieve at work, at home, in civic organizations or on running trails.
When I decided to see
Skyfall (2012)
, I thought that I was escaping from my work as a gerontologist in training.  When I walked into the theater with my box of popcorn, I expected to enter a fantasy world where James Bond chases bad guys, beds exotic women and comes out alive after several unbelievable fight scenes and numerous breathtaking chase scenes.
While these elements were present, they were embedded in a narrative about losing and regaining power.  Not only does bond have to fight a super bad guy, he has to fight injuries to his body. In addition, as long-term employees with a lot of seniority, he and M. have to fight ageism at the office.  
That's a battle on three fronts, four if you count self-doubt.
 Although very few people are international spies, movie goers can relate to the constant need to prove and reprove yourself over the entire lifespan, more so when you add age-related challenges to the mix.
A film with similar themes but with more comedy is
R.E.D. (2010)
, which stands for "Retired, Extremely Dangerous."   The film stars an ensemble cast (Bruce Willis, Moran Freeman, Helen Mirren, John Malkovitch, and Mary-Louise Parker) of spies returning to work with even greater verve.
Not all film heroes are larger-than-life. Some are more realistic, such as the film
On a Clear Day (2005)
, featuring Frank, a shipbuilder forced into early retirement at only 55.  After suffering for a time with an identity crisis and depression by losing his role nailing together massive ships, Frank finally nails himself as an athlete by setting a goal to swim the English Channel. He also works through the challenges in gaining the support of his family.
The most interesting films for me are those based on true stories. In
The World's Fastest Indian (2005)
Anthony Hopkins plays New Zealander Burt Munro, motorcycle racer who customized and Indian motorcycle to peak performance so that he could win the world's record for speed on a motorcycle.  He not only tinkers with the  bike, he makes adjustments to his psyche and alters the attitudes of the race officials and fellow racers in order to compete at the Salt Flats in Utah.
Moving from midlife, I have seen a number of films about the challenges of late life.  Here are just two films starring leading men reclaiming their power in later life.
Most recently, I watched a documentary
The Way We Get By (2009)
about three older adults--Joan, Bill and Jerry--who volunteer to greet soldiers passing through their local airport, Bangor International.  They all have ties to the military, either as veterans or as a grandparent to active duty soldiers. Bill (88 at the time of filming) is a WW2 vet.
 Little do those around them realize the financial, physical and psychological hardships they must manage behind the scenes.
They are fighting daily battles just to get through the day.
The film that most poignantly shows me how the average person can play the role of a leading man in the action adventure of his own life is depicted in
The Straight Story (1999). 
It's based on a the feat of Alvin Straight, a 73 year old man with financial and mobility problems who forges a way to make a trip to a neighboring state.  He has been judged incapable of driving a car, so he tinkers with a riding lawnmower in order to drive it 240 miles from his home in Iowa to his brother's home in Wisconsin.
Where those around him wanted to emphasize his limitations, Alvin persevered and demonstrated his capabilities. 
By watching a series of films, I observe mature men using their experience and wisdom to preserve their personal power in the face of challenges--many of them age-related or complicated by age.
Often the greatest foe is not loss of physical prowess but the social and psychological barriers of ageism.
These tinkers, nailers, soldiers and spies inspire me to find ways to overcome obstacles in my own life so that I can maintain personal power in a variety of realms much more mundane than working as a spy in Asia, swimming the English Channel or Speeding over the Salt Flats on a customized motorcycle.   And check back with me when I'm 80 to see if I'm riding a lawnmower on the side of Interstate 80.
Related:
Films Featuring Older Adults