FirstLadyB | Connecting Faith and Hollywood
 Dr. Jamal Bryant will preach his farewell sermon today at Empowerment Temple in Baltimore before heading south to New Birth.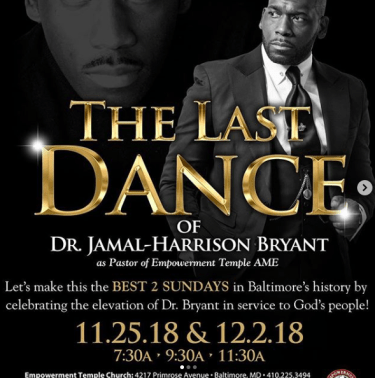 Since news broke that Bryant, who is an AME Minister would be leading a Baptist church, everyone has wanted to know; how does an AME Minister  navigate leading a Baptist church.
Well Bryant recently answered that question in the Baltimore Sun.
"The only difference between AME and Baptist, really, at its core, is in their governmental structures, not their belief systems. We all believe in Easter, Christmas, fasting, prayer and worship [laughs]. In the AME church we do baptism through sprinkling of water; they do it by immersion in a pool.
"I'm actually going to remain a member of the AME church and of the Empowerment Temple. Now, can I be both a Baptist and an AME member? I'll have to figure that out when I get there. That's a million-dollar question the whole ecumenical community wants to know!"
There ya'll have it.. We will have to wait and see.
Congratulations again to Dr. Bryant and welcome to the South!