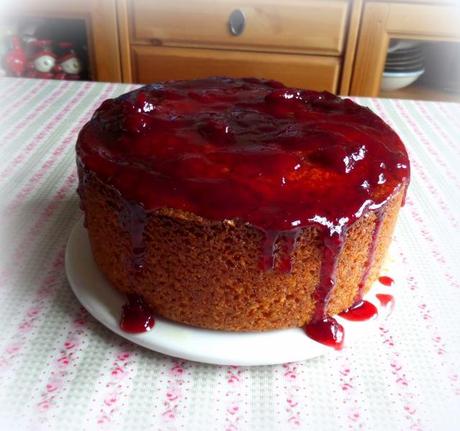 I do get sent the nicest things.  I was really excited recently when I received this DUO Silocone and Ceramics springform cake mold in the mail from the people at Lékué.  For those of you not familiar with the name,   Lékué is a company that produces that are very innovative in their design and use.  Lékué products have revolutionised kitchens around the world, making them spaces for new food experiences and unique sensations. Blending flavours and textures; making recipes and trying them, all of this helps children and adults discover the pleasures of cooking at home.  I was sent three items to try out and this is the first one I have used.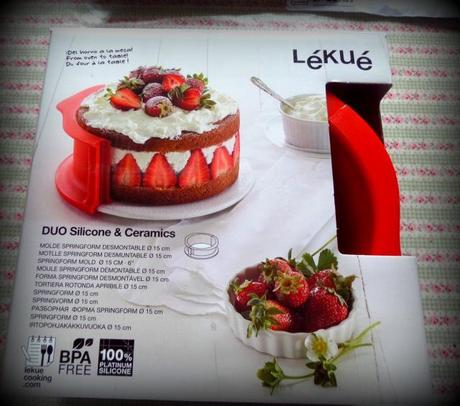 This springform combination ceramic and  silicone pan is 6 inches in diameter, with removeable silicone sides and a ceramic bottom, which doubles as a serving plate.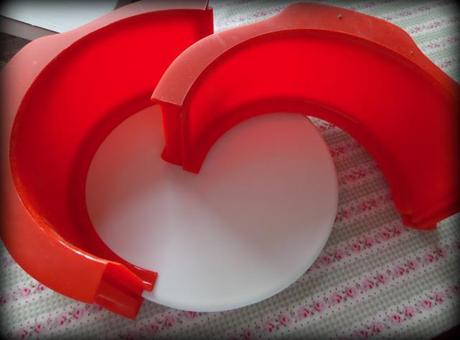 It consists of a two part silicone mold and a ceramic plate, which fits inside the silcone snuggly when it's put together.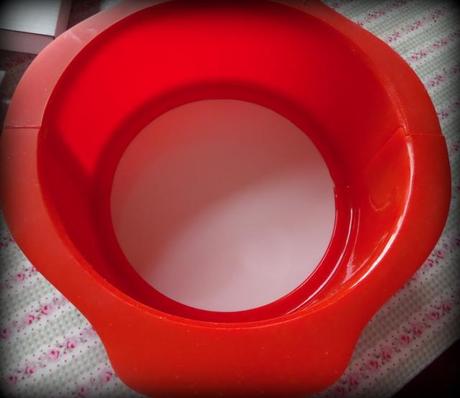 It fits together very easily.  I was a bit worried it might leak, but happy to say it did not.   It's great for oven use and also for making refrigerated and frozen desserts, and it comes with a little recipe/hint/use  booklet.  It's dishwasher/oven/microwave and freezer safe.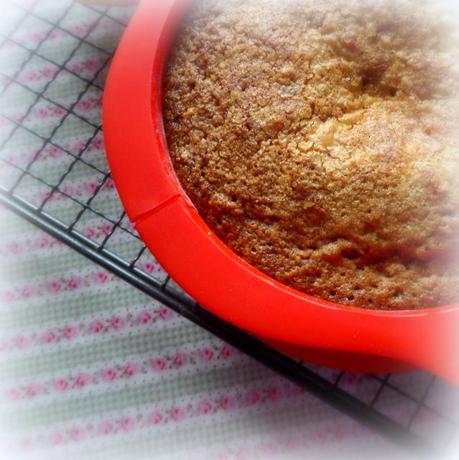 It took me a while to get interested in silcone bakeware, but I have to say I have really fallen in love with this type of bakeware.   Not only do you not need to grease it, saving on fat, mess and calories, but baked goods pop out like a dream when done.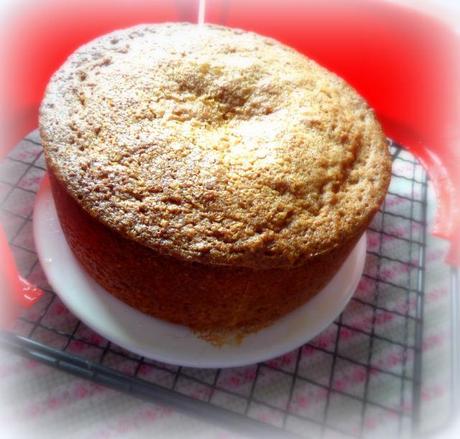 I decided to bake a cake recipe I found in Tamasin Day-Lewis's book "Supper For a Song."  It seemed the perfect recipe to try and it had jam on the top.  We love nutty cakes with jam on the top, so it was win/win all round.  You can see it popped out of the cake mold beautifully.  There was no sticking at all.  The mold was a little bit smaller than the one called for in the recipe, but no worries, I just took any extra batter I had and baked it separately in a custard cup so that Todd could have his own little treat mid afternoon.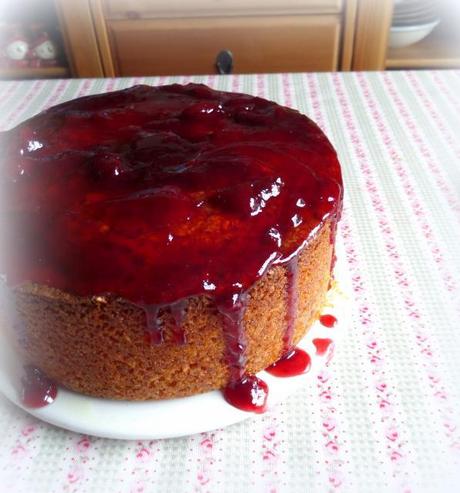 It turned out beautiful.   I used a sour cherry jam.  You spoon warm jam over the top and it soaks in a teensie bit and drips nicely down the sides, which I thought looked really nice.   It was lovely that by using this mold I ended up with it's own perfectly sized cake plate.  No need to dirty anything else.  Doesn't it look cute?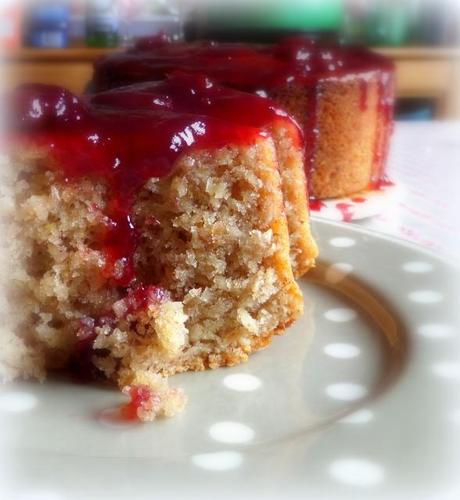 What a beautifully tasty and moist cake it is, subtly flavoured with lemon zest and vanilla and almond.   A lovely combination . . . and the nuts make for a nice crumb.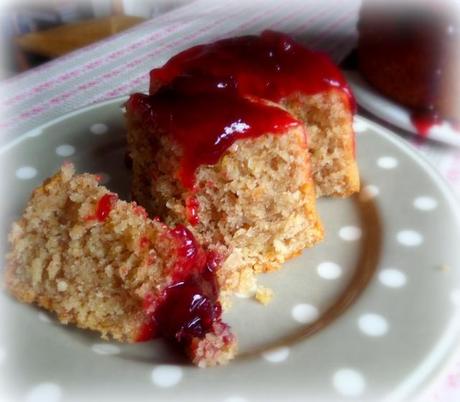 I really hope that you will give it a go.  It's a gorgeous cake, full stop.  You can use whatever jam you want on the top.   I think peach or apricot would be nice, and so would blueberry or Strawberry, raspberry . . . plum preserves.  In fact, I can't think of a jam that wouldn't take nice on top of this!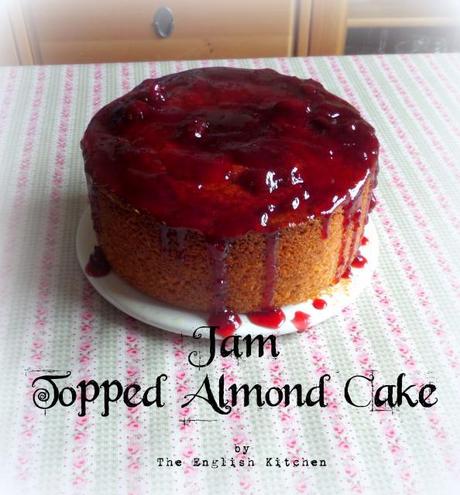 *Jam Topped Almond Cake*
Makes one 8 inch cake Printable Recipe  

We are great fans of nut cakes in this house and we adore jam.  This cake combines two of our great loves in a most delicious way.  Adapted from a recipe by Tamasin Day Lewis.
300g of blanched Marcona almonds (scant two cups)225g of butter, softened (1 cup)225g of caster sugar (19 TBS or a scant 1 1/4 cup)
the finely grated zest of one unwaxed lemon1 tsp natural almond extract1/2 tsp  vanilla paste3 large free range eggs120g of plain flour (1 cup minus 4 TBS)1 heaped tsp of baking powderTo finish:e heaped TBS of your favorite jam2 tsp water
Preheat the oven to 160*C/325*F/ gas mark 3.  Butter and flour an 8 inch spring form pan.   Grind the almonds in a food processor until they are just a little coarser than fine grind.  You want some texture.
Cream the butter and sugar with an electric whisk until the mixture is light and fluffy.  Beat in the lemon zest and extracts. Fold in the ground almonds.  Beat in the eggs, one at a time until well blended.  Sift the flour and baking powder together.   Fold this mixture into the beaten mixture with a metal spoon.   Spoon into the prepared baking tin and bake on the middle shelf of the oven for about 55 minutes, or until a cocktail stick inserted in the center comes out clean.  (Tamasin suggests checking it at 50 minutes.)  Allow the cake to cool completely in the pan on a wire rack before removing onto a plate.
Melt the jam with the water in a small pan over low heat, or in the microwave for about 35 seconds, whisking well to combine.  It should just be warm.   Pour this mixture over top of the cake and spread it around. 
This is a great keeper and tastes wonderful with a dollop of plain Greek yogurt or creme fraiche.Our favorite jam flavours:  Apricot, cherry, strawberry, blueberry.  In short, any flavour! 
I really REALLY like this cake pan/mold.   I was very impressed with it's perfomance.  It performed beautifully and washed like a dream.  I would give it a 10 out of 10.
Do check out the Lékué home page. 
This cake mold retails at £19.97
Like them on Facebook.
Follow them on Twitter. 
Many thanks to the people at Lékué for sending me this lovely piece of kit.  Although I was sent it for free, any and all opinions of it are my own.