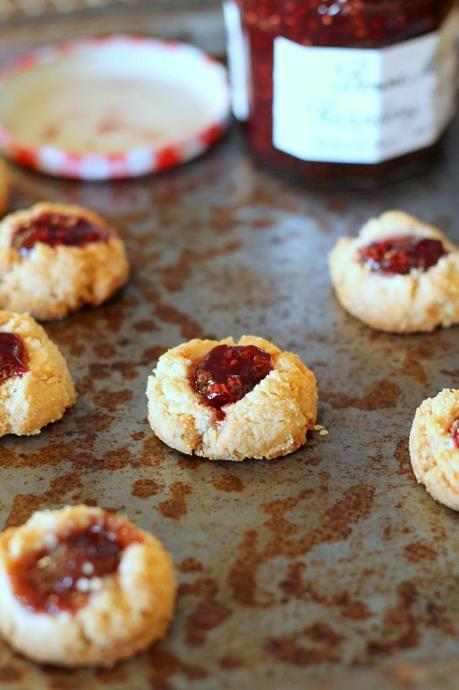 Hi guys. I've been totally AWOL, despite my promises of stories from London and all that good stuff. Let me throw something out there – London has been amazing so far (for the most part, but we'll get there in a second), but you want to know something slightly pathetic for a blogger?
I have yet to take ONE picture that was not a blurry, night-out, nightclub picture. I know, I know. But the truth is, I haven't really been sightseeing yet! It's been orientation, classes (ahem, modules, as the Brits call them), meeting new people, and going out. Oh, getting sick. Right, how is that for luck! One week in, and I woke up in the middle of the night feeling horrific, barely able to get out of bed. So for the past three days I've been in my room, miserable. Until this morning, I hadn't seen a soul, and all I had eaten was one granola bar and a handful of cereal…in three days.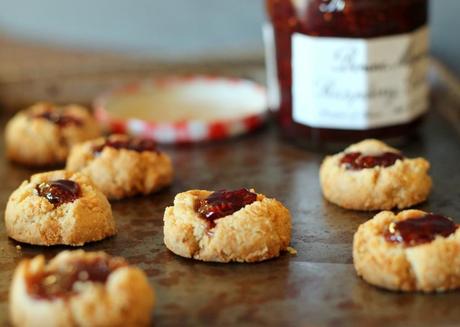 That's so not healthy. But I was sick, and I had no appetite and my mom wasn't there to bring me crackers and soup, so severe undernourishment was the easiest solution. I'm finally starting to feel slightly better (AKA able to stand up without wanting to pass out) and I made my first venture into the human world today, so steps in the right direction are being made.
Besides my terrible sickness, I really do love it here and promise to share many stories soon!
But these cookies though. I know some of you roll your eyes when you see "gluten free", "vegan", "paleo", or "refined sugar free" attached to any recipe, nonetheless more than one of those words (although some of you love it!) and I'm not gonna sit here and tell you that these are exactly like those thumbprints from grandma that contain more butter and sugar than should be allowed. But, seriously guys, these are good.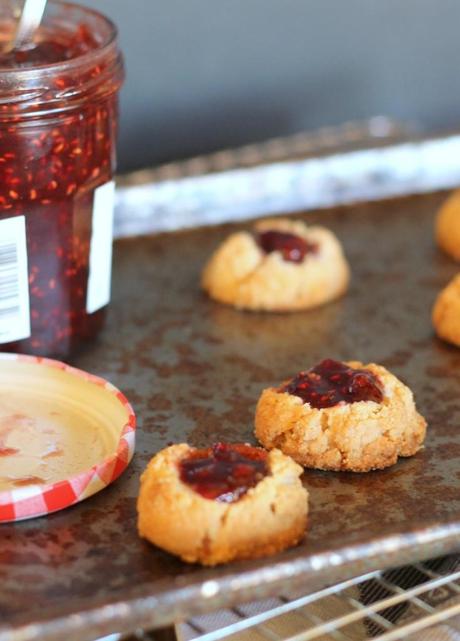 For the whole time they were in my house, my sister and I could not stop devouring them. In fact, we made them twice, which totally was not a big deal because they only take 4 (FOUR!) ingredients and come together in like, two seconds. Okay, a little more than that because they have to chill in the fridge for a lil' bit (30 minutes, but you can leave 'em longer), but that's totally hands off time that you can go use to go paint your nails or watch an episode of How I Met Your Mother on Netflix. Wait – don't wait your nails, you're going to need to use those thumbs, and these are jam thumbprints, not nail polish thumbprints. Stick with HIMYM.
Anyways, moral of the story – these are tasty little suckers that don't make a huge batch AND aren't bad for you, so you truly have no reason to feel sorry for demolishing the whole pan. If you are paleo and can't have storebought jam, you can make your own paleo jam (this one looks delicious) or you could fill them with almond butter (which I wish I would have thought of when I was making these. That would be totally delicious).
If you don't have maple syrup on hand, honey will do, but keep in mind that honey isn't vegan! You can also increase the amount of sweetener if you like a sweeter cookie, because these have a pretty mild sweetness – I wanted the jam to shine through. No almond flour? Make your own! It's super simple to do in a food processor, Vitamix, or coffee grinder. Just Google it and you'll see a ton of recipes and step-by-step pictures.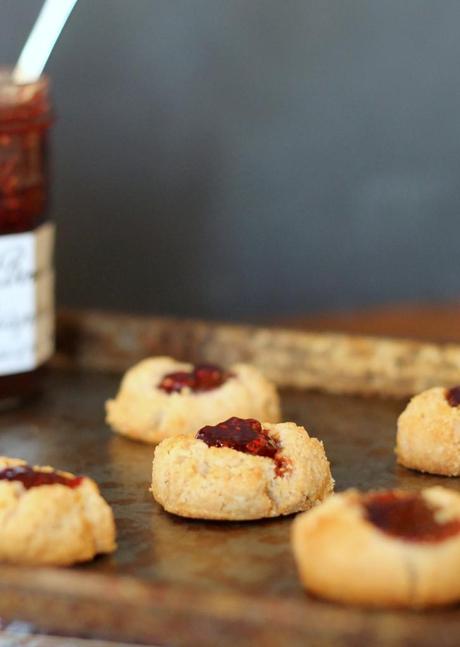 I do hope you'll give these a shot – enjoy, and hope the beginning of your 2014 has been great!
Print Jam Thumbprint Cookies (GF, Vegan)
Yield: 15 cookies
Ingredients
1 ¼ cup ground almonds
3 tbsp coconut oil, melted
1.5 tbsp maple syrup
¼ cup raspberry or strawberry jam (or any jam or filling you desire)
Instructions
In a medium bowl, mix together all ingredients except for the jam and shape into a ball. Cover with plastic wrap and refrigerate for 30 minutes (or up to 24 hours).
Preheat oven to 375 and line a baking sheet with parchment paper or a Silpat baking sheet.
Form 15 balls from the dough. Make an imprint in the centre of each cookie with your thumb and fill each imprint with jam.
Bake for 11 minutes for until light golden brown around the edges. Enjoy!
Schema/Recipe SEO Data Markup by
ZipList Recipe Plugin
2.2
http://www.bakerita.com/jam-thumbprint-cookies-gf-vegan/
Recipe adapted from The Honour System