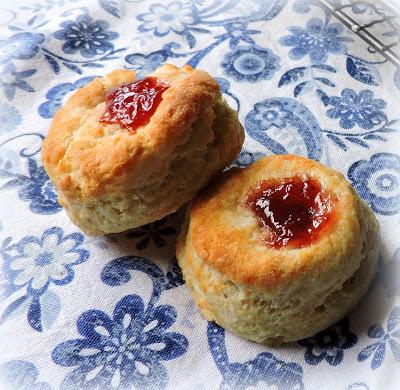 I always like to make my husband a little something special to enjoy with his breakfast or his morning drink at the weekend.  He is always so very appreciative of everything I do for him, which means a lot to me.  Its awfully nice to feel appreciated.  Today I decided to bake him some of these Jam Filled Buns.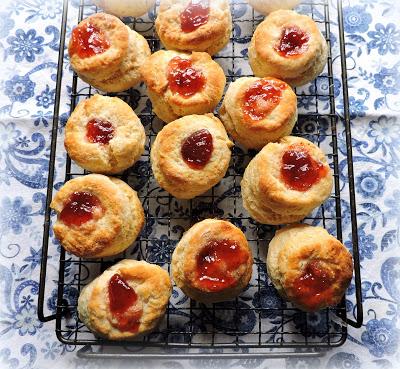 These delicious little buns are real family pleasers.  They are like a cross between a scone and a North American Biscuit, being very easy to throw together.  As simple as sifting some ingredients into a bowl . . .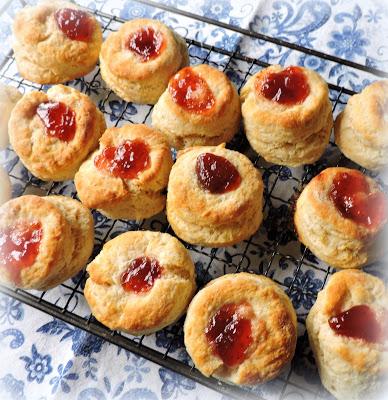 Cutting in some butter  . . .  and stirring in some wet ingredients to make a dough.  After that you just pat it out, cut into rounds . . . make a dip in the centres with your thumb, fill the dips with jam, then bake!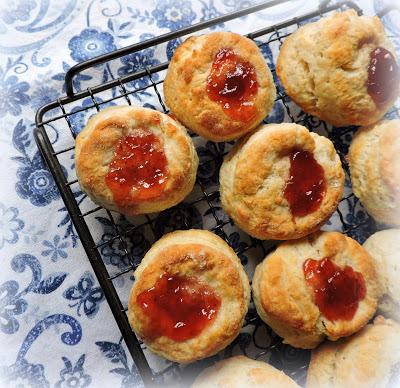 They don't take too long to bake, which is good . . .  because we love our jam in this house and when it is combined with a tasty scone/biscuit, we love it even more!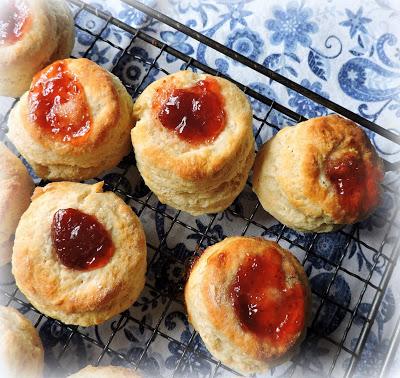 These lovely buns would actually be good any time of the day . . .  breakfast, elevensies, lunch, tea break, supper . . . you name it. I can't think of any singular time they would not be welcome!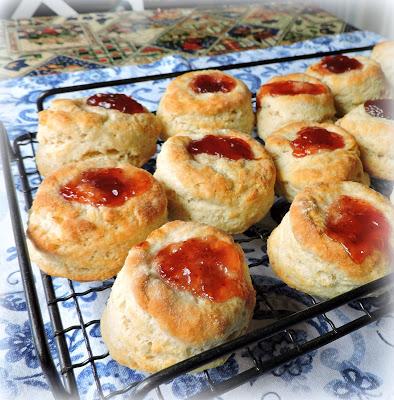 They are so light and dainty, they would be perfect on the tea trolly for High Tea.  Oh, I could just imagine the Queen or some other Aristocrat tucking into one of these with their afternoon cuppa . . .  pinkie raised en pointe!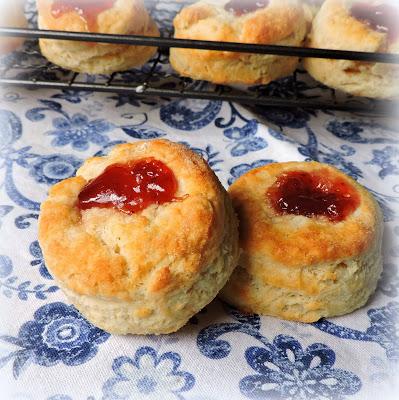 Any blue blood in my body is long since watered down, so we don't stick up our pinkies here, or cling to any set rules.  If we likes it . . .  we eats it.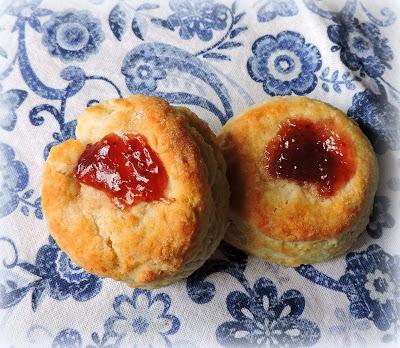 And so it is with these.  We likes 'em . . .  we likes 'em a lot!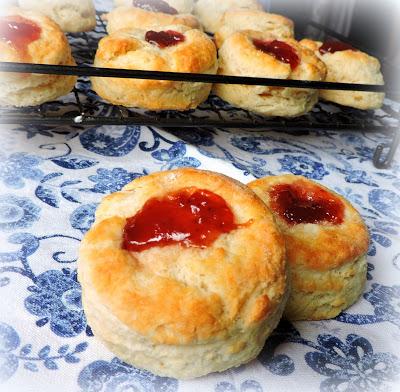 They would be great to take on picnics as well, I dare say.  I bet nobody would be complaining as they tucked into one or two or three . . .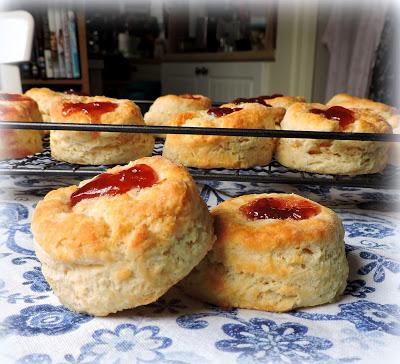 Its the North American Mother's Day this weekend, why not bake a batch for the special mom in your life?  Show her how much you appreciate her . . .  or your hubbie, or children.  You are sure to become their favorite person if you do! I guarantee!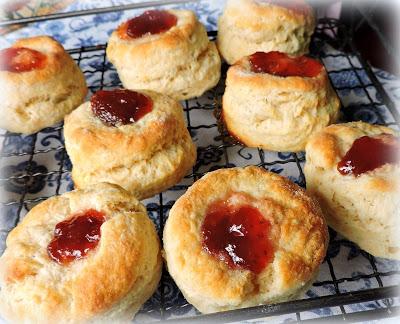 *Jam Filled Buns*Makes 14 to 16Printable Recipe 
Light and fluffy little buns with a jammy center. Delicious served for breakfast at the weekend. 
280g plain flour (2 cups, all purpose)2 TBS granulated sugar1 TBS baking powder1/2 tsp salt125g cold butter, cut into bits (1/2 cup)1 large free-range egg beaten120ml cold milk (1/2 cup)
 Your favorite jam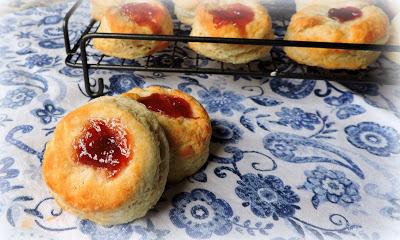 Preheat the oven to 220*C/425*F/ gas mark 7. Line a baking tray with some baking parchment. Set aside.
Sift the flour, sugar, baking powder and salt into a bowl. Drop in the butter and quickly rub it in until crumbly. (can use a pastry blender, two knives or your fingertips.) Beat together the milk and egg. Make a well in the center of the dry ingredients and add the liquid all at once. Stir together with a fork to make a soft dough, adding a bit more milk if necessary.Turn out onto a lightly floured surface and knead a couple of times to really bring together. Pat out 1 inch thick. Using a floured 2 inch cutter, stamp out rounds, pushing straight down and lifting straight up. (bring the scraps together and repat to make more. Do note that the second patting will not give you the same results, so do try to get as many cuts from the first cutting as you can.) Place well apart on the baking sheet. Using a floured finger make a deep hole in the center of each. Drop a small bit of jam into the center of each.
Bake for 12 to 15 minutes. Serve warm.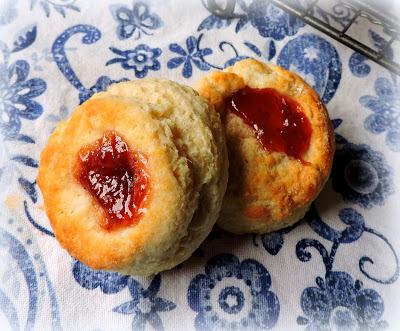 Nom Nom Nom  . . .  betcha can't eat just one of these.  Yes, they are THAT good!  Bon Weekend!