This post may contain affiliate links. As an Amazon Associate, I earn from qualifying purchases. Please read my disclosure.
Spice up your favorite drink or cocktail with this sweet and spicy jalapeno simple syrup! Make a cocktail with a kick or even add this to a cold glass of water. This jalapeño syrup recipe is the perfect way to add heat to your regular drinks. The best part? You only need 3 ingredients and 15 minutes to make it!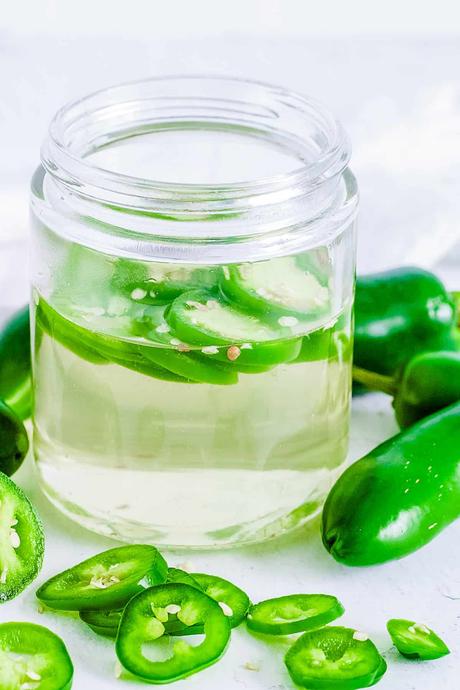 This recipe is so versatile and making your own simple syrup is so easy! Even if you don't love spicy flavors or just prefer other peppers, you can use this recipe as a base to create so many different simple syrup flavors.
Jalapeño simple syrup is the perfect addition to your favorite cold beverages like iced tea or soda water, or to add a little extra heat to cocktails like a spicy margarita or to whisky sours.
But this spicy simple syrup recipe is also a delicious way to add more flavor to other sweet and savory dishes like over these vegan potato pancakes, these mini pancakes, these sweet corn tamale cakes, or even use it as a topping for ice cream!
👩🏽‍🍳 Why This Recipe Works
Simple jalapeno sugar syrup
Super easy to make
Great addition to drinks and spicy cocktails
Perfect amount of heat
Packed with jalapeño flavor
Just 15 minutes total to make
Easy alternative to store-bought simple syrups
Latest Recipe Video!
🥘 Ingredients
Standard simple syrup is exactly as the name implies, simple. You can find the simple ingredients, nutritional information, and step-by-step instructions for this jalapeno cocktail syrup on the recipe card at the bottom of this post.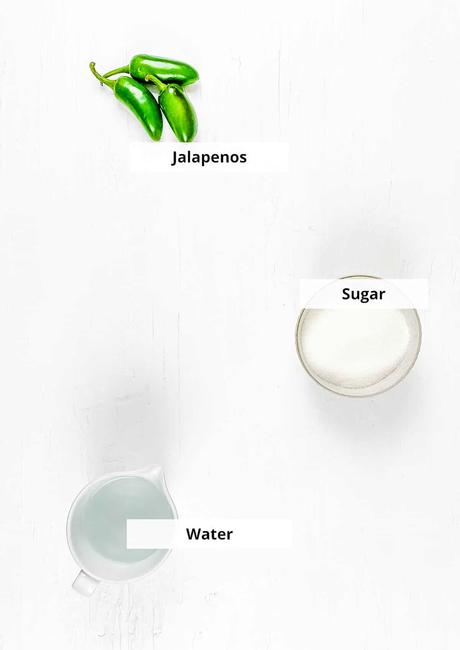 Jalapeno Peppers: Fresh jalapeños provide the heat in this jalapeno infused simple syrup, and when paired with sugar, it's more like a sweet heat! You can adjust the level of spiciness, see the tips on the recipe card below.
Water: It doesn't get more simple than this ingredient. Water is the base of the syrup. You'll use equal parts water and sugar.
Sugar: White sugar or cane sugar dissolves to make a syrupy mixture and the perfect liquid sweetener for any beverage. You'll need 1 cup of sugar, which you'll pair with the water in a 1:1 ratio.
📖 Variations
There are lots of ways to mix up this easy jalapeno syrup recipe! Here are some of our favorite variations:
Serrano Simple Syrup: Serrano peppers are hot! They rank anywhere from 5,000 to 15,000 Scoville units on the chili heat Scoville scale. That makes them up to five times hotter than jalapeños. If you like a higher heat level in your food and drinks, use serrano peppers in this simple syrup recipe instead of jalapenos. For an even spicier syrup, you can also try habanero peppers which are 10 times hotter than serranos!
Jalapeno Infused Maple Syrup: Instead of sugar, use an equal amount of maple syrup to create a jalapeno maple syrup recipe!
Cilantro Syrup: Trade out your jalapenos for 3 fresh stalks of cilantro and follow the directions as written for this recipe. This recipe will add a little tangy citrus flavor to your drinks.
Jalapeno Infused Water: Add this spicy sweet syrup to your water as a liquid sweetener. It's a fun way to add a little kick to boring water! Add a little lime to compliment the flavor of the jalapeno.
Black Pepper Syrup: Add a spicy flavor to your foods with this peppercorn simple syrup. Use 3-4 tablespoons peppercorns instead of jalapeño peppers. Toast the peppercorns on the stove in a hot, dry saucepan over medium-high heat for 10 minutes or until fragrant. Then follow the rest of the directions in this recipe.
🔪 Instructions
You only need 3 ingredients and a handful of steps for this recipe! Here's how to make jalapeno simple syrup - step by step:
Prep Jalapenos: Slice the jalapenos, set aside.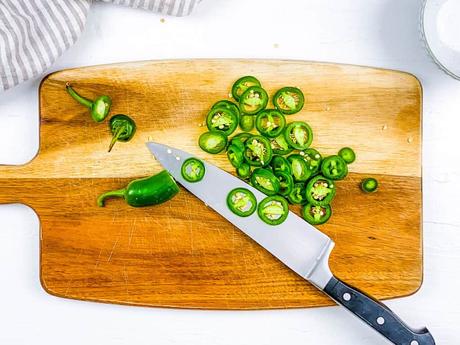 Boil: Bring the water, sugar and sliced jalapenos to a boil in a medium saucepan.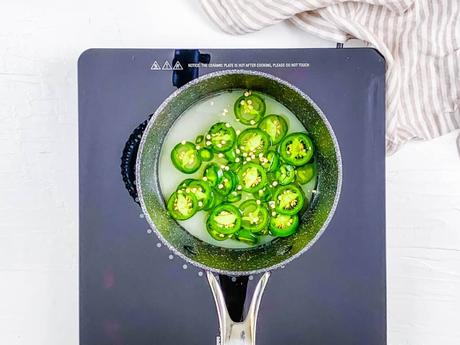 Simmer: Reduce the heat and simmer for 10 minutes.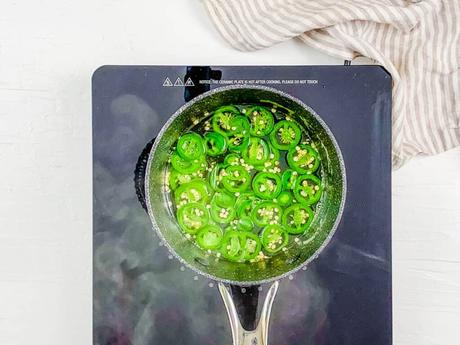 Transfer: Pour the syrup through a sieve and into a sterilized glass jar.
Store: Store this infused simple syrup in the fridge for up to a month. Use it in drinks, cocktails and even savory or sweet dishes to add a little bit of heat!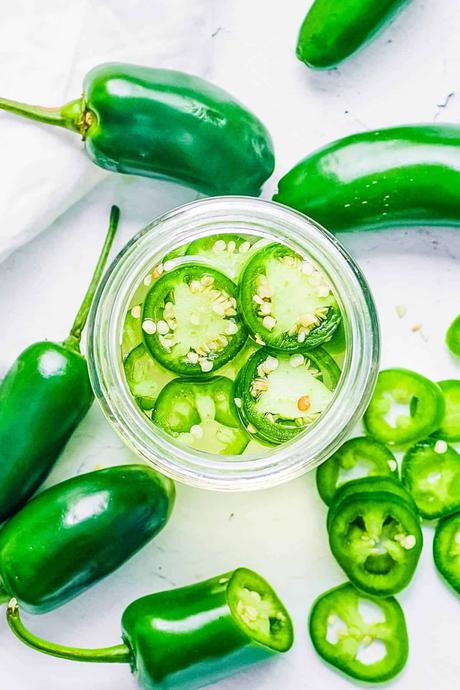 ❓Recipe FAQs
DO YOU HAVE TO REFRIGERATE SIMPLE SYRUP?
It depends! If you're going to use this rich simple syrup recipe within a few days, it can be left at room temperature. If not, you'll need to store it in the refrigerator to extend its shelf life and prevent it from going bad.
HOW TO STORE HOMEMADE SIMPLE SYRUP?
There are three ways to store this syrup.
At room temperature: Let this spicy syrup for cocktails cool, then transfer it to an airtight container and store it in a cool, dry place. It will keep for 3-4 days.
In the fridge: Let the syrup cool, then transfer it to an airtight container and place it in the fridge. It will keep for up to 1 month
In the freezer: Let this spiced simple syrup cool, then transfer it to an ice cube tray. Cover and wrap the tray, then place it in the freezer. It will keep for up to 3-4 months in the freezer. The ice cube tray is helpful because then you can just defrost one tablespoon of syrup at a time, using only what you need and keeping the rest frozen. You can just thaw the syrup in the fridge the night before you plan to use it!
HOW DO YOU MAKE A SIMPLE SYRUP COCKTAIL?
It is so easy to add simple syrup to any of your favorite cocktails! Make the cocktail as directed or as you would normally make it. Then add 1/2 an ounce of syrup, mix, and taste. Add more as needed to achieve the flavor you want!
How do you use this easy jalapeño simple syrup recipe?
This syrup is so versatile, you can use it in a variety of ways! Try it in classic cocktail recipes - like turn a regular margarita into a jalapeño margarita with this chili infused simple syrup! Or use it to add a little kick of heat to sweet recipes - on pancakes, french toast, or even frozen yogurt or ice cream. Lastly, it tastes great in savory or spicy food as well - like drizzled on top of enchiladas, corn cakes, or tacos!
💭 Expert Tips
Simple syrup is usually fairly thin and easy to pour. If you want your jalapeno syrup to be thicker, bring the mixture to a boil and allow some of the water to evaporate. You can also change the water to sugar ratio, and instead of using 1 part water to 1 part sugar, you can use 1 part water to 2 parts sugar.
To know when your spicy simple syrup is done, place some syrup in a spoon and let it drip away in the saucepan. If the syrup flows away easily, it means it is still watery and not ready. Keep boiling the mixture until the flow slows down and separates into drops.
To remove sugar crystals if they form, add a little acid (like a touch of lemon juice) or corn syrup to the sugar-water mixture before cooking.
You can keep some sliced jalapeños in the jar if you want a spicier syrup. Keeping the jalapenos in will allow them to keep infusing into the syrup as it is stored. For a milder syrup, remove the peppers altogether before storing it.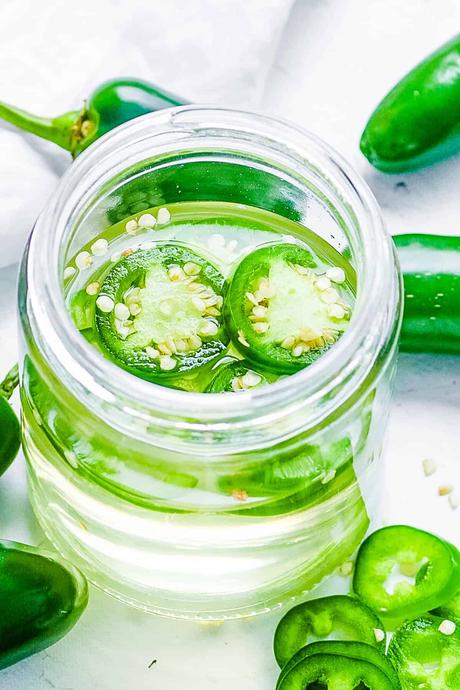 🍲 More Syrup and Jalapeno Recipes!
📋 Recipe Card