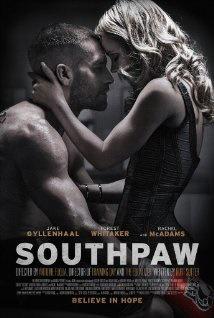 Director: Antoine Fuqua
Writer: Kurt Sutter (Screenplay)
Starring: Jake Gyllenhaal, Rachel McAdams, Forest Whitaker, Oona Laurence, 50 Cent, Skylan Brooks, Naomie Harris, Victor Ortiz, Beau Knapp
Plot: Boxer Billy Hope turns to trainer Tick Willis to help him get his life back on track after losing his wife in a tragic accident and his daughter to child protection services.
There may be spoilers the rest of the review
Verdict: Left Hook to the Heart
Story: Southpaw starts with Billy Hope (Gyllenhaal) defending his Light Heavyweight Title at Madison Square Gardens. When a wannabe challenger Miguel 'Magic' Escobar (Gomez) starts pushing Billy into a fight Billy wants to shut him up by demanding his manager Jordan Mains (50 Cent) to make the match happen.
When his wife Maureen (McAdams) is noticing him getting punch drunk from his matches she wants him to step back to spend time with his daughter Leila (Laurence) but Jordan is pushing three more fights.
When Escobar pushing Billy too far at a charity event an all out brawl ensues leading to a gun shot killing Maureen. This is just the beginning to the downward spiral Billy takes as he loses his money, his team and most tragic to him custody of his daughter.
We now watch how Billy must rebuild his life, career and reputation by turning to trainer Tick Wills (Whitaker), cleaning up his substance abuse to get his daughter back.
Southpaw gives us the traditional sports story of redemption but also offers up a fresh look at how our hero Billy reaches his redemption. We get a much more personal battle for Billy to go through which leads us to see how sports stars can lose everything. I will have to question how the story gives us thin sub-plots where we look at certain characters have things happen and everything just get done off camera, be it how the judge just seemed to go have your kid back, Hoopy story gets completely looked over and the promoter who could have been corrupt just getting ignored. On the sports side everything is almost perfect so I can't complain but in the end certain things end up just getting left to us to go yeah that is ok.
Actor Review
Jake Gyllenhaal: Billy Hope is the light heavyweight champion of the world on top of the world but everything comes crashing down when his wife is killed. He loses his belt, his home and his daughter leaving him no choice but to clean up his act and regain the life he once had through hard work. Jake gives us yet another brilliant performance where he could easily get an Oscar nomination.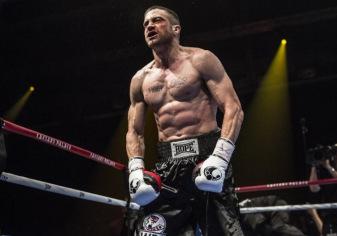 Rachel McAdams: Maureen Hope is the wife and whole world to Billy, she supports him in every fight while arranging his life. She wants Billy to retire or at least take a break because his style is going to leave him punch drunk. When she is killed the life of her family starts to fall apart. Rachel gives a good performance even if it is only a supporting role.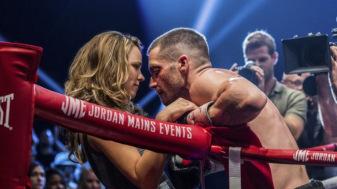 Forest Whitaker: Tick Wills is a boxing trainer who reluctantly gives Billy a job, a chance to train to prove he is committed before letting him in the ring to learn a new style of fighting that plays to the defensive side Billy isn't used to using. He has his own past which has lead him to be like Billy giving him the chance to redeem his own defeats in his past. Forest gives us a great performance as the man with a troubled past who gets a chance of redemption.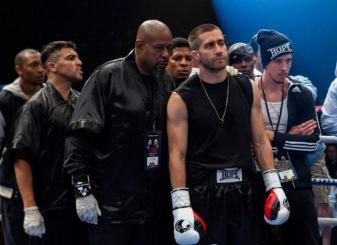 Oona Laurence: Leila Hope is the daughter of Billy and Maureen who ends up going into custody of family services when Billy can't handle his life without his wife. She is the motive behind everything Billy does as she is the only thing he really wants in life. Oona gives a brilliant performance from such a young starlet.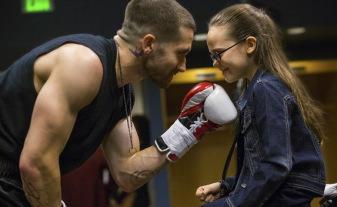 50 Cent: Jordan Mains is the promoter and manager of Billy who keeps trying to make his fighter continue fighting, he has a questionable motives and once Billy loses everything he teams up with the enemy Escobar. 50 Cent gives us a good supporting role as the promoter we are not sure about through the film.
Support Cast: Southpaw has a supporting cast that offer sub-plots that don't completely get dealt with but each one does find a way to motive our leading characters.
Director Review: Antoine Fuqua – Antoine gives us a brilliant sporting drama that shows how hard redemption can be to achieve.
Action: Southpaw keeps most of the action in the boxing ring giving us the real time fight scenes that all come off real throughout.
Drama: Southpaw brings us into a personal lives of the Hope family as we see them go through tragic events before having to grow and power through them.
Sports: Southpaw makes all the boxing look realistic from the moment they enter the ring.
Thriller: Southpaw keeps you wondering what will happen from the start to finish.
Settings: Southpaw creates all the settings that all work perfectly for the moments in the film from the fall from the top to the rise back.
Suggestion: Southpaw is one of the best films this year and should be watched by all. (Watch)
Best Part: Boxing all looks realistic.
Worst Part: Sub-plots do get forgotten.
Believability: No
Chances of Tears: You could get a few
Chances of Sequel: No
Post Credits Scene: No
Oscar Chances: Jake could get an Oscar nod.
Box Office: $35 Million
Budget: $30 Million
Runtime: 2 Hour 4 Minutes
Tagline: Believe In Hope.
Trivia: Antoine Fuqua had no money to pay James Horner to compose the film due to the films short budget. However, James didn't care as he loved the idea of the film and decided to do it for free.
Overall: Brilliant sporting drama that is all about redemption
Rating