Compatible devices for iOS 5.1.1 untether:
iPhone 4S
iPhone 4
iPhone 3GS
iPad (3rd Gen)
ipad 2
iPad 1
iPod touch 3G/4G
Apple TV (2nd Gen)
Step 1
: Download Absinthe 2.0 from here.
Step 2
: Once the tool has been downloaded, find the compressed file and extract all of the contents like you would with any standard zip file. Place the files on your desktop for easy and quick access.
Step 3
: Connect the device to be jailbroken with your computer.
Step 4
: Launch the Absinthe tool through the executable file which you downloaded in s
tep 1
. When launched, the program will show an initial interface that will have some text-based information on it, and a "Jailbreak" button.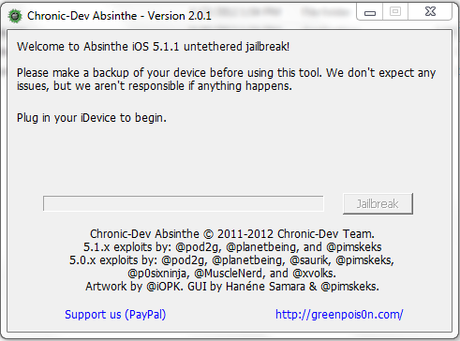 Step 5
: If the device is connected properly as per
step 3
then the
Jailbreak
button should be available. Press the button to begin the jailbreak process.
The initial Absinthe tool for iOS 5.0.1 accompanied with it a new method for jailbreaking iOS devices, so with that in mind, don't be alarmed if the device looks like if it is going through a restore process. The progress bar on the Absinthe GUI will provide user feedback, please don't touch the device at this time.
Step 6
: When the payload process is complete and you're confronted with your device's lock screen, the ever familiar Cydia icon will be present on the home screen. The device is now successfully jailbroken untethered and you can now install any extensions or packages via Cydia, provided that your device is supported by them.